Jeralyn Glass answers the question:
What is the nicest thing a non-family member has ever done for you?
The nicest thing a non-family member has done for me happened in the year 2015. There's been many, many nice things in my life, but this changed everything.
In March of 2015, I lost my only child, my beloved son, Dylan. And as you can imagine, for a parent, it's just not the natural order of things. And you talk about when you lose a parent, you lose your past... and you lose a partner, you lose your present... but when you lose a child, you lose your future. And trying to figure out a way to go on in life, a way to get myself up out of my bed every morning was pretty challenging.
My son was 19. His name is Dylan, Dylan Sage, and he loved the mountains. And he was a ski racer. And he and I got to travel to visit two of his best friends in Nepal and in India. And so we got to see Mount Everest. And one of our goals was to see some of the highest peaks and most famous peaks in the world, and that was just a monumental experience to share that with him. And also on our bucket list was to see Machu Picchu. And so after my son passed away and I recognized that life was never going to be able to be the way it was, he started to communicate with me through sound vibration.
And so on the night that he passed away... I live in Southern California and I was with a dear friend who came to stay with me that knew Dylan from the time he was a little boy. He was born in Germany and Peter lived in Germany and he came and stayed with me. And we both looked up at the sky; we were walking down by the beach and we saw this huge shooting star. I've never seen a shooting star in Los Angeles and I grew up here, and I could hear a sound with it like this huge whoosh. And the star made this huge arc over the Los Angeles Basin and landed in the mountains behind Los Angeles. And it was like a huge upside down-smile. And I could hear his voice, "Mom." He was a big kid. He was six foot three and 230 pounds. "Mom, I made it. It's like we always talked about. I'm home. I'm with God." And Peter looked up in the sky at the same time that I did, and that was the beginning of this journey with my son through sound vibration and light.
And so about two months in, I just had this impulse that just said, "Okay, we're going to go to Machu Picchu. That's what we were supposed to do. We're going to go." And I started talking with him. And I said, "Okay, Dylan, we're going to go together and tell me who we're going to go with." And I opened my computer and I Googled "spiritual journeys to Machu Picchu," and Dr. Sue Morter came up. I didn't know her. I watched her Ted Talk and I read a little bit about her and I was like, "Okay." But I asked Dylan, I said, "Well, what about the native shaman?" And I could hear him, "Mom, mom, that's who we're going with. She is the shaman." And I was like, "Okay." So I called their office and the trip was full and they said, "Give it over the weekend and let's see if we can..." The trip was supposed to leave I think like less than a month later, three weeks later. And on Monday they called and said, "Yes, we can make a place for you."
And so I got on that plane down to Cusco and I brought this little picture of my son and it was something that we had made for his celebration of life, and it had the quote that he wrote in his college essay about his experience climbing up the mountain, all his time spent in nature, spent on high peaks, and something about that it's just as important your way down the mountain as your way up the mountain. And we gave those to people at his celebration of life. And so when I met Dr. Sue the first day of the journey, I gave her that picture and I could barely get a word out of my mouth. I introduced myself and said, "I'm here on this journey with you and I've lost my only child and I'm not sure how life is going to go on." And I gave her the picture.
And some days later when we actually got to the Sacred Valley and we were planning to climb up Huayna Picchu, which is the great peak at Machu Picchu, the night before, I had a complete breakdown and I just couldn't stop crying. And so I knew that there was no way I was going to be able to get up at five in the morning and climb up that mountain. And so I myself went by myself to the other side of the mountain, the other side of Machu Picchu, and the smaller group went up to Huayna Picchu.
Unbeknownst to me, Dr. Sue had taken his picture and she did a ritual up there on the top of the mountain. And she read his quote and she showed Dylan the wide expanse of the Andes. And she said, "Here, have that." And they photographed it and they made a little video, and that changed my life. You can see the beam of light was caught by one of the young men on the trip. I saw that they came down the mountain, he showed it to Dr. Sue, and he said, "You gotta see this picture." She said she started crying, and then she said to me, "I need to show you something." And I was overwhelmed by the fact that she kept that little picture with her in her little pack and kept it with her the whole trip. And I had no idea that she was going to do a special ceremony for my son.
And when she showed me that picture, everything changed. To see that beam of light, to understand... and it was coming right from his throat or from heaven to his throat or his throat to heaven, I don't know, but that beam of light and to see that in a photograph and then the little video that someone captured, you actually see the beam of light coming in. It's wobbly at first and then it comes in and it just… it lands. And I really began to understand exactly what she's teaching, that we are made of energy and that energy gets compressed and it becomes sound vibration and light.
| | |
| --- | --- |
| | |
| Click here to watch this 30-second video of Dr. Sue sharing the majesty of the Andes with Dylan. | |
And for me, that was one of the most incredible things that anyone could have done for me at that point in time where I had no concept of how I could live my life. It was just a matter of getting up every morning and going to bed every night and just trying to hold it together. And that act of kindness from Dr. Sue, it changed everything.
She went back to Machu Picchu, I think in 2018, so three years later, and she took the time to text me from there to tell me that she was up again on the top of Huayna Picchu and that she could feel Dylan's presence and shared that there was so much light and that it was as if he was leading a posse of light beings and spirits.
And that kind of love from another human being, just... I'm grateful to her for the rest of my time on this planet and beyond, because it gave me hope. It gave me an understanding that even in death, there's still light, there's still connection. There's what I began to learn from her about what it means to be a bridge that connects heaven and earth. And that one thoughtful, thoughtful gesture to take his picture, to do a special ritual, to read his poem, and then for that whole magic to happen up there, that has changed my life.
And so, being a singer... at that point in time, I had, I think, eight performances that I still had to do, and we talk about in the performing arts that the show must go on. And I never thought that I would be in such a situation as I was, but I did my commitments and then I shut my mouth. And so when I finally came around to starting to be able to sing at all again, it seemed most fitting to create this incredible aria from Puccini and score it with strings and with crystal bowls and to have that picture in that video, because for me, that was really the turning point for everything in the healing, in the transformation, in the deeper understanding of this life and human form. I'm so grateful for the kindness that Dr. Sue Morter showed me, and for her thoughtfulness and her love.
Click here to listen to Jeralyn sing "Senza Mamma" from Giacomo Puccini's opera, "Suor Angelica," scored for strings and crystal alchemy singing bowls
The English Translation of the Lyrics
Without your mother, o my child you have died!
And your lips, without my kisses grow pale and cold!
Your sweet eyes my baby are now closed.
I cannot caress you.
Your sweet hands are folded across your chest composed in a cross!
And you have died, never to know how dearly your mother loved you!
Now you are there as an angel in Heaven.
Now you are able to look down here at your mother.
You can descend here from Heaven.
I feel you drifting all about me.
You let your essence linger around me.
Are you here feeling my kisses and caresses?
Tell me, when will I see you in Heaven?
And when can I embrace you?
Oh, sweet ending to all my sorrows!
When will I find my way to you in Heaven?
When will death take me?
Oh, when can I just die?
Oh, may I die!
Come speak to mother, beautiful creature,
with a sparkle of the stars that you now are,
speak to me, my loved one!
Speak to me, my love!

Experience a 14-minute soul-soothing
crystal bowl sound bath with Jeralyn
---
Jeralyn Glass, an internationally known singer, professor, sound-healing practitioner, and crystal singing bowl master alchemist, has performed on Broadway, in opera, and on concert stages around the world. She has a unique presence with her personal alchemy of classical music, meditation, and high vibrational sound. She sang the national anthem for over 18,000 people in her hometown of Los Angeles and has written and sung tributes to Kareem Abdul-Jabarr and the late Kobe Bryant, as well as for German and French presidents.
The course of her life shifted dramatically five years ago with the loss of her only child. Sound became the path for her own healing and inspired her active participation with the Cancer Support Community and Maria Shriver's Women's Alzheimer's Movement. Passionate about music and sound as tools of self-discovery and healing, Jeralyn founded Crystal Cadence, home of the Los Angeles Crystal Tones Singing Bowl Temple, where she also offers Sacred Science of Sound crystal alchemy sound-healing trainings, mentorships, and transformational voice. She was the keynote presenter at the National Convention of "The Compassionate Friends," and has performed her high vibrational music for New Thought heavyweights Marianne Williamson, Gregg Braden, Anita Moorjani, Lee Harris, Marci Shimoff, and Dr. Sue Morter.
Jeralyn opened the Los Angeles Conscious Life Expo with the late Barbara Marx Hubbard and presented her concert "Forever Love" at the Science and Spirituality Conference in Canada. She presented her new album, Vibrance, at the sold-out Scientists, Mystics & Sages Conference alongside Gregg Braden, Bruce Lipton, and Joe Dispenza. Jeralyn works regularly as a musician and sound-healing practitioner at Kamalaya, the Condé Nast Gold Wellness Sanctuary in Thailand.
Her popular online series, The Sacred Science of Sound, featured interviews with well-loved musicians and leading experts in sound and energy medicine. The series became a critically acclaimed live event in Los Angeles in November 2019, featuring leading-edge information in Vibrational Medicine, Bioenergetics, and the Healing Power of Music, and included a sound-healing performance with Jhené Aiko. The 2020 online series played in June with Dr. Bruce Lipton, Marianne Williamson, India Arie, Jonathan Goldman, Dr. Daniel Levitin, Eilleen McKusick, and Dr. Sue Morter among others.
Click here to visit Jeralyn's website.
Click here to visit the Crystal Cadence website and discover more about crystal alchemy singing bowls and how they changed Jeralyn's life.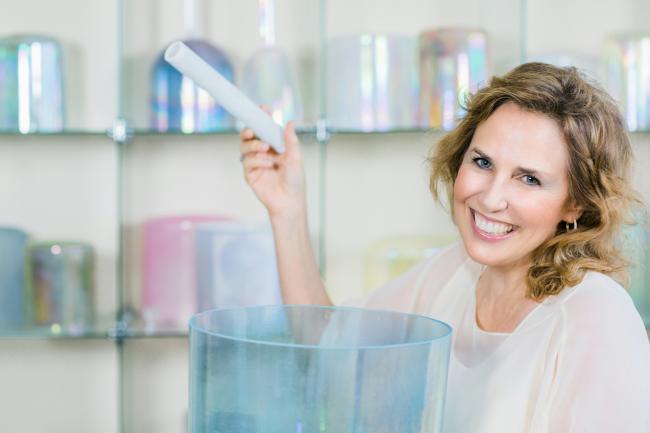 Catalyst is produced by The Shift Network to feature inspiring stories and provide information to help shift consciousness and take practical action. To receive Catalyst twice a month, sign up here.
This article appears in: 2020 Catalyst, Issue 22: Dreamwork Summit