Daisy Lee answers the question:
What is the nicest thing a non-family member has ever done for you?
That's a really good question, Phil. There are so many beautiful, non-family members that have helped me along my path, but I have to say that the most interesting one was a nonhuman family member, a non-family member. It happened a few years ago, when my partner Mark and I had come to Puerto Rico. We were on a holiday because we'd just come off a very heavy teaching schedule, both of us, and we needed to take a break. There had been Hurricane Maria that had devastated the island, and rather than spending our vacation dollars at a place that probably didn't need our support, really that much, we thought that we could help out the island by stimulating the economy, by coming to Puerto Rico, which is where we are now.
But how and who this non-family member was that did this incredible thing for us, it is a bit of a story because we were just traveling around in the area, exploring this beautiful island.There was a lot of damage from the hurricane. We even got two flat tires in the time that we were on this trip. And people were friendly, the businesses were starting to get up, but there were a lot of places that still didn't have water or electricity even. There were a lot of the blue FEMA tents all over rooftops. You could see how badly any kind of support was needed.
So, as we were traveling around, we came upon this place that was for sale. We weren't looking for a place in Puerto Rico. Mark might've been looking for a surf shack because he's a big surfer and a fan of the water. We looked up this place — and it looked like a concrete butterfly — and gave the agent a call and went inside to look. We arranged with this agent to take a look at this property, and thought there's no way that we could do anything with it. It was just the two of us, and it was a pretty large home with a lot of grounds. She took us to this broken-down mango tree in the back. It had been beaten by the storm, and there was a major limb that was missing and had really suffered through that storm, that hurricane.
| | |
| --- | --- |
| | |
| | Zorzal seduced us with her songs, painting a future of abundant possibilities to come |
But in that tree was a bird called a zorzal, which I believe is the equivalent of or a relative of the Northern mockingbird. That bird apparently can learn all kinds of sounds and songs, and it's just this incredible chameleon — it will imitate all these other bird songs as a way of survival, I suppose. But what was amazing was that as this agent was talking to us for, it was probably more than half an hour, this bird was looking directly at us and singing these melodies continuously for the whole 30 or 35 minutes that we were together.
It didn't fly away. It wasn't threatened. It was just singing these beautiful songs, and something of its music just entered into our souls and into our hearts. It almost felt to us, at least, that it was asking us to come back and to take over this property and to dig up the cement that was covering the grounds to let the earth breathe again. And because Mark does a lot of work in nature with the Kripalu School of Mindful Outdoor Leadership and teachers forest bathing and other outdoor activities, it seemed to be asking us, you know what to do to bring this land to life again.
| | |
| --- | --- |
| | |
| Two years later, our reward would be an abundant mango harvest — the first since Hurricane Maria — with fruit larger than a giant's hand! | |
It sang and sang away, and we left the property bemused and never forgetting what we had seen and experienced. And so, we couldn't help it; we ended up making an offer on this property and it closed. They accepted our offer and it closed on my birthday, so that was pretty significant for that as well. But I just think that sometimes the more-than-human world has messages for us and the world is speaking right now, all around the world. There are creatures and spirits and all manner of things and people as well, asking for support, asking for us to level up and do better and be more.
So once we found this property, we decided to dedicate our time and energy to creating the Radiant Lotus Retreat Center. It's slowly but surely coming to life. It's like that baseball movie, "build it and they will come," and we trust that's true. But in the meantime, we're enjoying the beautiful songbirds, like this zorzal that brought us to this property. And so that for me, and for Mark is the nicest thing that any living thing has done for us. It just happens to be this beautiful zorzal bird.
I hope one day you'll be able to come and see this place that has come to life. The mangoes are producing fruits again. Coconuts are laden with coconuts, and giving us all these incredible fruits and produce to create a life with. And so, this is the zorzal in the mango tree that invited us to come to Puerto Rico and make it our home.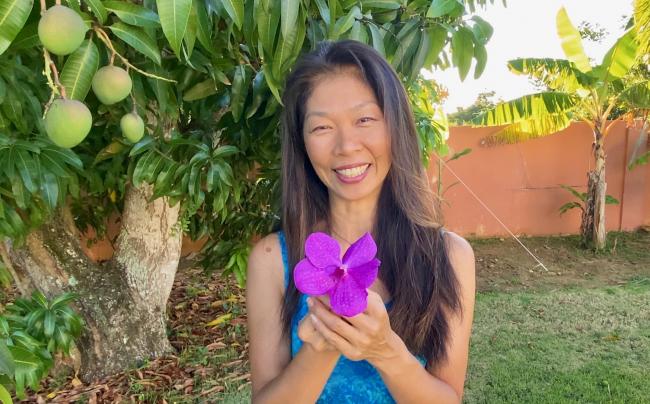 Daisy by the mango tree
---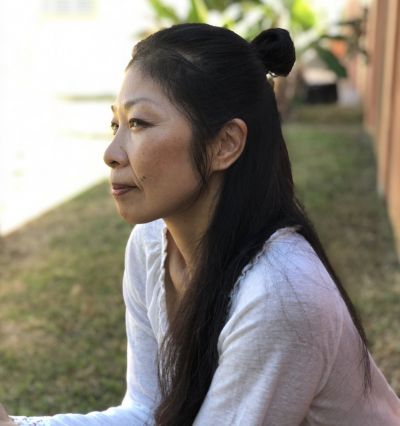 Daisy Lee, a respected leader in the Qigong world with more than 25 years of teaching experience, is certified as a Level III Advanced Qigong Instructor and Clinical Practitioner by the National Qigong Association of America.
A past board member of the International Qigong Science Association in Beijing, she lectures and conducts workshops and instructor trainings internationally, with a specialty in women's health. Her signature program, Radiant Lotus Qigong, is now taught worldwide, and the accompanying DVD series, Beginner Qigong for Women 1 & 2, and Qigong for Women became bestsellers on Amazon within the first month of their release.
Daisy also teaches co-ed programs, including instructor certifications in Radiant Lotus Zang Fu Gong, an organ-energizing and balancing practice. She continues to train students in ancient systems such as Wuji Hundun Qigong and Five Animal Qigong. She is the 59th-generation lineage holder of Hua Tuo's original Five Animal Frolics from Bo Zhou, China, a classic among Qigong systems.
Daisy has been a special guest lecturer at numerous hospitals, including Johns Hopkins, Mount Sinai, and Women's College, supporting patients and medical staff alike in learning how to de-stress and regain vibrant health.
With her warm, engaging approach to sharing this ancient art and technology, she has modernized how people understand and experience Qigong. Her students come from a wide spectrum of the population, including business entrepreneurs, homemakers, high school and university students, veterans and others suffering from PTSD, Olympic athletes, martial artists, and all those who desire practical, transformative self-care.
Daisy continues to teach worldwide and online for The Shift Network and other platforms, offering teacher certifications and workshops throughout North America, Europe, Australia, and Central America. Together with her partner, Mark Roule, she is excited to announce the opening of the Radiant Lotus Retreat Center in Isabela, Puerto Rico, in 2021.