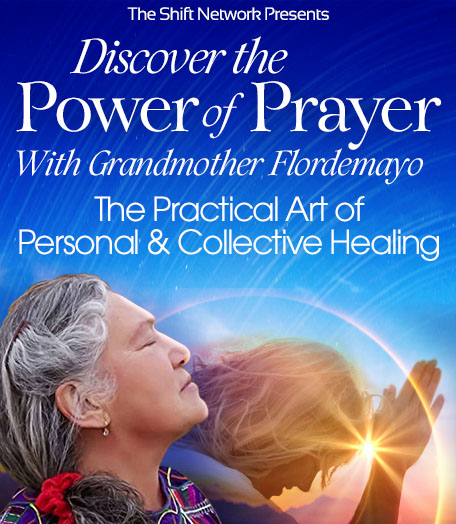 The Virtual Event is Now Complete
With Universal Healer and Member of the
International Council of 13 Indigenous Grandmothers
Grandmother Flordemayo


Learn to Pray in Ways That Open You to Grace, Healing, and Divine Blessings — Guided by a Beloved Mayan Elder
Activate Personal and Collective Healing Through a Virtual Prayer Circle... to Help Us Navigate the Times Ahead
Have you ever watched someone pray and been deeply touched by the sincerity, beauty, and power of their devotion?
You're definitely not alone... there's something special about the level of surrender, humility, and grace that a true master of prayer can convey.
And it goes far beyond words. It's an energetic blessing and an opportunity for real healing of ourselves and others.
At the highest level, prayer has the potential to create a vast healing in the world as a whole.
That's why we're excited to learn more about prayer from Grandmother Flordemayo, a trusted source for offering inspiring, moving, and healing prayers. She's so widely admired and respected that she's often invited to lead prayers at places like the Parliament of World Religions.
She's remarkably skilled at opening up to a state of grace in which prayers, emotions, and energies pour through her, fostering healing in all those who are present.
Grandmother Flordemayo, who was born and raised in the Mayan tradition, was chosen to be one of the 13 Indigenous Grandmothers, a group predicted by prophecies that's committed to bridging the ancient and modern worlds to weave the human family together again.
During this special hour with her, you'll receive beautiful blessings and practical guidance about how to live your life as a prayer, as well as how to pray in a way that aligns you with natural healing forces, including the elements.
Through this free virtual event, you'll:
See prayer as a 2-way communication with the Divine in which you are opening to receive and give at the same time
Understand why it's so important to build prayer into key parts of your day
Receive core teachings of how to work with elements such as fire and water to enhance the power of prayer
Discover how you can be a vehicle for greater healing in your own community as you open to your own power of prayer
This sacred event will be fluid — Grandmother Flordemayo does not teach in a linear fashion, but follows her inner guidance. We trust Spirit to speak though her, sharing exactly what's needed for us to receive at this time.
You'll also hear about the launch of a new virtual circle with Grandmother Flordemayo that promises to deepen your spiritual practice of prayer — and help you access the universal wisdom that's acquired through immersion in Indigenous traditions and a life of prayer.
Join us for a blessed hour!
What People Are Saying About Grandmother Flordemayo...
"Her beauty walk is the truth she walks and shares..."
When our prayers are heard by Creator, there is no accident, from the day we were to meet the joy, love, and remembrance we have for each other comes into our soul. When I close my eyes, the love and light shines around my Sister, Grandmother Flordemayo. Her beauty walk is the truth she walks and shares with all who choose to receive.
— Grandmother SaSa Swan of the North, Elder and Indigenous leader
"Flordemayo's heart is an open doorway to the Divine"
Time with Flordemayo is always experienced as a memorable and powerful healing. It has been a fortunate highlight of this life to witness over the last few years how her rare and unassuming presence has brought illumination and healing to me and to various close friends and family members. Flordemayo's heart is an open doorway to the Divine. Her spontaneous healing prayer emerges from deep humility, naturalness, simplicity, and eloquence of spirit. Flordemayo is a true living saint, an embodied master, a blessing on this earth.
— Walter Reifslager, Austin, Texas
"I'm inspired by being in her light of optimism and unconditional love"
Flordemayo is a gifted storyteller. I become a child again listening to wisdom teachings from her mother or stories of what it is like to "see beyond the veil." I'm inspired by being in her light of optimism and unconditional love. This expanded level of consciousness for me melts away all that is illusion to see the treasure of the moment. Once you have stepped into this new vibration, looking back is not an option. I am forever grateful to Flordemayo for spiritually nudging me to walk my truth.
— Mary Ann Sornito
"Truly one of Earth's greatest protectors of all the family of life..."
Grandmother Flordemayo, Universal Healer, curanderismo, the humblest of holy people, is truly one of Earth's greatest protectors of all the family of life, light, and nature. I am a vitally repaired healer who is so proud to stand in allegiance with deep gratitude for the great circle of women of wisdom, of faith, of love, sustainers of life, right beside sweet Grandmother Flordemayo.
— Suzanne Lewis, Healer, spiritual community leader, Her-storean, teacher, author, gourd starseed artist
About Grandmother Flordemayo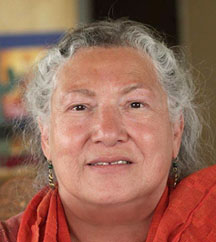 Flordemayo ™ was born and grew up in the highlands of Central America in a family of Mayan healers, and raised by her mother, a midwife. She travels the globe to share her healings and to foster a more spiritual understanding among humanity. She is a founding member of the Church of the Spiritual Path (1998, 2008-2014), the Confederation of Indigenous Elders of the America (1995-2000), Institute of Natural and Traditional Knowledge (2003-2007), and the International Council of Thirteen Indigenous Grandmothers (2004-2014). She also founded The Path, a 501(c)3 organization whose mission is to preserve and distribute seeds for future generations (2014-present).