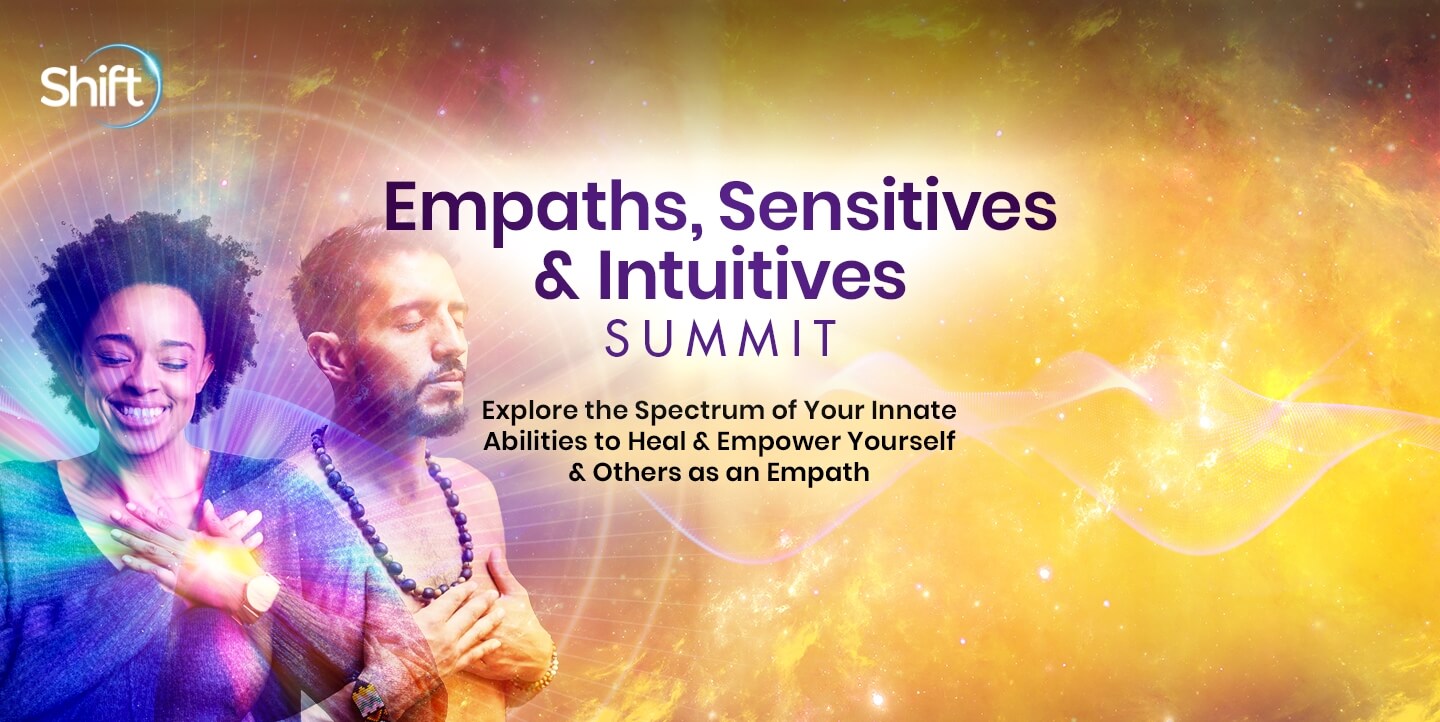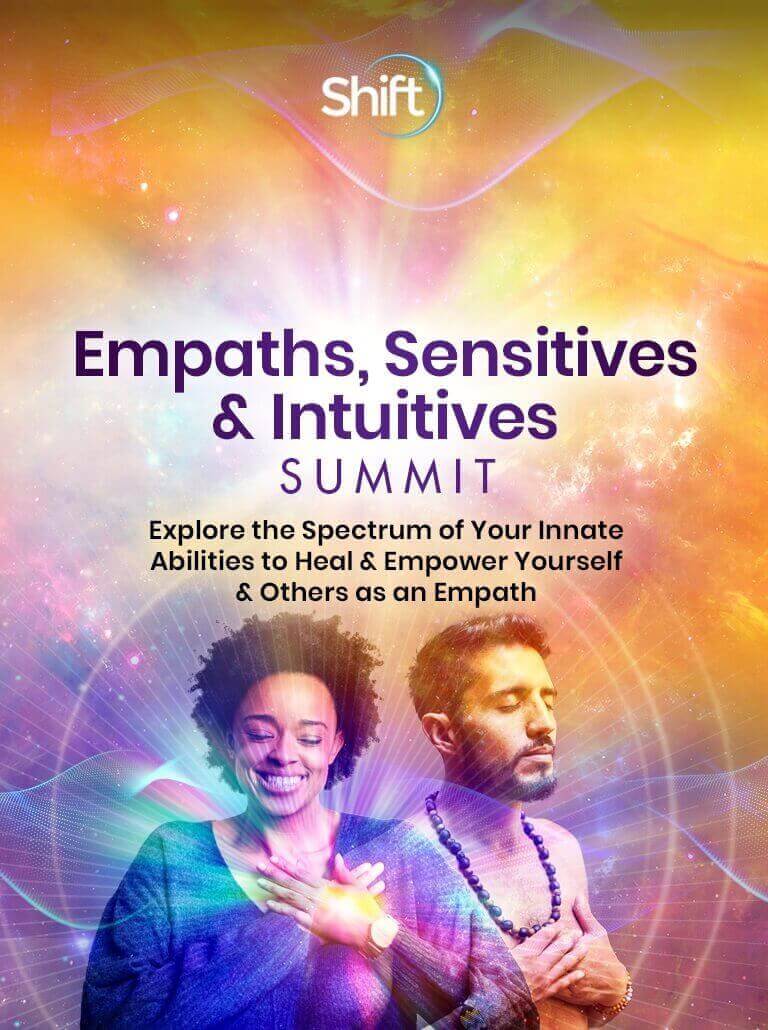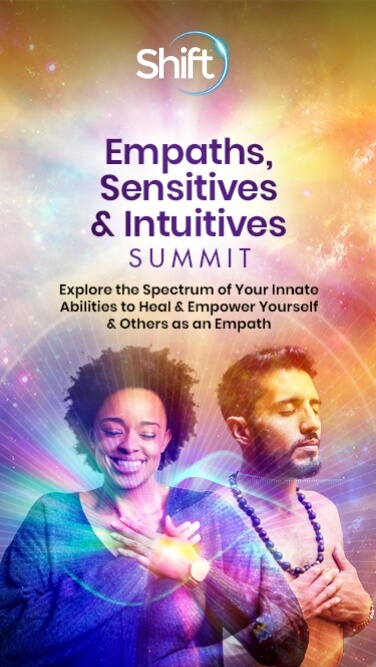 During this groundbreaking 3-day event, you'll discover:
What it means to be a sensitive sensation seeker, and unique opportunities for you to self-actualize over a lifetime
How to intentionally nurture your sensitive nervous system, unlock your potential to flourish, and uncover your empathic gifts
Five of the most common personal core wounds that sensitives, intuitives, and empaths experience — and powerful ways to reclaim your confident, capable, resilient self
How to spot an energy vampire, set clear and strong boundaries, and level up your psychic self defense, so you can feel safe and powerful in the world
How to use the Flower of Life and the Merkaba to step into the power of your energy bodies to heal yourself, your relationships, and the planet
Insights from Internal Family Systems (IFS) therapy that can show how you may have developed parts as coping mechanisms in a non-sensitive world
And much more…
Uplevel Your Practitioner Skills by Tapping Into Healing Intuition
FREE ONLINE EVENT
October 10-12, 2023
Featured Speakers
Judith Orloff, MD
Empathy Training for Empaths and Sensitives
Alane Freund, LMFT
Navigating Mental Health as a Sensitive
Michael R. Smith, PhD
Igniting Your Intuition & Confidently Communicating with the Spirit Realm
Dr. William Bloom
Psychic Protection: The Biology and Energies
Nina Khoo
Born to Lead - Not Struggle and Suffer
Dr. Natasha Fallahi
Sensitive Medicine - Health Tips for Empaths
Langston Kahn
Liberating Eros: Putting Our Sensitivity in Service of Life and Freedom
Sarah Elkhaldy
Awakening Your Full Intuitive Abilities
Wendy De Rosa
Being an Empowered Empath: Clear Energy, Set Boundaries, and Embody Your Intuition
Imi Lo
The Gifts and Perils of Being a Highly Intense Person
Karen Curry Parker
Intuition by Design
Rob Schwartz
Discover Your Divine Virtues & Your Empathic Ability to Merge With Source
Lisa Campion
Empaths and Energy Vampires
Sherrie Dillard
How to Feel and Absorb the Good Vibes
Felicity Warner
Empathic Empowerment: Harnessing the Magic of Sacred Oils for Intuition and Sensitivity
Julie Bjelland, LMFT
Nurturing and Valuing Sensitivity: A Key to Flourishing
Scott Stabile
Fostering Self-love and Acceptance for Your Sensitive Soul
Scott M. Taylor, EdD
Using Bi-Location for an Easy Connection to the Afterlife and Spiritual World
Liesel Fricke
Discover Your Divine Virtues & Your Empathic Ability to Merge With Source
Dr. Elizabeth Guthrie
Reclaiming Intuition Through Plant Allies
Brooke Nielsen Yang
Exploring the Many Parts of Ourselves: Unveiling the Inner Complexities of Sensitives, Empaths, and Intuitives
Dr. Tracy Cooper
Sensitive Sensation Seekers (HSS/HSPs) - Reflections and Perspectives
Annet de Zwart
Embracing Yourself as a Sensitive Leader
M. Lori Torok, MA, CMRM, BFRP
The Empath as Energy Healer: We Have Been Waiting for You
With Host:
Melissa Schwartz
Author, Speaker & Coach for Highly Sensitive People
And Guest Host: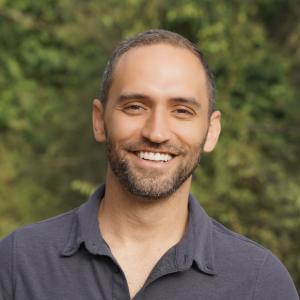 David Gandelman
Spiritual Teacher, Author & Founder of the Meditation School App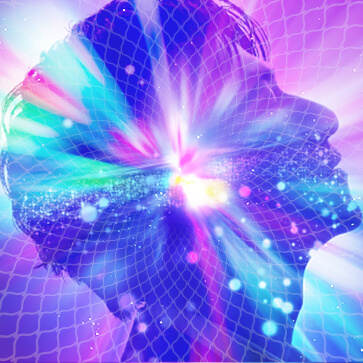 Learn to Navigate Your Highly Sensitive Emotional Terrain
Have you ever been told that you're overreacting, being dramatic, or are too sensitive?
Have you yourself ever wondered from time to time about your alleged "overly sensitive" responses, and why those around you do not seem to react to situations and events with the same level of intensity?
Some people, but not all, possess extraordinary qualities that allow them to more deeply connect with the emotional tapestry of the world.
The downside of this sensitivity is that these souls can often find themselves ungrounded, frazzled, uncentered…
… and struggling with strong emotions that frequently tip them into feeling over-saturated.
Burned out and burdened by feelings of threat and vulnerability, they often grapple with crippling anxiety by either shutting down completely (freeze mode), or overreacting badly (fight mode).
These are individuals with remarkable abilities to dissolve boundaries with others — often giving more than they should — not recognizing their unconscious adoption of rescuer, hero, or martyr roles.
Their profound empathy sometimes leads to a lost sense of self, as they prioritize the pains and needs of others as more important than their own.
Do any of these statements ring true for you? If so, then you may actually be an empath, highly sensitive person (HSP), or intuitive.
Sounds pretty overwhelming, doesn't it?
Yet, despite facing such a wide array of potentially debilitating challenges, empaths, HSPs, and intuitives like you possess unique and invaluable gifts.
Your heightened sensitivity allows you to perceive the world in ways that others cannot, and with the right support and self-care…
… you can learn to navigate your emotional terrain, turning your vulnerability into strength and your empathy into a force for healing and connection.
In the Empaths, Sensitives & Intuitives Summit, you'll discover energy and boundary skills and science-based practices to transform overwhelm, anxiety, and distraction into discernment, autonomy, and groundedness.
You'll learn to develop effective self-care practices, manage your energy, and hone your sensitive nature so you can use it to enhance your life, as well as show up as your highest and best self, each and every day.
You'll also discover how to harness your innate abilities in your work, your purpose, your relationships, and more — to enjoy a fulfilling life brimming with meaning and impact.
You deserve to thrive, and as you master the practical tools and embody the self-care practices we've curated, you can become your best self, your best ally — and your own best friend.
Here's a sampling of what our incredible speakers will be sharing with you…
| | |
| --- | --- |
| | Judith Orloff, MD, will review the common causes of burnout — including the drain from having "too much empathy" — and how to reverse this to achieve more balance. |
| | Alane Freund will share a meditation technique designed especially for sensitives, plus 3 tools to use when feeling out of sorts. |
| | Imi Lo will review some traits and upsides of being emotionally, intellectually, and/or spiritually intense, as well as the kinds of difficulties highly sensitive and intense people can face. |
| | Michael R. Smith, PhD, will discuss how to learn leading-edge strategies to ignite your intuition so you can receive clear communication and guidance from your spirit guides. |
| | Dr. Natasha Fallahi will reveal the root causes of common issues sensitive people face, and natural ways to heal many chronic health imbalances. |
| | Dr. William Bloom will explain why you need to practice core psychic safety skills to protect yourself from negative vibrations when you closely connect with Source, spirits, and subtle energies. |
| | Wendy De Rosa will discuss how to become empowered as an empath and stop taking on the energy of others. |
| | Nina Khoo will share why she believes that highly sensitive people (HSPs) first need to heal childhood traumas in order to show up fully and comfortably as leaders. |
| | Karen Curry Parker will reveal why it's more important than ever before to understand intuition, and how to tune into the correct frequency to "hear" the information being broadcast to you. |
| | Langston Kahn will share tools to break the cycle of losing yourself in others' emotions or isolating to protect yourself — guiding you back into joyful relationships with your sensitivity, authenticity, community, and the Earth. |
| | Rob Schwartz will guide you to reframe how you perceive your empathic nature and your tremendous gifts — offering opportunities to raise your vibration and consciousness while tapping your natural superpower to merge with Source. |
| | And much more… |
Release Childhood Attachment Traumas So You Can Thrive
Being misunderstood as a child and enduring childhood trauma can cast long shadows over your life, affecting your ability to thrive for years and even decades.
These early experiences can deeply wound your sense of self, leaving you grappling with insecurities that linger into adulthood.
However, embarking on a journey of healing focused on releasing childhood attachment traumas can yield significant life improvements — especially for empaths, highly sensitive people, and intuitives who are, by nature, deep feelers.
It's about reclaiming who you're truly meant to be, foreseeing a future of self-mastery and confidence with a newfound inner strength that frees you from the burdens of past misunderstandings and challenges.
As you heal, you also harness your innate power to thrive, dissolving overwhelm and grounding yourself in a blossoming sense of grace and peace.
Healing involves addressing patterns of dysregulation that may have developed as coping mechanisms during childhood trauma. Establishing a self-care routine becomes crucial in achieving balance between self-care and caring for others.
Reclaiming autonomy over your life is another pivotal aspect of healing. Through inner child work and self-forgiveness, you can learn to let go of blame, victimhood, shame, and guilt that may have haunted you for years.
Your confidence grows, and with it, the ability to discern when to help others and when to prioritize yourself.
The Empaths, Sensitives & Intuitives Summit gives you leading-edge tools you need to navigate life's obstacles and opportunities with resilience and grace, as you cultivate greater self-agency and self-advocacy.
As you nurture your soul and self-care takes center stage, becoming a prioritized aspect of daily life, you'll enjoy the new sensations of worthiness and balance.
As you commit to yourself, you also create strong boundaries — ensuring that your emotional wellbeing remains intact in interactions with others.
This newfound autonomy and discernment empower you to not only survive, but truly thrive in your own unique way — finally breaking free from the shadows of your past.
If you're ready to gain the skills you need to turn your energetic gifts into your greatest strengths — the Empaths, Sensitives & Intuitives Summit is for you.
Register now and start unlocking your innate abilities by embodying new ways to unleash, express, and share the power of your authentic self, giving you new energy, focus, clarity, and a feeling of freedom and liberation.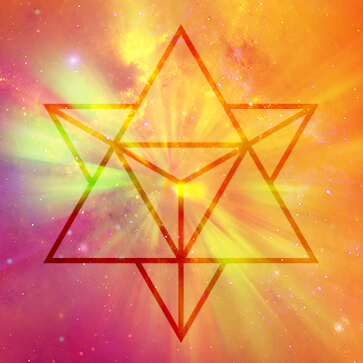 Here's what participants had to say about previous Empaths, Sensitives & Intuitives Summits…
"This was an amazingly wonderful and helpful summit!!"
I loved how applicable so many of these talks were. One gave me a deeper understanding of, and action steps for, how to support my sensitive children. Another helped me clear old energy and ties that were no longer serving me. Another gave wonderful advice on business matters. Many speakers helped me understand how to flow, ground, and accept life better. This was an amazingly wonderful and helpful summit!! Thank you!
— Laura, Brunswick, Maine
"Just amazing and uplifting!"
I loved the variety of topics and the knowledge each speaker shared. Just amazing and uplifting!
— Alice, Conway, Massachusetts
"Each year I've listened to this summit, I walk away with some great new information and ideas that have helped me to grow as a whole person."
I have listened to this summit for a couple of years now. I'm looking for new ideas on understanding myself and my empath abilities. Each year I've listened to this summit, I walk away with some great new information and ideas that have helped me to grow as a whole person. You do a great service for all of us. When we as sensitives can understand ourselves and grow, we not only help ourselves, but we help the people around us by just being ourselves. Thank you for making this basically a free, informal event.
— Cynthia, Watertown, South Dakota
"I am so glad I took a week off from work, it was totally worth it."
I wasn't sure what to expect, since I am new to educating myself on the subject and hadn't heard of anyone involved in the Summit prior to attending. I am so glad I took a week off from work, it was totally worth it. I plan to go back over everything again as there was so much to take in. I am very glad that I bought the upgrade package so I can do just that. I learned something from each session and found them all interesting and educational.
— Becki, McMinnville, Oregon
"I very much appreciated the seriousness, knowledge, and experiences of this summit!"
I very much appreciated the seriousness, knowledge, and experiences of this summit! All this made me more sure of myself and my HSP personality. I am so grateful!!
— Sara Mariasdotter, Tyresö, Sweden
"The information that was shared truly resonated with my soul."
The information, tools, and tips shared are such a wealth of knowledge. I truly enjoyed learning from many different people so many techniques to be more open, more mindful, and overall healthier spiritually, emotionally, and physically. The information that was shared truly resonated with my soul. Thank you all for all that you do, for being you and sharing yourselves with the world!
— Adriane, Rhode Island, New York
"Now I know what my purpose is on this earth."
In all the sessions I watched, I came away from it knowing more than I had. This will definitely help in my personal growth and insight. Very positive experience by giving me tools to deal with my intuition and being sensitive. I just learned that I have these abilities and it gave me more insight into why I feel the way I do and how to manage it so I can better serve myself and the world. Now I know what my purpose is on this earth. I was worried about it but now I embrace it.
— Christina, Rochester, New York
"It was absolutely wonderful to find support on a subject that has been so impactful to my health and wellbeing."
It was absolutely wonderful to find support on a subject that has been so impactful to my health and wellbeing. I greatly appreciate the efforts and wisdom shared in these talks. Blessings!
— Aaron McLean, Toronto, Canada
Co-Sponsors