One Hundred Days of Darkness and Light
One Hundred Days of Darkness and Light
is the first section in Robert Peng's book,
The Master Key
Installment #28
Chapter Five
Be Xiao yao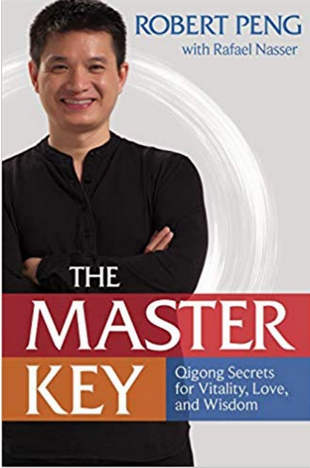 Since Dongmei and I lived near the Fosters' townhouse, we visited them often and I spent more and more time with Craig. He taught me how to ski, fish, and play golf. He was delighted to learn that Qigong could improve his golf game, but his appreciation of Qigong increased most dramatically after I used my healing abilities to help his daughter conceive.
She had sought guidance for years from fertility experts, but they were unable to help her. I worked on her only one time. When I held my hand over her womb, I felt stagnant, cold energy trapped inside. This condition is one of the leading causes of infertility in industrialized countries where ice cold drinks, frozen foods, and air conditioning are prevalent. I removed the cold Qi and empowered her womb with warm, healing energy to support her reproductive functions. Then I "empowered" her husband by giving him a Qi boost and harmonized the flow of energy between them. One month later she called to report the good news. Her doctor pinpointed the date of conception to within one week of her treatment.
Craig was deeply grateful, and he began to introduce me to other physicians, one of whom was a sprightly woman with bubbly blue eyes. "Robert, I'd like you to meet Dr. Florence Comite. She is an associate clinical professor at Yale University who specializes in preventive medicine and age-management medicine," Craig said.
"Hello, Robert," Dr. Comite said. "I would like to experience what you do." Her words reflected sincere humility.
After her first Qigong treatment, Dr. Comite — or Florence as she asked me to call her — became fascinated by my Qigong abilities. Being a genuine scientist with a strong pioneering spirit, she committed her- self to the study of Qigong. She wanted to awaken Qi flow in her own body and experience firsthand the merits of this ancient healing art. From her own experience she soon became convinced of the health benefits of Qigong, and she referred many of her patients to me.
About a year after I met Florence, she called me up with an interesting proposal.
"Robert," she started, "I'm part of a committee that is organizing the first annual Yale Integrative Medicine Scientific Symposium. This event will be attended by professors and medical students interested in alternative forms of medicine. Would you consider doing a pre- sentation on Qigong?"
"I'd love to," I replied.
When the day arrived, I drove to Yale with Florence and Dongmei.
About a hundred people attended the symposium, and I was one of sev- eral presenters slated to do a one-hour workshop after the keynote speech. When the main presentation ended, the participants broke up into smaller groups and headed to one of several rooms where the workshops were being held. My room quickly became overcrowded and we had to switch to a larger one. Then that room filled beyond capacity and we had to switch rooms a second time. When we were finally ready to begin, twenty minutes had passed. I made a few introductory remarks about the history of Qigong and then briefly described my childhood, including the training I received in the boiler room and my incubation inside the dark chamber at the monastery. Then I presented a PowerPoint slide show that laid out the basic principles underlying the science of Qigong. In the last few minutes I proposed to do a demonstration of Qi power.
I asked to borrow a dollar bill from someone in the audience. Several hands went up, and I randomly selected a volunteer, who came to the front of the room and handed me a crisp one-dollar bill. I selected another volunteer and showed them both an ordinary plastic chop- stick, the kind available at most Chinese restaurants. I asked them to each grasp one end of the chopstick. Then I stood between them and empowered the dollar bill with Qi by running my hand over it. I grasped one end of the bill, then raised and lowered it twice, tapping the chopstick lightly with the narrow edge of the bill each time. The third time I brought my hand down quickly in a slashing motion and sliced cleanly through the chopstick with the dollar bill.
There was a stunned moment of silence followed by enthusiastic applause. When the presentation ended, I was surrounded by students and professors bursting with questions. I was delighted with the outpouring of interest about Qigong from members of one of the top medical institutions in the world.
After my experience at Yale, I reflected back on my life, noting that my destiny has always unfolded in a pattern of circles that extended progressively farther out into the world. From the boiler room at Yi Suo, to Jiuyi Temple, to Zhongnan University, to Hainan Island, to Sydney, to New York City, to Yale University. Each circle was a station where I underwent a personal transformation that prepared me for my next stage of development. It then dawned on me that the next circle in the series should be to write a book about my life and Qigong. This is the book that you are holding.
This work marks another turning point in my personal evolution, and hopefully yours. I wrote it because I recognized that in order to crystallize Xiao Yao's vision of Qigong going global, I needed to both share my story publicly and make the knowledge I received from my beloved master accessible to anyone who was interested.
Having taught Qigong to over a hundred and fifty thousand people across many cultures and countries, I have learned to appreciate the diversity of perspectives each practitioner embodies. Yet despite these differences, there lies an essential spiritual core that unifies us all. The practices described in the rest of this book aim to awaken and develop that aspect of our common humanity.
My master was a devout Buddhist monk. Like so many others of my generation who grew up during the Cultural Revolution in China, I didn't identify with any particular faith. In all the years I studied with Xiao Yao, he never overlaid any religious beliefs or dogma on his Qigong teachings, and neither do I. Everyone can benefit from the practice of Qigong regardless of race, gender, or religious belief.
If you are a person of faith, the Qigong practices in the chapters ahead will enrich your religious expression with wisdom, love, and vitality. And if you are a staunch atheist, the practices will enrich your humanism with more wisdom, love, and vitality. Qigong improves our performance in any domain of human activity much as an operating system upgrade improves the performance of any program installed on a computer.
However, there is one important prerequisite to practicing Qigong: being able to smile and enjoy yourself. Having fun doing the exercises is the key to progress. And adopting an easygoing style is the secret to spiritual success. Incidentally, "easygoing" is the meaning of my master's name, Xiao Yao, so when practicing Qigong, be xiao yao.
To be continued in the next issue of Catalyst...
Click on the following to read: Installment #1 lnstallment #2 Installment #3 Installment #4 Installment #5 lnstallment #6 Installment #7 Installment #8 Installment #9 Installment #10 Installment #11 Installment #12 Installment #13 Installment #14 Installment #15 Installment #16 Installment #17 Installment #18 Installment #19 Installment #20 Installment #21 Installment #22 Installment #23 Installment #24 Installment #25 Installment #26 Installment #27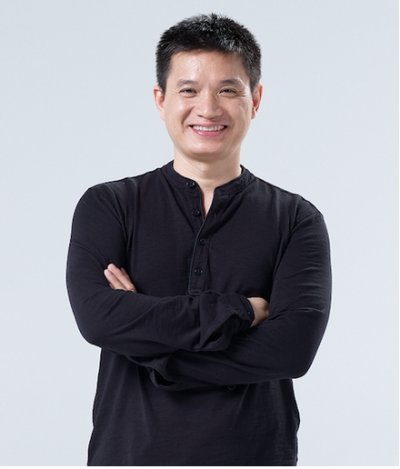 Robert Peng is a world-renowned Qigong Master, healer, and author of the book, The Master Key: Qigong Secrets for Vitality, Love, and Wisdom .
Click here for a free access of the audiobook, 100 Days of Darkness and Light, which is the first section in Robert's book, The Master Key.
Robert's companion resources include:
The Master Key Video Series (4 DVDs of Qigong practices)
The Master Key Audio Series (5 CDs of Qigong practices)
Qigong Ecstasy (45-minute Qigong practice video)
AM/PM Qigong (Two 30-minute Qigong routines video)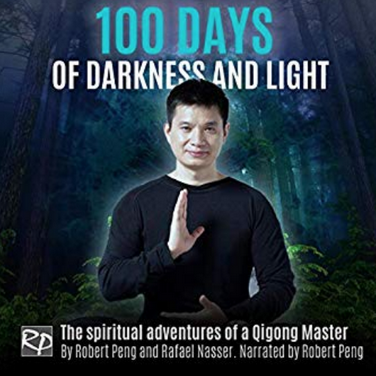 Robert was born and raised in Hunan, China. At age eight, he began an intensive apprenticeship under the close guidance of the legendary monk Xiao Yao, an enlightened master known for his profound healing ability and martial arts skill. At age 15, Robert performed a 100-day water fast in a small dark room at a secluded monastery in the remote mountains of Hunan province. He underwent a radical spiritual transformation and awakened amazing healing powers. Master Xiao Yao encouraged Robert to develop his healing skills by studying with other Chinese masters.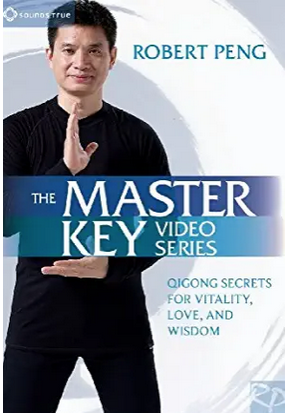 After pursuing his training quietly while attending university in Changsha, where he majored in English Literature, at 29 years old he began to teach publicly, and within five years had trained over 150,000 students all over China, Australia, and the U.S.
With his deep understanding and practice of Qigong, and with extensive life and teaching experience in the western world, Robert has developed a unique way to teach Qigong that people from different cultures can easily understand and follow while enjoying the real essence of this ancient Chinese healing art of wisdom, love, and vitality.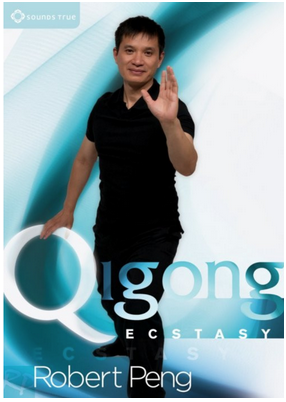 Robert has been a regular presenter at the Omega Institute for Holistic Studies, Kripalu Center for Yoga and Health, The Esalen Institute, Integrative Health Symposium, and many other organizations and schools.
Together with Bishop Desmond and Pema Chodron, he was honored as one of "Top Ten Heroes of 2013" for his contribution to transform "the ancient Chinese healing art of Qigong into today's fast-growing holistic practices — in addition to use as a spiritual practice for inner balance and peace, Qigong movement is gaining acceptance as a gentle movement for chronic illness and pain."
Click here to visit Robert's website.
Watch bellow and participate in Robert's 8-minute Qigong practice, Scooping Universal Qi to Empower our Wisdom, Love & Vitality.