Bernadette Pleasant answers the question:
What is the nicest thing a non-family member has ever done for you?
Wow. Nicest thing a non-family member has ever done for me. I'm going to go with what comes to my mind first. I have a dear friend, her name is Roslyn Thomas. Many years ago... We've been friends for, oh my gosh, 35, 40 years, something like that. I was going through a pretty scary time. I'd married at age 17. This is now 10 years later, I'm 27 years old, and I was going through a divorce. This was a very difficult time. My daughter was six years old. I come from a very sheltered way of living, a closed community, religion. My then-husband was part of this religion. My family, all my friends were in this religion, with the exception of this one friend, Roslyn Thomas.
I wasn't sleeping, I wasn't eating, I was stressed out, I'd left my husband. I can recall getting a phone call from my boss. I didn't quite understand the phone call and why he was calling me. He says, "Bernadette, where have you been?" I recall looking at the phone, thinking, What are you talking about? He says, "Are you okay?" "Sure, I'm okay." I have all this question in my voice, because I don't understand why he's calling me. And he says, "Bernadette, it's Thursday. You haven't been to work all week. You haven't called in. I don't understand."
I didn't realize it was Thursday. I didn't realize I hadn't been to work all week. I was in such a panic state, I didn't know I was having a nervous breakdown. And I called this friend Roslyn, who's just salt of the earth, just this amazing, amazing friend that I wasn't supposed to have, because she wasn't part of this religious sect that I was a part of. She said, after listening to me and hearing me say how troubled I was that I could have put my job in jeopardy and that I didn't know what day of the week it was, and I had no idea how much stress I was under... she said, "I want you to see a therapist. You need help. You are really going through a very difficult time and it's too much to bear." And I said to her, based on what I knew, what I'd been taught, what I'd heard all my life, I said, "Black people don't see therapists. We don't do that." And she, a black woman, said to me, "I know, and we should. It's time to get the healthcare, the mental healthcare we need."
It was at that moment... I trusted her, she gave me the name of someone who she had worked with, and she recommended this person so highly. And I began a journey of the kind of healthcare I needed, my mental healthcare, and it changed everything. It helped me deal with this very, very stressful time. I began to eat again. I began to sleep again. I began to think more broadly, more fully. I felt seen in Roslyn. I felt cared for. She understood those stories, those things that I'd heard. And she dared me, not just dared me, she did better than that. She cared for me and held my hand and said, "I know this is scary. This is something you had not seen modeled. I'm going to show you a different way, or point you in a right direction." And she did that.
And I began a journey of healing that just kept going and continues to go to this day. It changed my life. I love the way she saw me, the way she cared, and the way she held my hand through that process.

---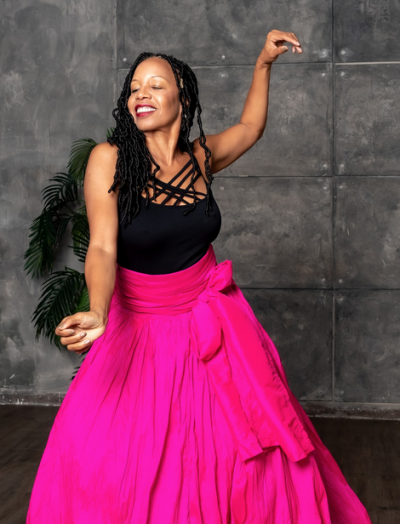 Intoxicating and energetic, Bernadette Pleasant is a fiery and sensual speaker, somatic healer, and creator of The Emotional Institute LLC... 400 Years: Unlearning Racism... and Femme!, a mind-body wellness program. She has spent a lifetime exploring creative visualizations and celebrations of the human form, from sensual dance to somatic healing. A gifted healer, dancer, and entrepreneur, she channels her personal journeys and her radical empathy into transformative, immersive experiences that empower and celebrate people of all genders, ages, sizes, and fitness levels. Bernadette travels globally empowering all through classes, private workshops, retreats, and conferences.
With certifications in Emotions-Centered Coaching, Nia Technique, Nia 5 Stages, Ageless Grace, Pole Dance, Somatic Healing, Reiki, and Integrated Energy Therapy — and studies in African, Tribal, and Free Dance — Bernadette promotes emotional freedom through movement and empowerment.
Bernadette regularly leads discussions on emotional healing, grief rituals, inclusive movement, and empowerment for all. Her authenticity, charisma, and warmth allow her to empathize with and inspire those ready for a journey of emotional exploration and affirmation. Intuitive and engaging, Bernadette is a vibrant, sensual speaker who connects with those who have been silenced and shut down to support their physical, emotional, and healing journeys — whether in a classroom, from a podium, or one-on-one.
Bernadette, a woman of color, comes from a long line of natural healers who have used touch and movement to help others find peace, empowerment, and wellness. Her classrooms welcome participants without judgment, and support their paths to finding comfort in their own skin. In the Femme! experience, Bernadette creates a safe space for all ages, backgrounds, body types, and dance skills to explore their sensual selves. Everyone is empowered to fully embrace and embody all of their emotions and fully express them through movement; joy, sorrow, rage, ecstasy, and more are all welcome at Femme! In Femme! everyone is infused with the affirmation, "It's your body; you can do whatever you want with it — including love it unapologetically!"
Catalyst is produced by The Shift Network to feature inspiring stories and provide information to help shift consciousness and take practical action. To receive Catalyst twice a month, sign up here.
This article appears in: 2020 Catalyst, Issue 18: Readers Write