Shawna Bluestar Newcomb answers the question:
What is the nicest thing a non-family member has ever done for you?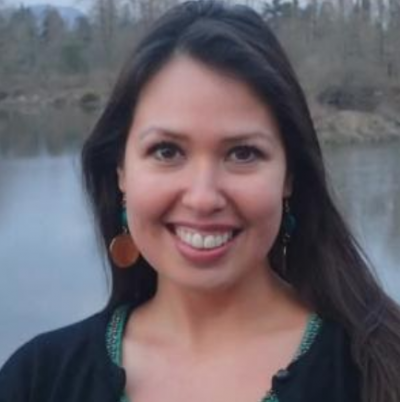 There's been so many incredible people in my life and I feel a lot of gratitude. I do feel a lot of gratitude for specifically Grandmother Flordemayo. I feel like that really was a turning point when I had the opportunity to meet her years ago. And I feel like just at the time I had grown up as a really sensitive child opening to my spiritual gifts, but not really ever fully having a lot of guidance around it. And I had a lot of spiritual messages coming to me about the changing times that we're in now. And I was apprehensive about sharing and really taking deeper steps into the work that really would become my life's work.
So when Grandmother Flordemayo came into my life, she guided me and really encouraged me that it was important to share and really celebrate having these gifts, that she maybe even had a time where she had similar feelings as a younger person. Just having that guidance and really encouragement from her made a big difference in me being able to share and do healing work and intuitive work with people. And as well, her enthusiasm with working with The Shift Network had an impact on me. And when I met with Stephen Dinan a few years after meeting her, he also asked if I would be open to becoming the host for the Global Indigenous Wisdom Summit.
And so just because of Grandmother Flordemayo's enthusiasm, I said yes. And so that's also been a celebration. So I want to say thank you to him as well by extension, that now that's led to having even more opportunities to be part of the summits and hosting the Shamanic Wisdom Summit. And so I just feel so much gratitude to have that connection and so much gratitude to Grandmother Flordemayo for really being there. And I feel like she's an extended family member at this point, where her and her daughter have just been really taking me under their wing and encouraging me and being very supportive in the work that I'm doing with people.
---
Shawna Bluestar Newcomb (Shawnee, Lenape, Azteca) is opening hearts and minds across the world sharing ancient wisdom for modern times as speaker, visionary, and spiritual guide. Her profound universal messages offer clarity and peace for these times of uncertainty and change of "The Great Shift." Shawna guides seekers and changemakers to navigate the new paradigm by opening to their authentic power, intuition, and unique genius.
She is the creator of two online courses, "The Reverence Code Reset: The Changemaker's Course" and "Sacred Feminine Rising." Shawna collaborates with her father on a global movement for conscious change. She reveals hidden history behind our common wounds from the Domination Code. As a way forward, Shawna offers insights from her teachings of The Reverence Code, based on ancient and Indigenous knowledge. Shawna is dedicated to a vision of healing for all