A Personal Invitation to the October 26-30 Beyond the Veil Summit From Your Host, Lisa Bonnice
Our very first Beyond the Veil Summit, hosted by The Shift Network's own Lisa Bonnice, takes place October 26-30.
This FREE summit features a global gathering of highly sought-after scientists, mediumship practitioners, physicians, researchers, and inspiring spiritual teachers who will share illuminating conversations about encounters with "touching the veil" — experiencing facets of death and the afterlife, and coming back to share transformative insights with the world.
Whether you're looking to gain meaningful closure around the loss of a loved one, or wanting to glean insights into how to live fully in the here and now, this unique online event will guide you deeper into appreciation and awe for the preciousness of life… provide a deeper sense of belonging in the shared human experience… and expose you to meaningful stories and insights into death, consciousness, and the beyond.
To register for free, click here.
 
Hi, I'm Lisa Bonnice and I'm the host of The Shift Network's first-ever Beyond the Veil Summit, where we explore near-death experiences, mediumship, and everything in between — in an effort to understand the nature of what we call the veil between the worlds. Because this is such a vast and ineffable subject, we brought in almost three dozen speakers to talk about their own experiences. 
We discovered that even though each brings their own unique perspective and understanding, there is absolutely a common theme. It may not surprise you to learn that the theme is, We are truly loved beyond measure and are guided by loved ones and spirit beings on the other side.
But what may surprise you is the effect that listening to these conversations will have on your own experience and understanding of the topic. After all, it's one thing to be told you are loved unconditionally, that you actually are unconditional love. We've all heard that, haven't we? But it's quite another to hear story, after story, after story from people who've been immersed in this absolute knowing. It begins to change you. 
You'll learn from Dr. Raymond Moody, Eben Alexander and Karen Newell, Sandra Ingerman, and several others that you don't have to have an NDE to access this wisdom. Suzanne Giesemann, Mark Anthony, Carrie Paris, and other mediums will give tips and pointers on how to communicate with the other side.
Jeralyn Glass and Elizabeth Anne Hill will talk about the soul contracts they're fulfilling with loved ones who crossed over and are still very much a part of their life's work. We'll talk with Linda Bachman and Rob Schwartz about what it's like between lives and how we plan with others in spirit to create those soul contracts. We'll explore the death experience with Tarron Estes and William Peters — in how to make it a peaceful transition and how some actually share the exquisite experience of the light and the reunion with others in spirit as their loved ones crossed over. We'll even learn from pet medium Nikki Cuthbertson how our animal friends communicate both in body, and from the other side of the rainbow bridge.
If this topic interests you at all, go ahead and register to listen to this free summit so you can share in these divine conversations with Robert Moss, Dr. William Bloom, Vanessa Codorniu, Dr. Norma Edwards, Sherry Aimée, and so many others. I'll see you there.
 
---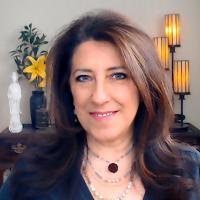 Lisa Bonnice is an award-winning writer and humorist, winning two Excellence Awards from MSNBC.com during her tenure there as a news writer/associate producer. She also traveled the country as a stand-up comedian, working with the likes of Tim Allen and Steve Harvey. 
Her first book, Shape Shifting: Reclaiming Your Perfect Body, includes a foreword by Neale Donald Walsch, with whom she worked within the organization he founded, Humanity's Team, as the Regional Director of the entire southern portion of the United States. Her True Crime novel, Fear of Our Father, was twice featured on the Investigation Discovery Network. Her newest novel, a metaphysical comedy called The Poppet Master, includes a foreword by Marc Allen, publisher at New World Library (and the man who discovered Eckhart Tolle).
Lisa hosted her own podcast, Shape Shifting, on BlogTalkRadio, featuring such guests as Lynne McTaggart, Edgar Mitchell, and Neale Donald Walsch. She has been a program host with The Shift Network for almost five years, where she has interviewed luminaries such as Gregg Braden, Robert Thurman, and Stanislov Grof. She also hosted an online chat show, Mind Yourself, where she interviewed experts in human transformation.
Her current writing project, based on actual events found in her family tree, spurred Lisa into her almost obsessive interest in ancestral healing. While doing genealogy research, she discovered an ancient witch trial and generational curse, which explained an awful lot about unusual patterns and illnesses in her life and those of her family. As her work with The Shift Network offered access to many of today's leading-edge speakers, she noticed a common theme: many of them briefly referred to working with ancestors to heal illness and behavior patterns, but ancestral healing itself was never the main focus of the conversations. Lisa picked up these threads and tied them together, weaving together the Ancestral Healing Summit with Shift's Summits team. This writing project, tentatively titled The Maxwell Curse, tells how ancestral legacies can ripple across time for centuries, leaving havoc in their wake. Lisa feels that it's her life's work to heal that curse by working with her ancestors, and sharing with others how they too can break the ties that bind them to their own families' past histories.
Click here to visit Lisa's website.