Anne Lamott answers the question:
What is the nicest thing a non-family member has ever done for you?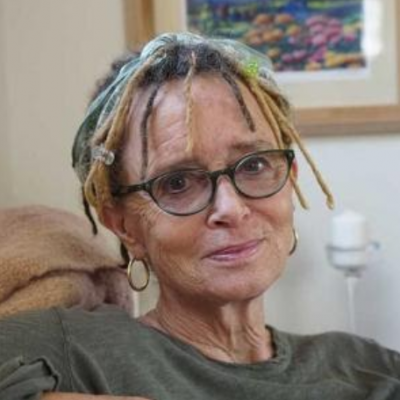 Well, there are so many, but I think the most profound began in my twenties, 40-some years ago, when I was living in a little hippie artist community, and drinking and using and out of control. And I injured a woman at a really grievous level. I did something so immoral.
When I got sober at 32, I wrote a letter of amends, an apology from really the depths of my soul. And she responded really beautifully. And then, a couple of years ago, I was doing a writing conference at a big bookstore and she came to it. I hadn't seen her in all these years. And she came to it with a little thing she had made me that represented forgiveness in the Jewish tradition... and blessing. And she handed it to me. There were 200 other people there, and she, at that moment, had unilaterally wiped the slate clean. And we just gazed at each other with love and amazement. And I was changed. That changed me on a molecular level.
Anne's newest book, Dusk, Night, Dawn: On Revival and Courage, is available now.
Click here to order your copy.
Anne Lamott writes and speaks about subjects that begin with capital letters: Alcoholism, Motherhood, Jesus. But armed with self-effacing humor — she is laugh-out-loud funny _ and ruthless honesty, Lamott converts her subjects into enchantment. Actually, she writes about what most of us don't like to think about. She wrote her first novel for her father, the writer Kenneth Lamott, when he was diagnosed with brain cancer. She has said that the book was "a present to someone I loved who was going to die."
In all her novels, Lamott writes about loss — loss of loved ones and loss of personal control. She doesn't try to sugarcoat the sadness, frustration, and disappointment, but tells her stories with honesty, compassion, and a pureness of voice. She says, "I have a lot of hope and a lot of faith and I struggle to communicate that." Lamott does communicate her faith; in her books and in person, she lifts, comforts, and inspires, all the while keeping us laughing.
Lamott is the author of seven novels, Hard Laughter, Rosie, Joe Jones, Blue Shoe, All New People, Crooked Little Heart, and Imperfect Birds. She has also written several bestselling books of nonfiction, including Operating Instructions, an account of life as a single mother during her son's first year... Some Assembly Required: A Journal of My Son's First Son... and the classic book on writing, Bird by Bird: Some Instructions on Writing and Life.
She has also authored several collections of autobiographical essays on faith. Her newest book, Dusk, Night, Dawn: On Revival and Courage. ..Traveling Mercies: Some Thoughts on Faith... Plan B: Further Thoughts on Faith. .. and Grace (Eventually): Thoughts on Faith. In addition, she's written Help, Thanks, Wow: The Three Essential Prayers... Stitches; A Handbook on Meaning, Hope, and Repair. .. Small Victories: Spotting Improbable Moments of Grace... Hallelujah Anyway; Rediscovering Mercy... and Almost Everything: Notes on Hope.
Lamott has been honored with a Guggenheim Fellowship, and has taught at UC Davis, as well as at writing conferences across the country. Academy Award-winning filmmaker Freida Mock has made a documentary on Lamott, entitled "Bird by Bird with Annie" (1999). Lamott has also been inducted into the California Hall of Fame.