2021 Catalyst, Issue 6 – Somatic Movement Summit
Shift Network Update
By Brian Siddhartha Ingle and Gayatri Schriefer, co-hosts of the Somatic Movement Summit
Remember how you moved as a child without any aches and pains, and it felt like you didn't have a body — you were just free, free to explore your world without limitations. As life progressed, perhaps you started to feel life's responsibilities weigh on you.
Instead of your body being used as a means to experience the joy of movement, slowly it became a vehicle to carry your mind around, like a "brain taxi." Somehow, somewhere you became disconnected from the free joyful movement you experienced as a child.
Somatic practice is all about bringing us back to our natural state, as you'll find out for yourself during the free online Somatic Movement Summit that we are privileged to host from April 19-23.
If we had continued to explore, like when we were children, we would not go downhill as we age. Instead, we would continue to flourish and grow by being embodied. This aging process should be a healthy maturation so that we can continue to develop and learn as we age.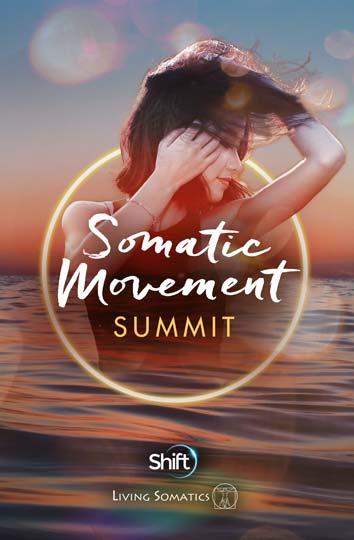 Coming back to our authentic natural way of being enables us to be centered, grounded, pain-free, and happy. Our curiosity in how we function as human beings on the inside and how we relate to our environment on the outside enables us to actualize our dreams and potential. This regular somatic inquiry and practice grows our energy and our skills as human beings to navigate the complexity of living in our modern world.
We hope you'll join us for this illuminating 5-day Somatic Movement Summit beginning April 19. We video-interviewed an impressive array of international speakers, including Eleanor Criswell Hanna, Paul Linden, Martha Eddy, Lavinia Plonka, Elisa Cotroneo, Suresha Hill, Debbie Rosas, and Bernadette Pleasant.
You can register for this free summit here. We look forward to welcoming you to discover the richness of moving and sensing from the inside!
---
The uplifting stories in this issue's "The Nicest Thing" section come from summit speakers Bernadette Pleasant, Lavinia Plonka, and Daisy Lee.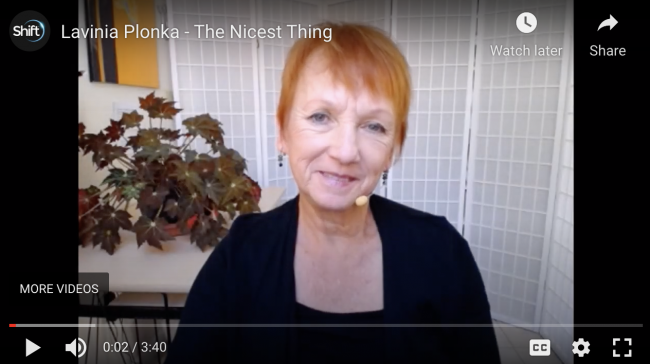 ---
Finally, we'd love to hear your answer to the question, Do you have a daily movement practice that helps you live with more ease and flexibility? To share your thoughts in our Facebook Page community, click here .
---
Somatic exercises can change how we live our lives, how we believe that our minds and bodies interrelate, how powerful we think we are in controlling our lives, and how responsible we should be in taking care of our total being.
— Thomas Hanna
---
A Personal Invitation to the April 19-23 Somatic Movement Summit From Your Co-Hosts, Brian Siddhartha Ingle and Gayatri Schriefer
Gayatri: Some of the top speakers at the summit are Eleanor Criswell Hanna, Judith Aston, Paul Linden, Debbie Rosas...
Brian Siddhartha: Russell and Linda Delman, and Hugh Milne, the osteopath.
Gayatri: We really hope that you will join us for these many amazing practices and speakers.
To watch this 2-minute video and read the rest of the text, click here.
---
Would you like to join The Shift Network team?
We are seeking unique and talented individuals for important positions at The Shift Network. If you're inspired and passionate about joining our team, please click here for more information about these positions. The Shift Network is committed to creating a diverse environment and is an equal-opportunity employer.
Profiles
Loss, Love, and Qigong
By Shift faculty Daisy Lee, a featured speaker in the Somatic Movement Summit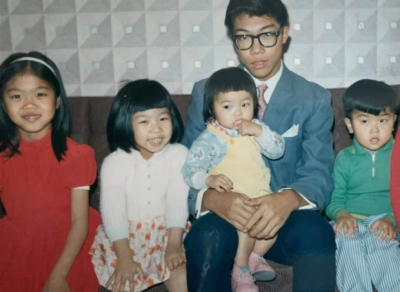 When my parents became ill with cancers 10 years apart, along with my husband in between those years, I desperately sought to find the answer to sustain health. It was a quest that would lead me to Qigong. At that time, I had more questions than answers. How did my family become ill? Was it from the agricultural pesticides and herbicides used on our farm? On the plastic containers were poison symbols with the skull and crossbones... could their exposure to these poisons have compromised their health, and if so, could these illnesses have been prevented or reversed with proper nutrition, clean air, water, and exercise? To read more, click here.
The Nicest Thing
In this special video series, prominent authors, thought leaders, and others answer the question, "What is the nicest thing a non-family member has ever done for you?"
Bernadette Pleasant's Story
Shift faculty and a featured speaker in the Somatic Movement Summit
EXCERPT: I wasn't sleeping, I wasn't eating, I was stressed out, I'd left my husband. I can recall getting a phone call from my boss. I didn't quite understand the phone call and why he was calling me. He says, "Bernadette, where have you been?" I recall looking at the phone, thinking, What are you talking about? He says, "Are you okay?" "Sure, I'm okay." I have all this question in my voice, because I don't understand why he's calling me. And he says, "Bernadette, it's Thursday. You haven't been to work all week. You haven't called in. I don't understand."
To watch the video and read the transcript of Bernadette's 5-minute story about the caring friend who transformed her life, click here.
Lavinia Plonka's Story
Shift faculty and a featured speaker in the Somatic Movement Summit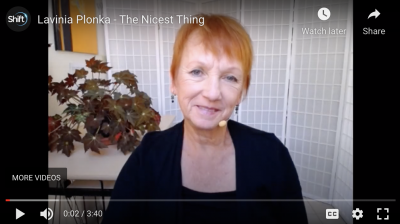 EXCERPT: Her name is Dr. Terry Wulster and she did an examination, and she said, "Well, you're going to need several adjustments." I had no insurance and I couldn't even pay my mortgage at the time. I went, "How much is that going to cost me?" She said, "Well, the adjustments are $35 a session," and I fell apart. I just completely like weeping and sobbing about how I can never get it together and I don't have any money. She just went, "Well, don't pay me." And right in the middle of all my tears I just stopped cold, and I realized that, wow, when you get the right kind of shock, your emotions can change instantaneously. I was like, "What?"
To watch the video and read the transcript of Lavinia's 4-minute story of awakening and purpose, click here
.
Daisy Lee's Story
Shift faculty and a featured speaker in the Somatic Movement Summit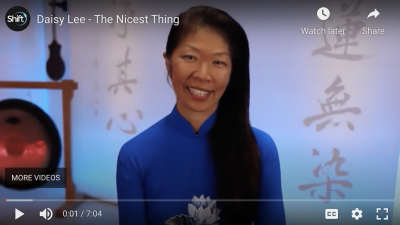 EXCERPT: It sang and sang away, and we left the property bemused and never forgetting what we had seen and experienced. So, we couldn't help it. We ended up making an offer on this property and it closed. They accepted our offer and it closed on my birthday, so that was pretty significant for that as well. But I just think that sometimes the more-than-human world has messages for us and the world is speaking right now, all around the world.
To watch the video and read the transcript of Daisy's 7-minute story about a feathered friend who seduced her with his beautiful song, click here.
Feature Articles
Have You Grieved Enough Today?
By Shift faculty Bernadette Pleasant, a featured speaker in the Somatic Movement Summit
Many years ago, a friend told me how sad she was that she didn't have her mom around anymore. Her mom had died earlier that year and she missed their regular phone calls and visits. As I listened to her describe her experience, I realized I was going through the same thing. But I was confused: my mom was still alive. How could I be experiencing grief? Isn't that experienced only when someone close to you dies? To read more, click here.

What Is Pandiculation?
By Yasmin Lambat, a featured speaker in the Somatic Movement Summit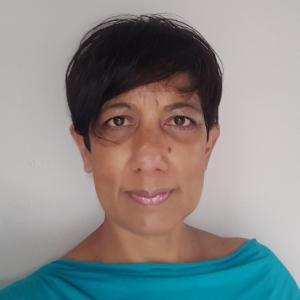 That early morning urge to move and revitalize your body when you wake up in the morning is called pandiculation. It is linked to restoring your body's homeostasis through motion, while awakening the sensory pathway of your nervous system. It's often described as the stretch-and-yawn response, except that the involuntary motion is nothing like the stretch. To read more, click here.
Investing in Failure
By Shift faculty Lavinia Plonka, a featured speaker in the Somatic Movement Summit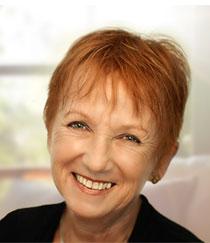 It was one of those unexpected February moments when the temperature blasted up to 70 and I turned to my husband Ron and said, "Hey, let's take the e-bikes for a ride!" The relatively new bikes had been gathering dust since November, sulking in a corner on the porch. I awkwardly navigated them into the living room. Where did we put the batteries? Our aging brains failed at several locations and then savored the dopamine rush at discovering the batteries in the storage under the stairs. Standing there holding the batteries, neither one of us was ready to admit we'd forgotten how to put them on. To read more, click here.
A Month of Postcards From My Dream Travels
By Shift faculty Robert Moss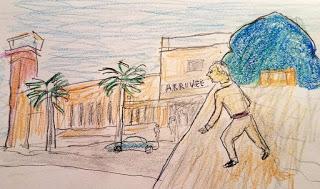 One of the great gifts of dreaming, especially welcome in these shut-down times, is that we can travel without leaving home and be as social as we please. My daily and nightly practice is to type what I recall from dreams and hypnagogia on my phone as soon as I come back from an excursion. I then email myself my reports. When I get out of bed I often make a quick sketch, a postcard from a dream adventure. Then I write up a full report in my journal. To read more, click here.
Racial Healing & Justice
A note from Rev. Dr. Aliah MaJon, Chief Inclusion Officer for The Shift Network:
I first learned about somatic movement in the late 1980s, and like many things in my life, I was introduced to it when methods like this were not yet mainstream. As a person of African descent, the idea of "movement" being a part of living life came natural to me. However, I have a connection to share with you about this background...
I was in a personal relationship with a White-bodied woman who was studying to become a practitioner of the Feldenkrais Method®. I went with her to demonstrations and sat in on a few of her classes. What I noticed, back then at least, is that there were no people of color. This struck me. When I think of that now, that fact that this was my experience is almost ironic; you see, this meticulous and beautiful technique requires individuals to learn to be highly aware, to heighten their perception, and to become attuned to the smallest of things. Of course, this acuity of awareness in the practice of the Feldenkrais Method was focused on human bodies and, in particular, on how to support people to use their physical forms closer to the way that our bodies are mechanically structured. (NOTE: I'm explaining this as a layperson, not as a practitioner.)
So, fast forwarding to today, I can't help but feel that having somatic movement transfer some of this finely honed "awareness-building" in the area of healing the racial divide and doing ant-racist work — in other words, to decide to become deliberately conscious — seems like a perfect use of such skills! Not to mention, the other somatic principle of learning to listen deeply.
For this issue, this section is being curated by my associate, Gillian Shelley, the Inclusion Program Manager. I am delighted to have Gillian join me in our joint responsibility of shining a light on all things related to Racial Justice & Healing. She is genuinely passionate about what she is contributing here, and I am very glad to be in the position of being a student regarding this section for the first time — to be learning about the coupling of somatic movement with anti-racist work, and to get to see how they both can better our world.
Embodiment and Collective Healing
By Gillian Shelley, Inclusion Program Coordinator for The Shift Network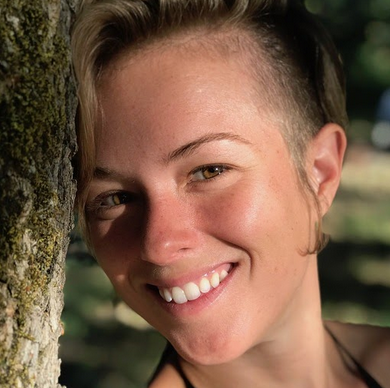 It's a lot to be alive right now. As I'm sure you already know and can feel, we are living in a time where our participation matters. If we are really present and paying attention, we know that the choices we make in the next five to fifteen years will have a tremendous impact on the future of life on Earth.
Yet, if we're not embodied, then we can't be present... and if we're not present, we can't take responsibility for what needs to happen so that harm can stop…
Embodiment is a journey of returning to our natural state. We are letting go of the inherited and learned strategies that protect ourselves from feeling pain, and replacing them with pathways ranging from disassociation to full aliveness.
With so much urgent need, I know from my own experience that I can be easily seduced into reactivity and rushing. I try and speed up to heal as much as I can, and make strict choices I know are good for the planet — and feel guilty when I fall short.
But... sometimes I notice how stuck my breath becomes in this reactive state. In these moments, I catch my spinning and slow down to tap into the deeper feelings that live underneath the reactions— grief, uncertainty, fear, and love for what is being lost. To read more, click here.
Featured Media
Movement Practice for Working with the Void
T. Aisha Edwards, a featured speaker in the Somatic Movement Summit
T. Aisha Edwards guides us through a somatic groundwork practice, informed by Kaila June's Somakinese school. To learn more about The Void, check out Aisha's winter blog post, " Hunger: An Introduction, or Breathless Under the Crush of 'Just Fine.' " To watch this 17-minute video, click here.
Acts of Love
Atira Tan, a featured speaker in the Somatic Movement Summit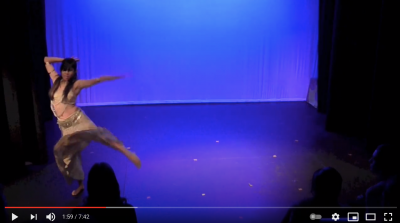 This April 2014 community dance event celebrating love and compassionate action, was a fundraising event for The Art2Healing Project, and a platform for people from all walks of life to experience the powerful and transformative nature of dance and performance. Atira Tan is the founder and director of The Art2Healing Project, a nonprofit organization that supports the healing and empowerment of sex-trafficked survivors through setting up art therapy, somatic psychology and counselling, yoga for trauma, meditation, and women's health training programs in Asia and the Pacific. To watch this 8-minute video, click here.
Movement News
Mantras for Peace
24-hour Global Peace Chant + month-long Wisdom Gathering
Begins April 20
Experience a global chant community and 30+ inspiring conversations by chant leaders and thought leaders from around the globe who are dedicated to a vibrant future... through both ancient and innovative subtle activism practices. Establish a deeper connection to the peacemaking power of mantra... and drink from wise, loving words that are nourishing medicine! The entire month is an invitation to relax into a long exhale, to take a pause for regeneration. Hosted by frequent Shift Network contributor Anandra George, this event is all-volunteer and free forever. For more information, click here.
---
Fresh Springs Deep Down: Glimpses of Grace in the Personal and Political
By Anne Bernard Becker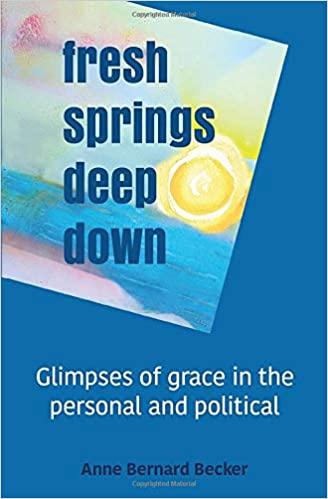 Does growing older always mean growing wiser? Many of us strive to live consciously and open-heartedly as we age. This means honoring our own heartbreaks and victories as well as the world's.In Fresh Springs Deep Down: Glimpses of Grace in the Personal and Political, Anne Bernard Becker muses on timeless themes from the perspective of a Midwestern empty nester and everyday contemplative. Her deeply personal essays are colored by the sweep of political events and social change during the pivotal years 2015 to 2019. Their intimate candor invites readers to plumb the spiritual, psychological, and cultural depths of their own daily reality. To order your copy, click here.
---

For several years, The Shift Network has hosted Indigenous leaders from around the world and invited them to share their sacred knowledge, rituals, and practices to guide us in a way of living that is sustainable, healthy, and just. We're thus delighted that the Global Indigenous Wisdom Library makes this "virtual council" of leaders and their wisdom available for everyone, everywhere for free. The Global Indigenous Wisdom Library is a collection of audio and video interviews featuring Indigenous leaders from around the world sharing prayers, sacred songs, prophecies, spiritual teachings, and pathways to healing, as well as concrete examples for birthing a new era — one in which all members of the human family are treated with respect, understanding, compassion, and justice. This sacred wisdom is important medicine for us all.
The production of The Global Indigenous Wisdom Library is a gift from The Shift Network, designed to inspire, inform, and involve you by highlighting the voices and important messages of Indigenous leaders from around the world. We want to give a heartfelt thanks to Hereditary Chief Phil Lane Jr. ("Brother Phil") for his partnership in helping create this Indigenous Wisdom collection. And we thank all the speakers who have contributed to this body of knowledge. To discover more, click here.
---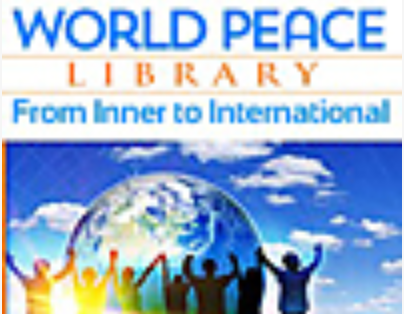 World Peace Library. Designed for the layperson and professional peacebuilder alike, the World Peace Library has over 425 audio and video interviews with some of the most remarkable, inspiring peacebuilders in the world available to you at NO COST. You'll find hundreds of hours of inspirational, peacebuilding, compassion-spreading talks and trainings at your fingertips with this FREE global resource. There's no way you can't come away from the World Peace Library deeply inspired, transformed — and part of the solution. Click here to find out how to take peace to the next level — and help co-create a global culture of peace that leaves a legacy of good for our children, our children's children and all of humanity and life on earth.
---

Sacred America, Sacred World. Infused with visionary power, Sacred America, Sacred World is a manifesto for our country's evolution that is both political and deeply spiritual. It offers profound hope that America can grow beyond our current challenges and manifest our noblest destiny, which the book shows is rooted in sacred principles that transcend left or right political views. To order your copy, click here.
---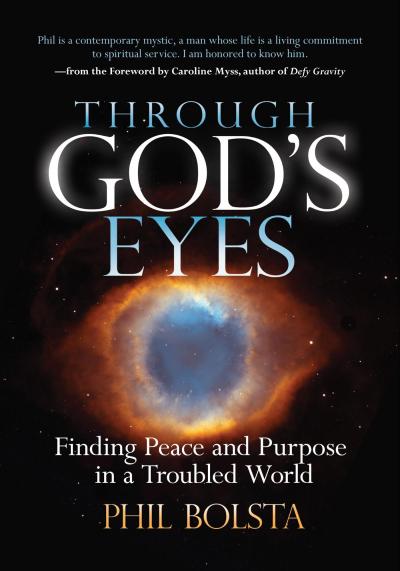 Through God's Eyes: Finding Peace and Purpose in a Troubled World by Phil Bolsta of The Shift Network. Through God's Eyes is a road map for living a more peaceful, beautiful life. It's the only book that shows you how dozens of spiritual principles interact, how to weave them together into a cohesive worldview, and how to practically apply this spiritual wisdom to bring joy and vitality to your daily life. For more information and to order your copy, click here. To request a free sample chapter from the author, email Phil at GodsEyes@me.com.
Through God's Eyesis a superb book, a truly enlightened piece of work that is an essential read for all people who are truly devoted to the care and refinement of their soul. Phil is a contemporary mystic, a man whose life is a living commitment to spiritual service. I am honored to know him.
— Caroline Myss, Author of Intimate Conversations with the Divine, Anatomy of the Spirit, and Defy Gravity
One of the most important books I've ever read. An incredible compilation of spiritual wisdom and insight. It's the owner's manual God should give you when you're born.
– Robert Peterson, Author of Answers Within
If you would like to submit something to The Catalyst, please see the submission guidelines: click here.
Shift Spotlight
Connect to Your Inner Joy Through Qigong's Xi Breathing — A free video event with Qigong master and healer Robert Peng, author of The Master Key. Reinvigorate your energy flow, clear blockages, and cultivate a sense of wellbeing through Qigong's Xi breathing technique — and discover the spiritual abundance that awaits you. Wednesday, April 21, at 5:30pm Pacific
Tree Medicine for Increased Immunity and Emotional Wellbeing — A free video event with world-renowned plant medicine pioneer and leading grassroots healthcare expert David Crow. Discover modern and ancient ways to use proven tree medicine remedies to treat stress and anxiety, all while boosting your immune system, starting today. Saturday, April 24, at 10:00am Pacific
Liberate Your Soul's Voice Through Song — A free video event with Isaac and Thorald Koren, transformational voice leaders and co-creators of Your Big Voice. Be guided in a vocal exploration using simple sounds to experience your voice as a whole-body healing instrument — and feel its relaxing, energizing, and revitalizing powers. Wednesday, April 28, at 5:30pm Pacific
Discover Ancient Kabbalistic Wisdom to Heal Your Ancestral Bloodline — A free video event with Jungian psychotherapist, author, and spiritual leader Rabbi Dr. Tirzah Firestone. Discover the deep root medicine in Kabbalah mysticism and experience a powerful guided practice to align your energy with its divine healing powers and the Holy Blessed Oneness. Saturday, May 1, at 10:00am Pacific
Cultivate a Healthy Relationship With Yourself and Your Body Through Biofield Tuning — With author Eileen McKusick, the creator of Biofield Tuning. Receive Biofield Tunings to harmonize your electrical circuitry as you learn to honor your body, love and care for yourself, and remove obstacles to those goals — so your energy can work for you, not against you. New 7-Week Video Training With Live Q&A Starts Tuesday, April 20
The Care and Feeding of Your Muse — With Ariel Spilsbury, renowned author, priestess, and unconventional initiator. Connect to and activate the inspiration of your inner archetypal Muse to rekindle your passion for life and sprinkle magic in everything you do. New 7-Week Live Video Training Starts Tuesday, April 20
Breath as a Pathway to Self-Love, Personal Empowerment & Divine Connection — With inspirational breathwork teacher Kathleen Booker. Dip into a well of nourishing and healing breathwork practices to address stress, anxiety, addiction, grief, feelings of isolation, unworthiness, and more. New 7-Week Live Video Training Starts Monday, April 26
Activate Shakti Healing for Wellbeing and Joy — With Dr. Shamini Jain, the founder and CEO of the Consciousness and Healing Initiative. Discover how science and your own subtle energy can activate your internal healing response to improve your physical, emotional, and spiritual wellbeing. New 7-Week Video Training With Live Q&A Starts Tuesday, April 27
Ancestral Shamanic Star Wisdom and Interdimensional Journeying to Heal Your Soul and Our Planet — With Peruvian maestro curandero, psychologist, and author don Oscar Miro-Quesada. Connect with the healing energies of the cosmos through guided meditation, ceremony, and multidimensional shamanic journeys — and deepen your connection to Self, Mother Nature, Great Spirit, and your soul's innate healing wisdom. New 7-Week Live Video Training Starts Tuesday, May 4
Awakening to the Spiritual Purpose of the Life You Planned Before Birth — With BLSR (Between Lives Soul Regression) hypnotist Rob Schwartz. Use soul regression, hypnosis-induced inner journeys, and meditations to explore your own pre-birth plan, the Divine Virtues you're cultivating in this lifetime, and self-empowering ways to guide the trajectory of your life — for greater inner peace, acceptance, happiness, and love. New 7-Week Live Video Training Starts Thursday, May 6
Awakening Your Intuitive Healing Power With Dr. Judith Orloff — A free video event with New York Times bestselling author Judith Orloff, MD, psychiatrist, empath, intuitive healer, and "Godmother of the Empath Movement." Harness your intuition to become a vessel for healing — as you transmute life's challenges through surrender, self-care, centering techniques, and more. Now available!
Catalyst Back Issues
Click here to see all previous issues of Catalyst.