[topbox2]
The Virtual Event is Now Complete
A Free Virtual Event
With World-Renowned Meditation Master, Spiritual Coach & Mind Power Expert
Burt Goldman
Discover a Proven Process for Rapid Manifestation, Guided by a True Icon of the Human Potential Movement Access Your "Twin Self" in Parallel Realms to Embody Greater Healthy, Vitality and Your True Creative Genius
What if mastering an instrument, art form or language didn't take hundreds of hours after all?
Instead, you could learn nearly anything quickly and deeply — amazing yourself and others with the results.
And what if you could access the creative genius of your "twin self" to manifest your goals and dreams — and increase your abundance.?
Or, imagine meeting your soulmate, by journeying to a parallel universe...
If this all sounds like science fiction, you haven't been introduced to Burt Goldman and his remarkable teachings.
Burt, now 90 years old, embraced Einstein's iconic insight long ago...
He's spent the past 50 years showing the world and his students how to quickly expand their consciousness into parallel dimensions of being — to solve life's challenges and learn and heal RAPIDLY.
The truth is, you have access to infinite wisdom, insight and creative potential — and unlocking your infinite mind to this powerful capacity is Burt's specialty.
A master of meditation, hypnotherapy, mind-power techniques and lucid dreaming, Burt shows people how to exit one reality — with all its limitations — and enter into parallel universes of possibility.
In doing so, you can access your parallel SELVES... for example, a successful, confident, creative that's mastered a skill you've always wanted to learn... who also enjoys an abundant life and nourishing relationships.
During this FREE video event with the remarkable Burt Goldman, you'll discover:
How to unlock your innate ability to access parallel dimensions and learn from your "twin" self
The secrets to learning any skill quickly — musical instruments, writing, painting, languages and more
Your ability to heal illnesses and physical discomfort by "jumping" into an alternate, healthy version of YOU
How to use lucid dreaming and meditation to overcome obstacles and internal blocks
How to receive answers to any question you have — tapping your quantum intuition for deep guidance and clarifying wisdom
While you might think you "have no musical talent" or could never write the book you secretly want to write, there is a parallel universe of possibility in which you are a top tier musical talent or gifted writer.
And in this free event, Burt will begin to show you how you can rapidly acquire abilities and make creative leaps that you never thought possible...
Burt himself is a shining example. At 90 (and you won't believe he's 90 when you see him!), not only is he a prodigious healer, teacher and author, he's used this methods to rapidly learn to play the piano and paint (which he does beautifully!).
Join this exciting video event with the playful and wise Burt Goldman. You'll receive fascinating insights and discover techniques for expanding your consciousness into other dimensions, which combine spiritual transmission, depth psychology and cognitive neuroscience!
You'll also hear about The Shift Network's first virtual course with Burt, in which he'll share the full set of teachings for accessing Infinite Mind, using his unique renowned methods.
What People Are Saying About Burt Goldman...

Guided by Burt's program, I am overjoyed to know that wherever I am in the world, I travel with the skill of tapping into my own inner wisdom. I would absolutely recommend [his teaching]! It provides a path to bring desired things into reality. I think it's an amazing tool to realize our true purpose.
— Nicola Mair, Kingston, Jamaica
[Burt's] teachings are simple and easy to learn and over exceeded my expectations. They are amazing! The first experience I had was a sharp headache I couldn't seem to get rid of. I didn't want to take a bunch of pills and decided to give Burt's Quantum Jumping process a shot. Going through the door to my other healthy self and staying there for a short while, I started to feel better. After a few minutes I opened my eyes and my headache was gone. After that I have done it with other ailments as well... Having your own personal experience with this technique is what's going to show you possibilities beyond your wildest expectations. It is an ongoing adventure. Thank you, Burt Goldman.
— Mary Madeline Day, Hawthorne, Florida
I felt to heavy and tired before, so my goal was to get more energy... Now I feel more vivid and fresh. I sleep better at night. I have received some very good advice in specific situations: How to be a better grandma when I babysit my grandson. How to be more firm in working with a sick person. How to relax again, when something is getting to me. They are all small things, but they mean a lot on a daily basis. For me it has been a breakthrough.
— Birgit Stephensen, Denmark
About Burt Goldman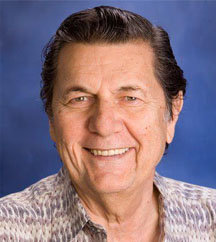 Burt Goldman is one of those lucky people who discovered a secret early in life. When he was just 19, he was stationed in Korea. This is where he met powerful Korean mystic Mr. Kwan Jung and experienced mysticism for the very first time and learned about Qi, or energy, and Li, the control of this energy.
Since then, Burt has spent over 50 years cultivating his knowledge and studying with some of the world's greatest spiritual teachers — so he can teach it to you and thousands of others around the globe. At his peak, he conducted seminars for Heads of States, European royalty and amassed audiences numbering in the hundreds.
Now that he's 90, traveling around the world to do seminars would be a bit too much. So, he's decided to spread his knowledge in a different way: through the Internet.
It is his promise to you to offer nothing but proven techniques that have been tested and fine-tuned with hundreds of thousands. Techniques that could very well change your life for the better — just like they've changed his.