Save the World
By Far I Shields
 
Zero Impact for everyone
Green education for fathers and sons
Mothers and daughters you are the key
Dolphins and plants depend on you and me
Like a river runs to the sea
The solution lies within you and me
Every man and woman must have
The courage to live their dreams
We are the ones born to save the world
We are the ones born to save the world
Organic farms in our communities
Everyone with strength is planting trees
Multi-crop farming will saves the bees
And create jobs in our economy
Like a river runs to the sea
The solution lies within you and me
Every man and woman must have
The courage to live their dreams
We are the ones born to save the world
We are the ones born to save the world
Love Consciousness is everywhere
Green Living will clean our air (save our watah)
Write and paint the world the way you want it to be
Sing the new existence into reality
Like a river runs to the sea
The solution lies within you and me
Every man and woman must have
The courage to live their dreams
We are the ones born to save the world
We are the ones born to save the world
 
This is my first Green song and also the introduction to the type of music that I am playing: Love Consciousness.
Like a river runs to the sea the solution lies within you and me. Every man and woman must have the courage to live their dreams. We must begin to look at ourselves as power-filled beings capable of manifesting the solutions needed to create heaven on earth. Within our dharma, our life work, our dreams are the key to our utilizing the great power that dwells in our being. Once our dream is clear, we can become adaptable like water, which finds its way to overcome obstacles and keeps flowing. 
Zero Impact means that the sum total of our personal activities on this planet will result to 0 carbon emissions. Green Education for all of us. We all need to constantly study and improve our contribution to this planet. What we do as humans affects all living things on this planet. Living entities on this planet from dolphins to plants and everything in between depend on you and me to evolve.
As of 2014, the Department of Agriculture approved Urban Farming as a valid system of delivering produce to city dwellers. When we expand our consciousness, we will realize that we are unlimited beings capable of an infinite amount of development. Prior to 1940 the world was an agriculture-based society. With the advancement of industrialization, large machines replaced the need for millions of human laborers worldwide, forcing humans to adapt and become city dwellers. 
Urban Organic Farming is a solution to many of today's health and economic challenges we humans face as the first, second, and third generation of humanity is being born in the cities in large numbers. When the community takes responsibility to feed itself in the urban environment, jobs are created, carbon emissions are lowered, and healthier food can be delivered directly to the community.
Local Urban Farming also decreases the need for the Mono Crop system, which depletes the soil and pollutes our water systems with toxic fertilizer. On a small plot of land in the city, multiple crops or multi-crops can be used to keep the soil healthy and produce organic produce with sustainable methods.
Let's harmonize to actualize!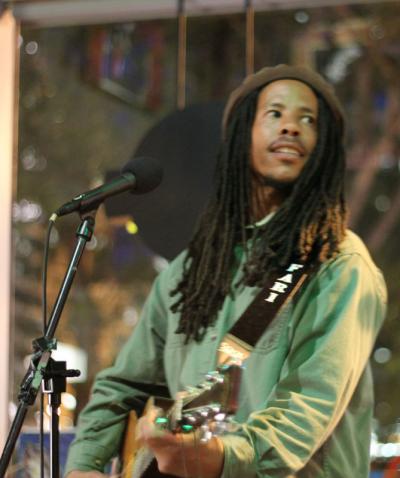 My name is Far I Shields. I have four major forms of expression: art, music, writing, and green enterprise development.
Art — My first memories of painting were with my grandfather. I remember cherished moments where he taught me the general concepts of art, like shading and taking full deep breaths to keep a steady hand. For me, painting and drawing are methods of spending time with the Divine Mother. I learn, create, and enjoy, together with the Source of all things. Currently, I have nine of my paintings online that can be printed as wall art, shirts, mugs, and a variety of other items.
Music — My mother said that she wanted me to have experiences she was unable to have because of her parent's income. She enrolled me in piano lessons at the age of seven. In high school, I asked my parents for a saxophone for my birthday. After paying for my own lessons at a local jazz studio in Los Angeles, I was not feeling the joy. I decided to try playing along with the radio. It was at this moment that I found my freedom and love for making music. My musical journey continues. We currently have a 4-piece band and are available for performances. We play all original music; the songs are available on iTunes and here.
Writing — This is a daily practice for me and my most natural state of expression. I have produced four books, which are available on my website.
Eco Commerce — the most thought-intensive form of expression for me. I am the founder of Green Cleaning. We provide healthy janitorial, porter, carpet cleaning, and housekeeping services in the San Francisco Bay Area for residential and commercial clients. Our team and clients bring me tremendous joy and comradery. We established our company in 2009 and are working daily to reduce our toxic imprint on our environment and ourselves. We are currently planning to create tiny-house eco-villages close to the cities to help the working class return to nature and learn the beauty of working together in a community. To learn more about my green activities please visit here.
For the art, music, and writings of Far I Shields, please visit here.
You can help our mission for an enlightened society by donating, purchasing products, and subscribing to our email list. Join us and let's create the world we wish to live in.