Registration for this course is now closed.
Click here
to see our other courses!
NOTIFY ME
OF UPCOMING COURSES
We respect your privacy. Your information will never be sold, nor shared without your permission.
With Coach, Consultant & Online Marketing Advisor
George Kao
New Live Training Starts
Wednesday, November 18, 2015
Are you ready to take your online outreach to the next level and increase your income, while making a greater positive impact in our world?
Have you wondered how to make best use of the many social media platforms now available without getting overwhelmed (and using the least amount of time)?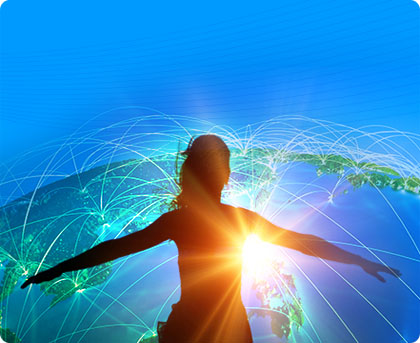 Do you want to integrate your heart and soul into your marketing so that you attract the right customers through marketing that is high-integrity, honest and completely trustworthy?
If you answered "yes" to one or more of these questions, you are in the right place.
You are part of the vanguard of a whole new way of doing business that is all about showing up with your true self, all the time, and having your services and products reflect your sincerity and higher purpose.
It's about creating a business that truly serves the deepest needs of clients or customers AND expresses your unique mission.
The challenge is that even if you have the strong commitment to being more enlightened and loving in how you serve people, you probably do not have the training to know what you need to do to make your online marketing effective at the same time. You can be very noble-minded but your business may not be growing or reaching the people it could help.
There are now a staggering range of online marketing vehicles — from YouTube to blogs to Twitter to LinkedIn to podcasts. However, choosing the most effective social media platforms for your business can be a daunting task. And then you still need to figure out how to integrate them with your website and use them strategically to create lead generation for your free offers, videos and/or courses.
It can be overwhelming to get the basics of an online marketing plan in place, let alone knowing how to create one that gets results.
The simple truth is that in today's world of online marketing, you need to have a strong presence that is also strategic. You need to have a website that is authentic AND converts people into subscribers. You need content and offers that people pay attention to and build your reputation in a genuine way.
Finally, you don't want to spend so much time on your marketing that you don't have the time to deliver the products or services that are your passion!
That's where the Enlightened Online Marketing programs comes in, which has been created for people just like you. It provides key strategies for committed change-the-world types who want to create thriving, conscious businesses that serve the widest possible audience by leveraging them online.
Our world actually needs you to reach as many people as possible who can benefit from your work, your teaching, your services, your products and your message. The planet needs some big changes, and we know that you are here to help.
That's why we are bringing together the MOST essential and effective online marketing principles and practices together into a single, powerful, spiritually-based program led by George Kao, a renowned Internet marketing coach and strategist.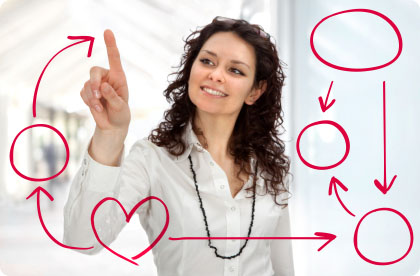 George is a master of simplicity: He has a knack for finding the easiest, most efficient way to get results online.
Whether it's figuring out how to get the best value from Twitter for five minutes a day or how to cross-pollinate videos with podcasts and blogging, George knows how to help you leverage your marketing time for optimal results.
And even better, he's all about showing you how to market in a way that is generous, trust-building and authentic, and touches and serves people at a deep level.
So what specifically distinguishes enlightened online marketing from traditional marketing?
For one, you make your deepest intentions, boldest goals and most heartfelt mission CLEAR to potential customers. It's about uplifting them and uplifting the world. It's about building a real sense of connection that empowers people in being THEIR greatest selves.
And this creates real magic, as people respond enthusiastically to a higher mission and a true spirit of service, rather than tepidly to a short-term sales gimmick.
It helps you become someone that people trust (and want to work with). It's both an inner shift and an outer one — affecting everything from how you position your brand to the products you offer to what content you share for free.
Learning enlightened online marketing well helps to bring your business into alignment with your heart and soul in a way that leads to real growth, impact and profitability. You also build a strong tribe of supporters and fans of your work that make for great word-of-mouth marketing and a steady stream of new clients.
The Enlightened Online Marketing program provides you with 9 separate teaching modules of support, training and concrete strategies, along with 3 full sessions of coaching, to give you what you need to create a sustainable and successful heart-centered online outreach effort — with the least amount of time.
It will teach you how to optimize your website, select your best outreach vehicles, leverage your time, and analyze your results. You'll learn how to create online videos right... and utilize content for podcasts, blogs and more.
You'll learn how to cut costs left and right while still delivering a polished and professional presentation. You'll also learn how to streamline how you spend your time so that your online marketing is easier and more efficient.
Ultimately, it's not about about working harder but about working with more wisdom, with more of YOU shining through in all you do.
The program will also help you avoid dozens of expensive mistakes. The return on your investment can be enormous over time because once you get the core fundamentals of enlightened online marketing in place in your business, you can grow naturally and profitably into your full vision — delivering transformational products and services that can change the world.
The Enlightened Online Marketing program is perfect for you if you have a transformational service or business and want to increase its financial sustainability and influence through proven methods of successful online marketing that can allow you to double or triple your reach and impact.
Here's how you can benefit by enrolling in the Enlightened Online Marketing program:
Understand how to make your content more engaging to your ideal audience.
Learn how to easily create a great looking website, costing only $100 – $500.
Gain clarity on the simplest and most effective social media marketing strategies.
Discover how to authentically approach your network when it comes time to enroll new clients.
Understand the common pitfalls when creating successful webinars and teleclasses.
Enjoy powerful marketing via your own clients' testimonials, praise and referrals.
Make a greater impact in the world by reaching more people with your message and passion.
Expand "client delight" in a way that generates more referrals.
Gain clarity on the specific transformation your customers will experience — helping to direct your business, simplify marketing and serve clients effectively.
Learn the antidote to marketing anxiety — calmly plan and implement a few launches each year.
Give generously — without sacrificing your business goals — to build a true fan base that spreads your messages for you.
While we have many weeks of full content, we also recognize that much of the learning, support and sharing that you do with each other is central to the realization of your biggest dreams. So George will include integration and embodiment lessons, peer support and community networking throughout the journey. And we strongly encourage you to share all YOU know from elsewhere — so we're creating a strong, global learning community.
What You'll Discover in These 12 Weeks
Course sessions are on Wednesdays at 5:00pm Pacific.
In this 12-week transformational program, George will guide you through the fundamental skills and competencies that you'll need to successfully discover what marketing activities energize you and make you come alive while creating an effective plan of action to grow your ideal tribe online.
Each weekly, LIVE training session will build harmoniously upon the next, so that you'll develop a complete, holistic understanding of the best practices, tools and principles you'll need to sustain your marketing activities in ways that you never thought you'd love and may surprise you.
3 Q&A and Coaching Sessions with George
In addition to 9 regular class sessions, George has added 3 special Q&A and coaching sessions to support you in working more deeply with the class materials. These dynamic and interactive sessions will be a great opportunity to gain additional insights on George's brilliant teachings, plus get your own marketing questions answered from this masterful teacher.
Module 1: Making Your Message Visible: Content, Distribution & Partnering
(November 18)
During this session, you'll gain clarity about the 3 keys to get your message and content visible online. Once you learn these key strategies, you will be able to effectively evaluate your plans and focus on the content marketing strategies that are most aligned with your purpose.
In this module, you'll:
Explore the 3 key aspects of successfully spreading your message online
Understand how to make content more engaging to your ideal audience
Learn the various ways you could distribute your message
Identify your natural partners for spreading your content beyond your own network
Session 1.5 Coaching and Q&A (December 9)
Building on the teachings in module 1, George will go deeper with the material through discussion, experiential exercises and live coaching. Bring your marketing questions and challenges.
Module 2: Optimizing Your Website
(Your Online Home)
(December 16)
Your website is the headquarters of your online presence. It's what people tend to look for first when they are considering your services or products, or to invite you to speak. Most business owners either spend way too much money to make a website that is hard to update, or they create something quickly without thoughts about optimizing it.
In this module, you'll:
Explore 3 stages of creating & optimizing your website, to resonate with your ideal audience
Discover how to conduct a 'Website User Interview' — to understand how your audience really engages with your website
Learn how to easily create a great looking website, costing only $100 – $500
Utilize free tools to help optimize your website's ranking on search engines, like Google
Module 3: Easily Creating Videos to Engage Your Tribe
(December 30)
Thanks to the rapid growth of bandwidth, the online world is moving increasingly towards video. If you want to build trust and engagement with your audience, video is highly recommended. In this session, you will practice and break through to creating video simply and resonantly.
In this module, you'll:
Understand the power and practice of "chunking down" your content
Learn the 3 basic styles of video (Selfie, Screencast, Interview)
Utilize the principle of "Quality follows Quantity" — creating a rhythm of practice
Module 4: Diamonds In Your Backyard: Connecting with Your Existing Tribe
(January 6)
Whether you know it or not, you have spent a lifetime cultivating a network of people. Every single one of your contacts is influential to some other circle of people. In this session, you will begin to clarify those whom you already know could be the perfect referral sources, or connections to groups of prospective clients for you.
In this module, you'll:
Get clear about the most influential people for your business and learn ways to connect with them
Create a simple plan to keep in touch with your warm contacts
Discover ways for authentically approaching your network for referrals when it comes time to enroll new clients
Module 5: Teleclasses & Webinars: Establishing Credibility Through Online Speaking
(January 13)
Chances are good that you've attended a teleclass or webinar that has been transformational for you. Perhaps as a result, you purchased someone's product or service. Or you learned something important and came to trust the speaker more. In this session, you will learn how to deliver an effective webinar or teleclass.
In this module, you'll:
Explore the current tech tools for doing webinars and determine which ones are best for you
Learn the parts of a transformational talk and understand how to deliver an effective online speech
Understand the common pitfalls to creating successful webinars and teleclasses and discover how to avoid them
Session 5.5 Coaching and Q&A (January 20)
Building on the teaching in modules 2-5, George will go deeper with the material through discussion, experiential exercises and live coaching. Bring your marketing questions and challenges.
Module 6: Client Delight & Word of Mouth: Authentic Marketing Arises from Delightful Service
(January 27)
The most authentic way to market yourself is when your clients do it for you. Word of mouth happens when your services are so helpful for people, and the engagement with your business so delightful, that they cannot help but talk about you to others who could benefit from what you do. In this session we will explore the mindset to help you improve your services continuously, so that you reach the holy grail of marketing: consistent referrals through word-of-mouth.
In this module, you'll:
Explore the crucial mindset of client touch points and learn how to speak to directly to them
Utilize simple ways to keep improving your client sessions
Discover ways to maintain relationships with your previous clients to inspire word-of-mouth referrals
Module 7: Using Facebook & LinkedIn to Grow Your Ideal Audience
(February 3)
Of the many social media networks, Facebook and LinkedIn are the ones considered to be nearly "requirements" for one's online presence. In this session you'll learn the most important ways to use Facebook and LinkedIn for online presence-building and marketing.
In this module, you'll:
Understand the different ways that Facebook Pages, Profiles, Groups and Events help you build your tribe
Discover ways to optimizing your Facebook presence
Learn the most efficient actions to take on Facebook for your marketing and relationship building
Learn how to optimize your LinkedIn profile
Explore the most efficient and effective ways to use LinkedIn for marketing and relationship building
Module 8: Growing Your Blog Audience & Email Newsletter Subscribers (Your "List")
(February 10)
Your blog is the most active part of your website, and what prospective clients and referral sources will look at to see your latest ideas. Your email newsletter ("your email list") is how you can most reliably contact your fans and prospective clients, because everybody has to check email. In this module we will look at the ways to optimize these two channels.
In this module, you'll:
Discover diverse ways of creating content naturally
Explore your ideal blogging stages and publishing rhythm
Learn the keys to optimizing your blog readership
Understand how to improve the engagement of your email newsletters
Module 9: Going Beyond Constant Enrollment: Your Visibility Plan & Launch Calendar
(February 17)
In this final module you will put it all together into a visibility plan that works for you. You'll also plan your calendar of enrollment periods, which is when you focus on bringing on new clients. After this module you will be more organized with your marketing than most business owners. You'll experience more ease and freedom than ever before, knowing that you now have a marketing structure that is aligned with your energy and goals!
In this module, you'll:
Learn the antidote to marketing anxiety — calmly plan and implement a few launches each year
Begin creating a launch plan that resonates with you and is appropriate for your audience
Bring it all together into a structured yet natural plan (aligned with your energy) for growing your visibility!
Session 9.5 Coaching and Q&A (February 24)
Building on the teaching in modules 6-9, George will go deeper with the material through discussion, experiential exercises and live coaching. Bring your marketing questions and challenges.
The Authentic Online Marketing
Bonus Collection
In addition to George's transformative 12-week virtual course, you'll also receive these powerful training sessions with the world's leading visionaries and teachers. These bonus sessions are being offered to further complement what you'll learn in the course — and take your understanding and practice to an even deeper level.
Authenticity in Marketing
Audio Dialogue with Tim Kelley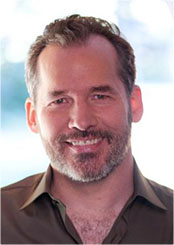 George Kao will interview Tim Kelley on the topic of Purposeful Marketing. We will discuss branding, fee-setting, and tribe-building. You'll come away from this call with more confidence and clarity about doing marketing and making your offer with more authenticity.
Tim Kelley is a global change agent and internationally renowned expert on higher purpose. He works with top leaders in many fields and countries to transform human institutions and evolve society to its new form. Tim's methodology, True Purpose, has been featured internationally in magazines, newspapers and on television. Tim has trained over 1000 consultants, therapists and coaches in his methods. He has worked with hundreds of CEOs, including top leaders and executive teams from such companies as Nabisco, ING, Oracle, Lexmark and AOL. He formerly worked as a leader at Oracle, two levels below the CEO. He is the author of True Purpose, and the best-selling coauthor of three other books. Tim has commanded military organizations, including an amphibious assault craft unit, and is a retired Naval Reserve officer. He holds a bachelor's degree in mathematics from MIT.
How To Build Your Audience With Podcasting
Interview with Nathan Lively, Podcast Marketing Expert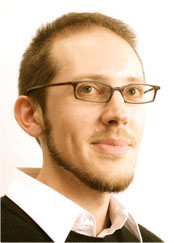 In this bonus module you'll learn from Nathan Lively who has surpassed well over 100,000 downloads of his podcast episodes (far above average). He'll share some of his key lessons along the way. George Kao will also share his lessons from running a podcast with over 100 episodes.
Nathan Lively is a podcast producer that helps coaches and consultants create and launch awesome shows. He has been producing podcasts for five years has his own career coaching practice for audio professionals.
George Kao's Coaching Tools for Authentic Business & Marketing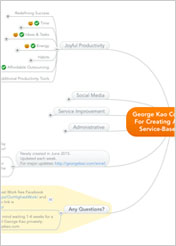 This is a massive collection of the tools and processes that George Kao uses with his private clients to help them build successful, authentic businesses. In this mindmap you'll find guidance and templates on topics including True Livelihood, Authentic Enrollment, Creating Content, Joyful Productivity, Social Media, and Healthy Money.
How To Make Enough Money: Some Instructions on Reaching Freedom
In this article George Kao covers the keys to having a more healthy relationship with one's money. You'll learn how to determine what is Enough for you, including clarity about your required financial buffers. You'll also discover George Kao's recommended method for determining what you should be charging for your services at minimum. Finally, you'll learn a monthly method for revisiting your finances to keep them healthy.
What People are Saying About George Kao...
George Kao gently helps conscious entrepreneurs connect our big visions with practical marketing reality. He jumps over jargon, clears confusion, and leaves us with a sense of empowerment and action! Even if you only have the seed of an idea for a business, George envisions end results that bring ideas to life.
– Evelyn Fielding, Owner of marketingtheintangible.com
George teaches in a gentle, no-nonsense way that allows me the opportunity to make the best use of my time. I highly recommend his courses to make sure you are being efficient and effective with your social media marketing time!
– Garry Schleifer, Choice Magazine
George Kao is deeply inspiring as a marketing coach. His approach of true livelihood and authentic marketing is unique and very supportive. With George's material, our businesses, our hearts and our world will become better places to live in. You will not only gain success, but quality of life as well.
– Dhyana Eva Reuter, Vedanta Teacher and Constellation Work Expert
George Kao teaches his material in easy, manageable steps. If you are like me and a bit fazed by all things business & marketing, you are in the right place! George's teachings are easy to understand and helpful for all stages of business.
– Kerry Bray, Transformational Coach and Energy Healer
George Kao has been a phenomenal business mentor over the last few years — inspiring, thought provoking, heart-centered, spiritual and practical. Thanks George, I would not be enjoying the profitable heart-centered business and lifestyle I love today, if I hadn't had your great guidance and support. Oozing gratitude...
– Alisoun MacKenzie, Compassionate Business Mentor, Author, Speaker
In a world aching for authenticity, George helps his clients stay true to their soul AND succeed. He is fully dedicated to his clients success. Lot's of people teach authentic marketing, but few actually DO it and show that it can work for their clients as George does. His approach is not only profound, wise and heart-centered — but truly inspired!
– Denise Rushing, Permaculture Teacher
George's thoughtfulness and authenticity make all that he shares shine with care and attention. I really appreciate how knowledgable AND loving he is in his materials. This rare combination in the business world is a breath of fresh air that encourages, energizes, and uplifts. Bravo. I highly recommend working with George if you have a business and you value spirituality, authenticity, caring, giving from the heart, etc. It's helped me immensely.
– Elena Maria Foucher, Meditation Teacher
With George I'm able to rest and breathe while creating and building my business to updated 2.0 level — that is more than any business coach has ever been able to offer me before. I highly recommend George to business owners... for clarity and support beyond all expectations.
– Lis Larsen, Mentoring Expert
George is a coach, mentor and teacher for the modern age. He embodies enormous knowledge and skill with genuine generosity, honesty and compassion. George is truly committed to the success of others, leading clients to an experience of true livelihood and joy.
– Carolyn Field, Children's Education Expert
George combines authenticity, heart, and business acumen in a way that makes the daunting doable! He creates fun and engaging ways to stay productive and on target with our goals! And it seems that no matter what challenges or questions we have, George has a resource and recommendation for us. I highly recommend him!
– Emily Bouchard, Wealth & Legacy Coach and Trainer
Join the Global Community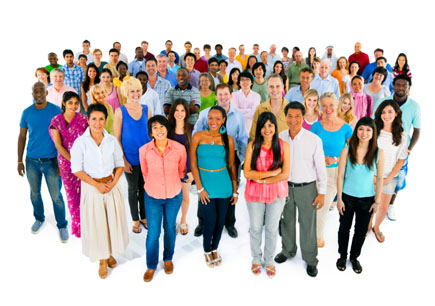 Authentic Online Marketing not only offers some of the most advanced online teachings currently available, it's also a thriving global community of learning and practice.
Join your fellow students and practitioners from across the world in the live interactive conference calls or in the custom online community — to support and learn from each other while you build successful businesses.
This international community is also at the leading edge of a global movement of people who are committed to manifesting a better world for all beings. This emerging planetary movement is rooted in an open heart and stands for the principles of enlightened business and reverence for all of life.
Course sessions are on Wednesdays at 5:00pm Pacific.
Here's What You'll Receive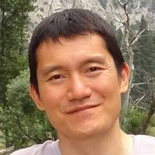 Nine LIVE 90-Minute Class Sessions with George Kao
Experience a rare opportunity to be mentored and learn with pioneering online marketing expert George Kao — from the comfort of your own home. Each class session guides you to learn the specific skills and abilities to illuminate your online marketing potential.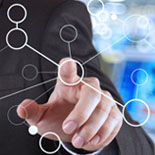 Three LIVE Q&A and Coaching Sessions with George
These LIVE sessions will George with build on the teachings of the regular classes, George will go deeper with the material through discussion, experiential exercises and live coaching on your marketing questions & challenges.
Twelve Audio Recordings of Class Sessions
After each class, the audio will be available for you to download in high quality MP3 format. This way, you'll never have to worry about missing a session, and you can listen anytime and anywhere — on your iPod, in your car and at your convenience.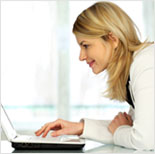 Twelve PDF Transcripts of Class Sessions
In addition to the high quality MP3 audios, you'll also receive the entire class transcription in PDF format after each session is completed. This way you can review, print and highlight the most important insights and practices that you'll learn.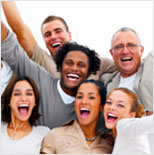 Twelve 30-Minute Interactive Group Practice Sessions
Following each class session there will be a live 30-minute interactive practice session where you will be placed in an intimate group with several other participants on the conference call to interact, share and do additional practices to help further integrate the weekly lessons.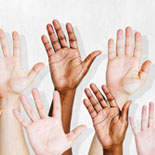 Interactive Exercises and Questions for Each Lesson
After each lesson, you will then have the option to do related exercises, practice new tools and answer questions in order to accelerate your learning and integrate each week's lesson.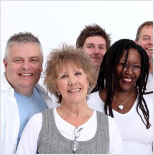 Online Community
Our exclusive Facebook online community is the perfect place to continue your learning after each class. Here, you can ask additional questions, interact with your fellow students and get access to additional resources to take your learning experience to an even deeper level.
The Authentic Online Marketing Bonus Collection
Authenticity in Marketing
Audio Dialogue with Tim Kelley
How To Build Your Audience With Podcasting
Interview with Nathan Lively, Podcast Marketing Expert
George Kao's Coaching Tools for Authentic Business & Marketing
How To Make Enough Money: Some Instructions on Reaching Freedom
An Unprecedented Opportunity to
Grow Your Business
We at The Shift Network feel deeply honored that George Kao has chosen to partner with us on this exclusive, LIVE online training. As you may know, this is a rare opportunity to learn directly from and be personally supported by one of the world's most celebrated mentors of enlightened business — within a community of like-minds and hearts who are doing this transformative work of expanding enlightened businesses.
Through this powerful, LIVE format, you'll not only save time and money on retreat costs (plus travel, accommodations and meals — which would cost thousands of dollars), you'll also be able to benefit from these incredible teachings and practices from the comfort of your home — at your own pace!
If you are serious about creating a successful business and want best practices to help you bring your offers to the world, you owe it to yourself, your loved ones — and our entire planet — to join this one-of-a-kind intensive academy.
About George Kao...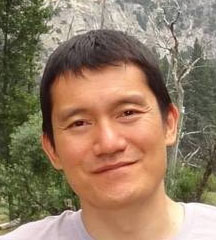 George Kao has been a trusted conscious marketing advisor for seven years to thousands of coaches, counselors, consultants and those who are creating what George calls "wisdom businesses." His mission is to dramatically raise the marketing effectiveness of people who deeply value integrity, service and sustainability. He has created more than 150 videos where he generously shares authentic business knowledge, and has conducted over 1,000 client sessions in the past two years alone. For many wisdom-based solopreneurs, George Kao is the go-to expert for heart-based marketing and joyful productivity.
Frequently Asked Questions
Q: What is a virtual course?
I have never participated before in an online course. The packaging, presentation, inclusion and Facebook postings created a wonderful, safe cocoon to participate. I haven't seen a course so well put together ever — not in all the years of taking college classes — and I had my doubts about doing an online course. The wealth of organization and ease of learning materials and support made this fun as well.
– Claudia F., Medford
A: It's a great way to engage live teachings and each other from the comfort of your home! All you need is a phone line (or an equivalent voice service). If there is more than one person in your household taking the course, you will each need your own line. We use MaestroConference to make it just like an in-person event, where you can ask questions, participate in groups, and deepen your exploration of the course themes.
Please note that dialing MaestroConference from your phone is a regular toll call to California, and your telephone service provider will charge you according to your existing long-distance calling plan. You can also use Skype credit/subscription or Google Voice to dial in to MaestroConference, and you'll need to use your virtual keypad to enter your PIN and to indicate that you want to ask a question. Other options include calling cards and discount long-distance carriers, and we also have a webcast which is free to use from anywhere in the world.
Q: Can I get benefit from the course if I miss the live classes?
A: Absolutely! You can download the recordings and transcripts of all course sessions from our online media archive, so you never need to worry about missing live calls. You can also engage the full community and leaders on our private community website.
Q: Can you tell me about the Private Course Group?
A: We will have a private community group for all course participants on Facebook that will support you in making connections with others, sharing insights, engaging in discussions, completing homework assignments and exchanging information about events and other activities that can supplement your transformational journey. You'll have the ability to share your experiences, projects, and growth throughout the Course.
Q: Are there scholarships available for this Training?
A: Yes, we always make a certain percentage of spaces available for partial scholarships, giving preference to those in developing countries or doing important but underpaid work to which they can apply the training material immediately. If you would like to apply for a scholarship, please review our guidelines, which include a link to our online application form.
Q: What is your refund policy?
A: Your satisfaction with The Shift Network and this course is our highest priority! We offer a satisfaction guarantee so that you can sample the course risk-free. The deadline to receive a full refund is December 16, 2016. To request a refund, please click on this refund request form and submit your request. Your refund will be processed within five business days and we'll send you an email confirming your refund. However, we'd love to have a chance to address and resolve your concerns first. If there is something we can assist you with, please email us at support@theshiftnetwork.com, and we'll be happy to help! (No refund requests accepted after the above date or with scholarship awards.)
Q: How can I reach Customer Support?
A: Please visit our Customer Support Center, where you should be able to find the answer to your question or the solution to a problem. And if you can't, you can submit an online request form and we'll get right back to you.