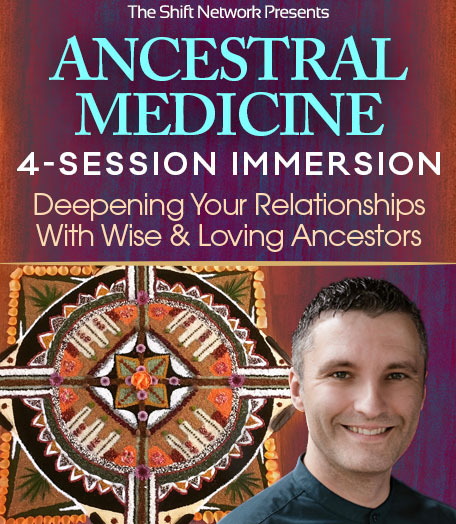 With Psychotherapist and Ancestral Medicine Teacher
Daniel Foor
New 4-Session Live Video Training Starts
Monday, February 11, 2019
Remedy personal pain and explore psychological healing with your ancestors.
Delve into dreams, synchronicities, and a taboo topic... and open the door to cultural healing.
Imagine connecting with the well ancestors in your bloodlines and gaining deeper support in your life than ever before.
Imagine tapping into profound ancestral guidance to remedy a personal pain, trauma, or vulnerability...
Or calling on the wise and loving energies in your lineages to help us repair our deeply troubled world.
If you missed Daniel Foor's step-by-step 12-week course on Ancestral Medicine, this 4-session course gives you an amazing way to explore complementary elements of his mind-expanding, life-enhancing teachings (for a fraction of the cost of his 12-week course).
In a safe container in which you can explore, connect, and heal...
You'll gain exposure to pragmatic skills and direct practices for ancestor work — and walk away with a psychologically and culturally informed framework for ancestor reverence that can sustain you for years to come.
If you've experienced spontaneous ancestral contact through dreams...
If you've realized that in your own psychological healing, many patterns have ancestral sources...
If you want to increase your sense of belonging...
If you long to help address the destruction that's happening in our world...
Or if you're facing your own death or that of another...
...You'll want to step onto this beautiful, embracing, heart-aware path.
You can join Daniel for 4 powerful sessions to:
Call on ancestral support for your personal growth edges
Learn tangible skills for navigating dreams of contact with the dead
Deepen your ancestral backing as you reclaim your cultural identity
Ask the ancestors to help you prepare for your own death and what's beyond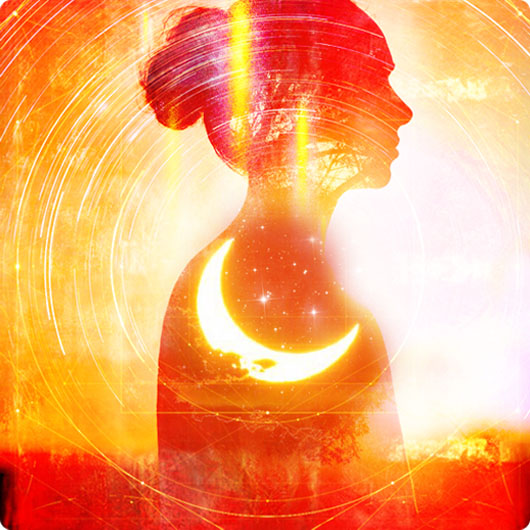 You'll also explore how to draw on wisdom, perspective, and guidance to hold a space for the death of others.
Some of these topics are addressed in Daniel's Ancestral Medicine book, and others are ones he'll be teaching for the first time publicly.
This is a chance to be among the first to receive pioneering teachings — while weaving in a framework for ancestor reverence into your everyday life.
You'll discover how the ancestors relate to both inner work and cultural healing...
And you'll also uncover how to help transform some of the fear surrounding death in modern Western cultures — with open conversations about what happens after the death of the body, how to normalize that, and how to face it with ancestral support.
In this 4-session course, Daniel will guide you through practices to help you release unresolved personal trauma, embody cultural mindfulness and connection with the ancestors, and embrace your destiny more fully.
May we each find our way into direct felt communion with all that's good and holy about our specific people, bodies, and cultures. From this place of felt backing and togetherness with the larger unseen ancestral body that wears our unique face and body, may we even more effectively love this precious, messy world in so much need of love right now.
— Daniel Foor
Daniel's approach engages you in relating with your ancestors as sources of healing, guidance, and appropriate cultural pride. It also aids you in helping to dismantle systems of oppression based on race, gender, colonialism, etc.
You'll be held in a safe and protected space throughout the course, both by Daniel and by 25 of the practitioners he's trained in this work who will be supporting each live session.
With Daniel's expert guidance and the loving support of the course community, you'll discover how to enter these territories gently and slowly, with kindness and compassion.
Deep Connection Through Live Streaming Video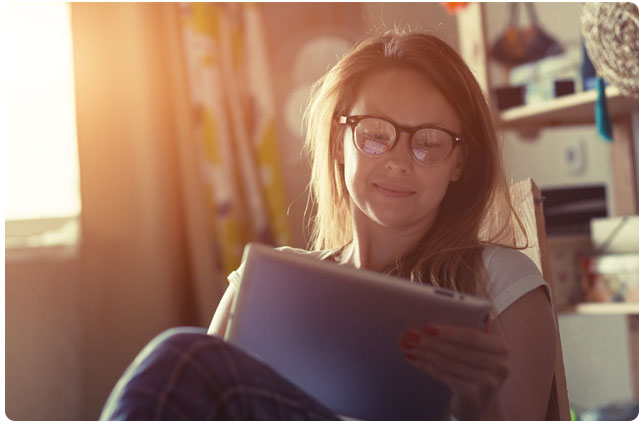 So you can connect in real-time with Daniel and his teachings, all of his sessions will be live streamed on video. This video connection is easy to use and will enhance the impact of Daniel's teaching. Or, you can easily connect via audio, either through the Internet or your phone.
What You'll Explore in These 4 Sessions
Course sessions are on Mondays at 5:00pm Pacific.
Daniel will guide you to:
Expand your understanding of psychological wellness to include the ancestors
Deepen your knowledge of cultural wellness, belonging, and identity
Feel respected and met on your terms about how to turn toward the topic of death
Enhance your view of ancestral wounding as cultural wounding (e.g., sexism, racism, colonialism, exploitative capitalism)
Discover how to incorporate ancestor reverence into your everyday life
You'll emerge from this experience with deep access to a lifelong relationship with your ancestors.
Each session will feature LIVE teachings, interactive training sessions, experiential drop-ins, and small group sessions to help you process, relate, and progress.
Module 1: Psychological Healing With the Support of the Ancestors
(February 11)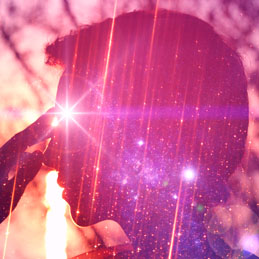 Ancestral reconnection directly supports mental and emotional health in a variety of more or less obvious ways. Bringing more awareness to some of these factors can help this process along both in ourselves and when supporting others.
Together we'll explore factors such as healthy attachment, self-esteem, clear boundaries, clarity of purpose, and ability to accurately perceive and care for others. We'll approach the lesson with respect for the pervasive occurrence of physical and sexual abuse, social injustices, and complex forms of relational trauma.
In this module, you'll:
Discover ways to call on ancestral support for your personal growth edges
Explore the relationship of ancestral healing to personal, familial, and cultural self-worth
Consider your own attachment style and learn to anticipate how this will show up when relating with your ancestors
Discuss similarities and differences between psychotherapy and ancestral healing as approaches to wholeness
Practice asking your ancestors to bring healing remedy to areas of personal pain and vulnerability
Module 2: Reclaiming Ancestral Identity, Culture & Ritual Practices
(February 18)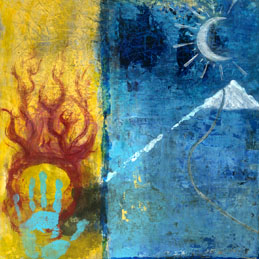 Relating with the older ancestors raises questions about cultural identity and the possibility of engaging in older ways of knowing. Sometimes these traditions are partially intact or practiced by living representatives, and sometimes the lineages have been completely broken, remembered only by the ancestors themselves.
Under the guidance of the ancestors, we'll inquire about ways to engage older traditions with integrity, pragmatism, and ritual effectiveness. We'll approach this inquiry in ways that are mindful about cultural loss and not overly Eurocentric.
In this module, you'll:
Be given strategies for researching what is still knowable about your ancestral traditions
Explore the importance of food, land, and the natural world in cultural recovery
Examine the differences between arrogance, racial essentialism, colonialism, racism, and just regular healthy cultural pride
Discuss the complexities and inevitable heartache when traditions are interrupted, distorted, or lost
Practice bringing specific blessings forward along the lineage into present time and awareness
Module 3: Dreams, Synchronicities & Spontaneous Ancestral Contact
(February 25)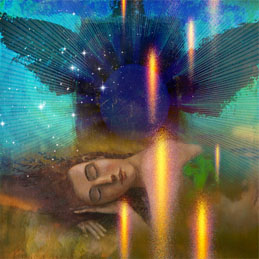 The dead speak in many ways, both during waking time and in dreaming time, and many of these pathways of communication occur spontaneously, outside of the designated space of ancestor-focused ritual. Many of our own ancestors welcomed these regular contacts, yet many today were not raised with even basic skills to navigate spontaneous ancestral outreach.
With the backing of the ancestors, we'll inquire about ways to welcome direct contact while in different states and for different reasons. Our time will include consideration of unhelpful and frightening contact from the troubled dead.
In this module, you'll:
Examine beliefs from your family and cultures of origin on ancestral contact as well as ways in which the ancestors have already been in touch
Discover ways to work safely and skillfully with both troubling and welcome dreams of the dead
Discuss the role of synchronicity and how to receive these types of ancestral contacts in an easeful way
Practice asking the ancestors for assistance in expanding the ways that you currently relate with them in your everyday life
Module 4: Preparing With the Ancestors for Your Own Death
(March 11)
Many of us were raised in cultures that avoid the topic of death and minimize talk of the next reality. In contrast, the ancestors are expert guides in this terrain, experienced at dying and traversing the worlds beyond. Together we'll speak of the inevitable transformation and invite the ancestors to help educate and prepare us on what we can expect when our time arrives.
In this module, you'll:
Discuss assumptions about the next reality and your own journey upon death of the body
Reflect on your personal experiences with death and dying as well as the role of the ancestors in those moments
Explore practical preparations, funeral customs, and practices for honoring the body after death
Ask the ancestors to help you nicely inquire about how to be more prepared for your own death and what's beyond
Your Satisfaction Is 100% Guaranteed!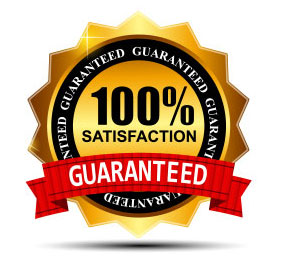 Your satisfaction is 100% guaranteed! If you don't absolutely LOVE Ancestral Medicine 4-Session Immersion with Daniel Foor — or don't feel that it meets your needs — please contact our friendly Support Team on or before February 11, 2019 and we'll happily issue you a refund.
What People Say About Daniel Foor...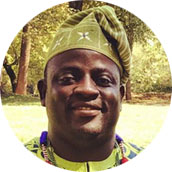 "I urge everyone to benefit from his offerings on ancestral reconnection"
Ancestor reverence is one of the pillars of Yoruba traditional religion, and it's my pleasure to recommend the ancestral healing work of my student and friend Daniel Foor (Awo Ifabowale). Through four extended visits to our home in Nigeria, I've overseen his initiations to Ifa, Orisha, and the ancestral medium society (Egungun), and I know him to be a kind person with good character and decades of ritual training. I urge everyone to benefit from his offerings on ancestral reconnection.
— Oluwo Falolu Adesanya Awoyade, Ode Remo, Ogun State, Nigeria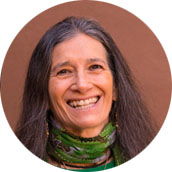 "This work is so desperately needed to heal us individually and our collective at large."
Daniel Foor is such a gifted teacher. He's a bright presence and a clear communicator. He really knows how to take his students into the healing work needed to reestablish a good connection to our ancestral lineages. This work is so desperately needed to heal us individually and our collective at large. I cannot recommend Daniel's work enough.
— Sandra Ingerman, shamanism teacher and bestselling author of 12 books, including The Book of Ceremony: Shamanic Wisdom for Invoking the Sacred Into Everyday Life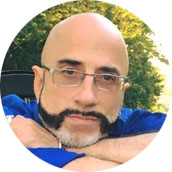 "His work in ancestral healing is soul medicine for all"
The illusion of isolation and its associated fear, fury, and shame of abandonment is the core wound in the heart of humanity. The cure is in turning our love and attention to the stream we rode here on. We are boats of flesh on a river of blood born to heal the ancestors, to be healed by them, and to know, reveal, and grow our souls... thus elevating the stream. This river is the salve of the soul, and Daniel Foor clearly knows this. His work in ancestral healing is soul medicine for all. The world needs it. Life applauds it. Enjoy, heal, and become!
— Orion Foxwood, author of The Candle and the Crossroads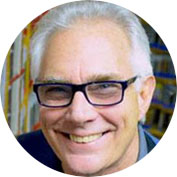 "... his integrity is impeccable"
Daniel Foor's work is deep, penetrating, and inspiring. His wisdom about ancestral healing and connection is profound and his integrity is impeccable. If you are interested in healing your own relationship with your ancestors, I can't think of anyone more highly qualified to support you in your process.
— Michael Stone, Host of KVMR's Conversations, The Shift Network Shamanism Global Summit, and co-founder of Quantum Consulting Group
Join the Global Community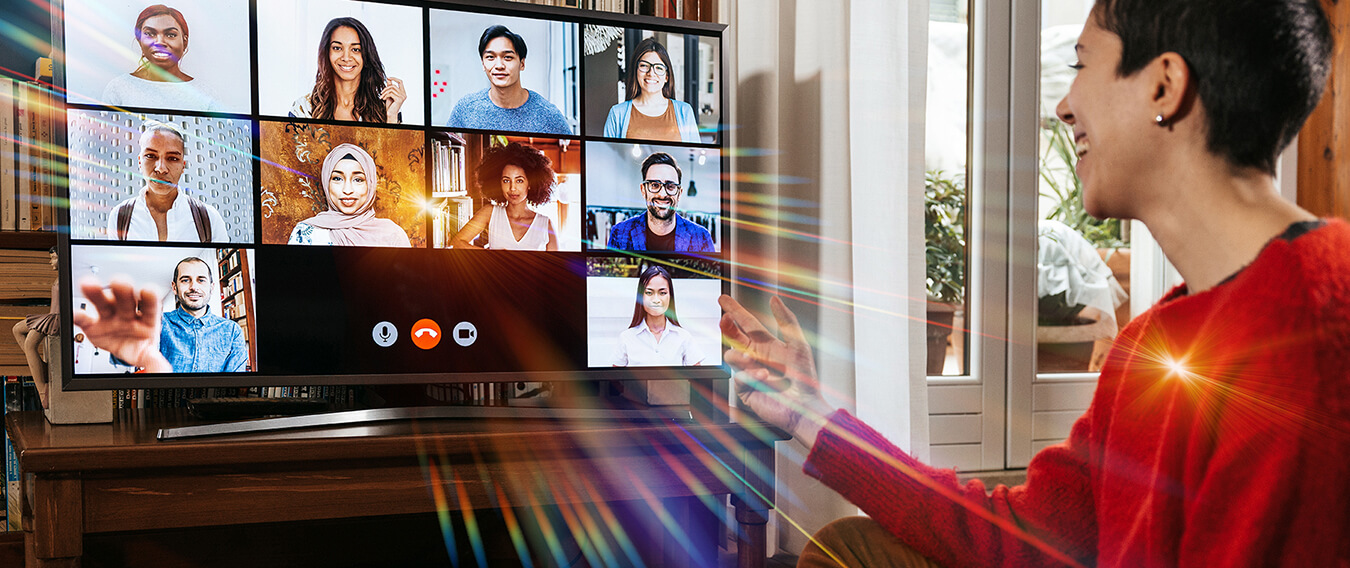 This course offers some of the most advanced online teachings currently available, in a thriving global community of learning and practice.
Join your fellow students and practitioners from around the world in the live interactive conference calls and our online community to support and learn from each other while you expand your mind and your paradigm of reality.
This international community is at the leading edge of a global movement of people who are committed to manifesting a better world for all beings. This emerging planetary movement is rooted in an open heart and stands for the principles of mutual support, cooperation, harmony, and reverence for all of life.
Here's What You'll Receive
Four 90-minute Class Sessions With Daniel
Be mentored by and learn with Daniel — from the comfort of your own home. Each class session includes a live streaming video option and guides you to discover skills and abilities to develop your ancestral connections. Course sessions are on Mondays at 5:00pm Pacific.
Four Video Recordings of Class Sessions
After each class, the video will be available for you to download or stream in high-quality format. You'll never have to worry about missing a session, and you can watch anytime and anywhere — on any connected device and at your convenience.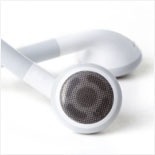 Four Audio Recordings of Class Sessions
After each class, the audio will be available for you to download in high-quality MP3 format. You'll never have to worry about missing a session, and you can listen anytime and anywhere — on any connected device at a time that works for you.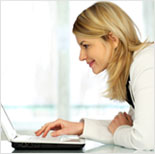 Four PDF Transcripts of Class Sessions
In addition to the high-quality videos and MP3 audios, you'll also receive the entire class transcription in PDF format after each session is completed. You can then review, print, and highlight the most important insights and practices you were given.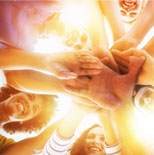 Four 30-Minute Interactive Guided Group Practice Sessions
When you attend live, you can join a 30-minute optional small group session directly following each class. You'll be placed in an intimate group with several other participants on the conference call to interact, share, and do additional practices with to help further integrate the lessons. If you're unable to attend the calls live, your course Facebook group will help you to connect with each other and find alternative times to interact.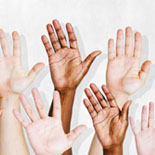 Interactive Exercises and Questions for Each Lesson
Between class sessions, you'll have the option of doing related exercises, using new tools, processing breakthroughs, and answering questions to accelerate your learning and integrate each lesson.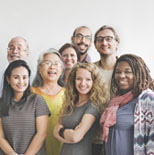 Online Community
Our exclusive Facebook community is the perfect place to continue your discovery process after each class. Here, you can continue the discussion about your course materials and interact with your fellow students to take your exploration to an even deeper level.
Don't miss this exciting chance to dive deep with your ancestors!
We're thrilled that Daniel has chosen to partner with The Shift Network to offer this exclusive online training.
And the course is coming up quick so there's not a ton of time to enroll. This is your opportunity to learn from the ancestral medicine teacher whose powerful insights and pioneering work are helping us heal and transform our world.
If you're serious about claiming a supportive framework to relate with the Earth, the ancestors, yourself, and others, then you owe it to yourself to take this one-of-a-kind training.
If you're ready to take the next step in evolving yourself, click the register button below to reserve your space now.
Your Satisfaction Is 100% Guaranteed!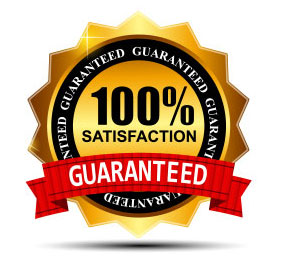 Your satisfaction is 100% guaranteed! If you don't absolutely LOVE Ancestral Medicine 4-Session Immersion with Daniel Foor — or don't feel that it meets your needs — please contact our friendly Support Team on or before February 18, 2019 and we'll happily issue you a refund.
About Daniel Foor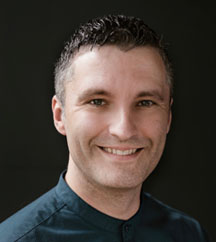 Dr. Daniel Foor, PhD, is a teacher and practitioner of practical animism who specializes in ancestral and family healing, and in helping folks learn to relate well with the rest of the natural world. His focus on ancestors flows from his training as a doctor of psychology and licensed marriage and family therapist, from the guidance of his teachers in earth-honoring traditions, and from two decades of implementing the teachings of ancestor reverence in his own life.
Since 2005 he's guided hundreds of ancestor trainings, rituals, and talks throughout the United States and helped many others reconnect with their family ancestors through personal sessions. He's the author of Ancestral Medicine: Rituals for Personal and Family Healing.
His doctoral research in psychology focused on the use of shamanic healing practices by clinical mental health professionals. Training as a therapist, living in other societies, and immersion in different lineages of ritual work all inform his kind and non-dogmatic approach to ancestor and earth reverence. Although he draws inspiration from lineages of established practice, his public offerings and ritual methods aim to be culturally inclusive, and he holds work for cultural and earth healing to be inseparable from spiritual teaching and practice.
Frequently Asked Questions
Q: What's a virtual course?
A: It's a great way to engage live and pre-recorded teachings and each other from the comfort of your home! All you need is a computer, mobile device, or telephone. If there's more than one person in your household taking the course, you'll each need your own connection. We use Zoom videoconferencing to make it just like an in-person event, where you can ask questions and deepen your exploration of the course themes.
There's no additional charge for connecting to Zoom with your computer or mobile device. Please note that dialing Zoom from your telephone is a toll call; your telephone service provider will charge you according to your existing long-distance calling plan. International access numbers are available.
"I've never seen a course so well put together ever..."
I had never participated before in an online course. The packaging, presentation, inclusion, and Facebook postings created a wonderful, safe cocoon within which to participate. I've never seen a course so well put together ever — not in all the years of taking college classes — and I had my doubts about doing an online course. The wealth of organization and ease of learning materials and support made this fun as well.
— Claudia F., Medford, Massachusetts
Q: Can I get benefit from the course if I miss the live classes?
A: Absolutely! You can download the recordings and transcripts of all course sessions from our online media archive, so you never need to worry about missing live calls. You can also engage the full community and leaders on our private online community group.
Q: Can you tell me about the private online community group?
A: We'll have a private online community group for all course participants on Facebook that will support you in making connections with others, sharing insights, engaging in discussions, and completing homework assignments that can supplement your transformational journey. You'll have the ability to share your experiences, projects, and growth throughout the course.
Q: Are there scholarships available for this training?
A: Yes, we always make a certain percentage of spaces available for partial scholarships, giving preference to those in developing countries or doing important but underpaid work to which they can apply the training material immediately. If you'd like to apply for a scholarship, please review our guidelines, which include a link to our online application form.
Q: What's your refund policy?
A: Your satisfaction with The Shift Network and this course is our highest priority! We offer a satisfaction guarantee so that you can sample the course risk-free. The deadline to receive a full refund is February 18, 2019. To request a refund, please click on this refund request form and submit your request. Your refund will be processed within five business days and we'll send you an email confirming your refund. However, we'd love to have a chance to address and resolve your concerns first. If there's something we can assist you with, please email us at support@theshiftnetwork.com and we'll be happy to help! (No refund requests accepted after the above date or with scholarship awards.)
Q: How can I reach Customer Support?
A: Please visit our Customer Support Center, where you should be able to find the answer to your question or the solution to your problem. And if you can't, you can submit an online request form and we'll get right back to you.
.