2020 Issue 8 • Apr 11
Dearest Friends of the Shift,
We hope that you all are staying as safe and as sane as possible through these difficult times.
This pandemic has inevitably created extreme challenges for so many people... especially for those living with chronic illness, those working on the frontlines, and those whose livelihoods have been impacted... not to mention those who have contracted coronavirus.
We send our love and our blessings to each and every one of you. And we thank you for the many ways that you're attempting to be a positive contribution to this world.
Despite all the challenges, it's also beautiful to see the outpouring of community support that's happening around the globe, with people finding innovative ways to connect and support each other despite the shelter-at-home mandates and social distancing protocols. Check out this pictorial article for inspiring photos of connection.
And it's touching to see how many leaders and teachers in the consciousness movement are making so much of their wisdom and offerings available at no cost. Please DO take advantage of the multiple free sessions offered each week via The Shift Network on our Facebook page. Next week's highlights include:
A Noon Pacific Community call on Monday with 3 top leaders focusing on an integrative approach to your health: Dr. Emmett Miller, Dr. Lewis Mehl-Madrona, and Ryan Castle from the Chopra Research Library. (Click here to join the weekly video call, or connect by phone: +1.669.900.6833, Webinar ID: 516 624 728
Monday 4/13, Wednesday 4/15, Friday 4/17: FB Live sessions every half hour starting at 9:00am Pacific, and featuring meditation (Miranda Macpherson), energy practices (Anodea Judith), embodied movement (Hemalayaa), yoga (Kenyln Kolleen), Qigong (Dr. Roger Jahnke), and a pantry foraging/cooking show with Susan Gouveia
2:00pm Pacific healing sessions with HeatherAsh Amara's Warrior Heart Practice (Monday), Robert Moss' How Dreaming Can Get Us Through (Wednesday), and Deborah King's One Global Heart: Energy Healing for Yourself & Our World (Friday)
A new 2:30pm Pacific segment for kids, families & the "young at heart" featuring a "Global Singing Circle" with Lindsey Wise (Monday 4/13), "Wee Yogis for Kids" with Jyoti Levy (Wednesday 4/15) and "Mothering through the Shutdown" with Devaa Haley Mitchell (Friday 4/17).
3 separate "live from the archives," featuring highlights from the Sacred Awakening Series, Winter of Wellness Summit, Energy Medicine Summit, and Plant Medicine Summit.
We hope you'll enjoy this special edition of Catalyst, which consists purely of free pandemic-specific content from Shift faculty and allies to help you navigate this crisis and find some measure of comfort, peace, and yes, even joy. Please note that we will also be sprinkling helpful pandemic-related content into each of our "regular" Catalyst ezines as well.
| | |
| --- | --- |
| | |
| Stephen, Devaa, 3-year-old Sienna, and 6-month-old Phoenix | |
Please also DO let us know if there are other ways we can better serve you through these tender times. You can post your thoughts here on FB and our staff are reviewing.
Best wishes,
Devaa Mitchell & Stephen Dinan
Co-founders, The Shift Network
P.S. It's also important to find reasons to laugh and keep our spirits as elevated as possible! Check out this FB thread where our Shift community is sharing what's lifting their spirits these days.

---
Finally, we'd love to hear your answer to the question, What is most helping you to feel grounded, supported, and connected during this pandemic? To share your thoughts in our Facebook Page community, click here.
---
We say that we cannot bear our troubles but when we get to them we bear them.
— Ning Lao T'ai-t'ai
Practice Dying: Waking Up in Perilous Times
By Mark Matousek, Shift faculty
Worthy as these lessons are, however, they're not the one we need most urgently. The coronavirus has given humankind the chance to "practice dying" (as Socrates described the central mission of all philosophy) together as an endangered species. Besides the threat of personal illness, we have the unique opportunity to share this dread with everyone else we know, who are facing their own mortality. If we can acknowledge the truth of our plight, I believe, and heal ancient rifts in the human family, we have a chance to turn this catastrophe into a major boon for humanity's future. To read more, click here.
Eartha's Children
An Eco-myth by Shift faculty Yeye Luisah Teish
"Now hear this: I am Your Mother, Your Queen, and Your Salvation. GO TO YOUR ROOM," she commanded in a booming voice.
The children were taken aback by the thunder in Her voice.
"Get in there and clean up the mess you've made. Put away those weapons of mass destruction. Take out the trash of fear, hatred, and greed.
"Cover your faces and wash your hands.
"Go into the silence, the stillness within. There you will find your birthright, your humanity, and my Love.
"Do your homework, children. Practice humility and respect."
To read more, click here.
What's Your Medicine?
By Heather Dane, Shift summit speaker
Are you confused by all the different options for healing, nutrition, medications, diets, or supplements you have to wade through? How do you have confidence about what's going to work for you? How do you tap into your own intuition and become your own medicine person so you can take care of yourself, which is even more important right now while people can't get in to see their medical, dental, and natural healing/PT/bodywork practitioners.
In this article, Heather talks about how she awakened to a process of being led to the holistic health solutions that could help her heal from a genetic condition thought "incurable and untreatable" by modern medicine. To read more, click here.
Stepping Mindfully Into the Unknown
By Mirabai Starr, Shift faculty
Many of you, like I, have been sensing the impending upheaval of all our false structures and counterfeit comforts for a long time. We knew in our own vibrating cells that rampant capitalism was not sustainable, that we had been swept up into a system of too-muchness that violated our personal values but which we felt powerless to resist. To read more, click here.
10 Ways Highly Sensitive People Can Reduce Their Fear During the Coronavirus Pandemics
By Julie Bjelland, Shift faculty
Today they closed my children's school due to concerns over the Coronavirus. Most of us are feeling the impact in some way, and I know highly sensitive people can be even more impacted and may be feeling worried or even panicky from absorbing the panic of others. Many people are experiencing increased stress and fear all over the world. I wanted to provide some ways to support you during this time. To read more, click here.
Reflections Upon the Global Pandemic
By Sharron Rose, host of Shift's Qigong Global Summit
Our world, our future, all that we have known is being altered right now, all around us. Everything that we are, the essential nature of society, our hopes and dreams are undergoing a substantial and radical alteration. Yet at the same time, this challenging situation offers the potential for a powerful time of healing, of deep personal reflection on who we are, where we have been, and where we are heading. To read more, click here.
Let's Become Imaginal Cells for Collective Transformation
By Robert Moss, Shift faculty
In many cultures, the butterfly is a favorite image for soul. In Greek, the word psyche means both "soul" and "butterfly." The cycle of the butterfly is a model for a life that is open to transformation. I know this to be true in an individual life. Let us hope that it is true for our kind on a collective level in these dark and crazy times. To read more, click here.
Love, Fear, and the Coronavirus
By Gary Zukav, Shift ally
We all experience that enormous love each time we wash our hands with the intention to protect others from the virus as well as to protect ourselves from it. We all experience that love in a big way each time we care for the wellbeing of others as much as we care for our own. We all experience it every time we perform an action — any action — consciously with love instead of unconsciously with fear. To read more, click here.
The Role of Botanical Antiviral Remedies
By David Crow, Shift faculty
Now, what do we do with information like this? One thing we don't do is to start broadcasting all over the internet that this formula or this herb will prevent, or treat, or cure COVID-19. Likewise, we don't do that with hundreds of other formulas and individual herbs that have both traditional and modern validation and proof of efficacy. What we can do is to become increasingly educated as self-care clinicians and then make our own decisions about what role we would like herbs to play in our current and future health. To read more, click here.
Queen Reverend Mutima's Relaxation Prayer
By Mutima Imani, Shift Summit speaker
"The two things that could be of great benefit during this time are relaxation and prayer," says Mutima. "I have put them together in this 9-minute recording. Please relax and enjoy while you remember who you are and that to change and grow is healthy."

To listen to and read the transcript of this relaxation prayer, click here.
Two Qigong Movements to Relieve Stress and Find Peace
Video by Shift faculty Daisy Lee
Daisy Lee's 5 Essential Practices from her Radiant Lotus Qigong program for The Shift Network has helped thousands of people return to inner peace and harmonious balance. Here are two of the five movements that are used to release stress and improve sleep during these uncertain times.
Vertical Alignment supports our connection to the earth and the cosmos, reminding us that we are not alone and can borrow strength and stability from the earth, and light and inspiration from above. It is a mindful awareness practice that can be done seated or standing.
Showering Qi is a beautiful, flowing movement that brings gentleness and calm to the body, mind, and emotions. During these challenging times, it is an essential "meditation in motion" that creates balance within and around us. Synchronize the movement with a slow, deep, smooth breath, and notice how your nerves settle and your heart comes to peace. Share it with your family and friends to help clear information overload from the media, and help reset to a baseline of peaceful equanimity.
To watch the video, click here.
Meditations with Master Mingtong Gu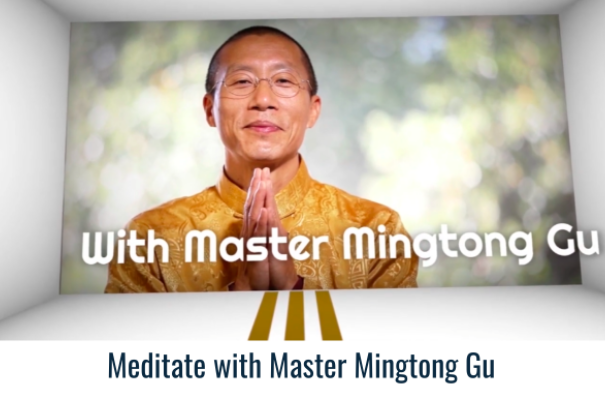 Sign up for the Chi Center newsletter and receive a new Wisdom Healing Qigong meditation every week led by beloved Shift faculty Master Mingtong Gu. These free weekly meditations focus on all aspects of health, healing, and awakening.
Click here, scroll down until you see the image at left, and enter your email address for free access.
Guided Meditation: Welcome & Liberate Fear
By Loch Kelly, Shift faculty
For your support in these challenging times, Loch Kelly invites you to find your essential loving nature, which can welcome and liberate fear, with this powerful guided meditation.
To watch the video, click here.
Gaining Peace and Clarity During Challenging Times
Video by Shift faculty HeatherAsh Amara
Join Shift faculty HeatherAsh as she shares a potent tool for our times, the Warrior Heart practice. In this 34-minute video, she shares an overview of the practice and then leads us through untangling our emotions and story around the pandemic (or any challenge you are currently facing) to rest into truth and intent and gain new insights and actions for how to navigate this time.
To watch the video, click here.
Boost Your Immune System With Spiritual Strength & Stamina
Video by Shift faculty Desda Zuckerman
Has it ever been more important for us to be healthy and resilient? And yes, you know that means you must address not just your body, but your spirit as well. We are offering one of our great Sacred Anatomy Energy Medicine protocols for the benefit or our entire global community. Originally designed as a "cure for the common cold," we soon realized that it was much more than that — a boost to spiritual strength and stamina that impacts your physical as well as your spiritual wellbeing at a deep level.
This healing meditation can help stop a cold or virus before it starts, create spiritual wellness along with physical wellness, and release your anxiety about getting sick. To watch this 14-minute video, click here.
The 21-Day Meditation Challenge
By Michael Stone, the host of Shift's Shamanism Global Summit
To support you in these times of transition, turbulence, and transformation, Michael is offering a FREE daily half-hour meditation and short dharma talk at 9:00am Pacific. Each day, you'll connect with a global group of participants to collectively tune into our thoughts, feelings, and what's alive in us, which forms the foundation for the guided meditations that arise. It's an opportunity to start or end your day in a grounded, calm, and focused way.
Click here to watch Michael's 2-minute invitation video.
Click here to participate and receive all 21 guided meditations.
The Inner Mentor Process™: Tapping The Beautiful Wisdom of Your Evolved Self
By Ken Page, Shift faculty
I'm just so delighted to share with you one of the most powerful and empowering meditation tools that I know. At times like this when there can be so much fear, so much uncertainty, a technique that helps you connect to your peaceful, loving inner self and then gives you direct guidance from that self is just invaluable.
This is a process that I do every single day. I teach it to all my clients, all of my course members, and it's just beautiful because you are going to connect with the you that you're meant to be. To read more, click here.
Respiratory System CD — Free Download!
By David Gibson, Shift faculty
Click here to download David's Respiratory System CD to boost your system. Instead of listening to it, place the headphones on your chest for as long as it feels good (one side then the other).

David is a leading scholar and researcher in the field of Sound Healing and Therapy. He developed a complete perspective of how sound affects us physically, mentally, emotionally, and spiritually — and distilled it into the hierarchy of vibrations found in the Universe.
May All Beings Dwell in the Heart: A Healing Mantra for the World
By Miranda Macpherson, Shift faculty
Popular Shift faculty Miranda Macpherson created this inspirational healing prayer video to support people in staying calm and clear in this challenging time. With all that is happening in our world right now, you are invited to make this prayer mantra part of your daily practice.
To watch the video, click here.
Ragani
Album: Light of Savitri
FREE Music Offer from Ragani — a unique opportunity for yoga/meditation/healing practitioners of all kinds!
NOTE: Ragani is extending this offer to all the nurses, doctors, healthcare workers, and anyone who is serving those who are suffering.
Calling out to all yoga/meditation teachers, facilitators, studio owners, and healing practitioners! This campaign was initiated to support yoga/meditation/healing teachings and practitioners around the world by offering Ragani's Light of Savitri album to those who would like to use this music in their classes, workshops, or healing sessions. We truly want to share the Light of Savitri with you!
If you are a yoga/meditation teacher, facilitator, studio owner, or healing practitioner — or nurse, doctor, healthcare worker, or caregiver for those who are suffering — we would like to gift this album to you for use in your yoga/meditation/healing sessions along with a complimentary license to play this music to members of the public in a commercial environment. If you're interested, please email Ragani with "Offering" in the subject line, and include the following brief information:
(1) Your full name
(2) Service you offer
(3) If you are a studio owner, the name/location of your studio — OR — if you are a practitioner, the name/location where you give your offerings — OR — if you are a medical professional, the name/location where you're serving during this crisis
If you know of other yoga studios or medical personnel that may like to receive this offer, please forward this offer to them and have them reach out to us if they are interested. We are truly inspired by the overwhelming and incredible feedback we've received for this album, and we would like to give back to the greater yoga community and support the leaders of yoga/meditation communities around the world, as well as to thank and honor those brave souls on the frontlines of the coronavirus pandemic.
You can hear full song samples of the album here.
Click here to visit Ragani's website.