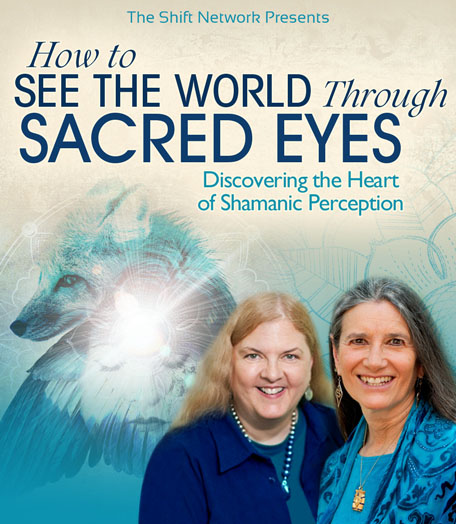 The Virtual Event is Now Complete
A Free Video Event
Featuring Shamanic Teachers
Sandra Ingerman &
Evelyn Rysdyk



Discover how traditional shamanic ways of seeing and being in the world can help you reclaim your 'humanness' and experience the connectedness, love, and fulfilment that's your birthright.
Be inspired by stories of shamanic traditions to know the depths of this path as a grounding source that can open your heart and deepen your sense of belonging.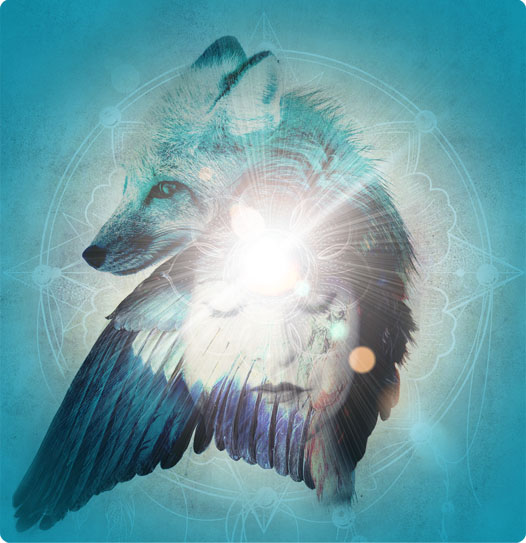 It's human nature to want a sense of belonging, to desire connectedness, love, and fulfilment in your life — and to want these things for those you love and the rest of the world...
Yet how close are you to attaining these qualities — that are actually your birthright? Are you missing out on one or more, and therefore, on fully experiencing what it is to be human?
With the frenzy that is modern living, the current political climate, and the feelings of isolation that can be a part of residing in this digital age, you're not alone if you often feel you've forgotten what it is to be truly human and that the wholeness you seek is seemingly out of reach.
But there is a way out — or actually "in"...
The shamanic path offers a heart-opening, self-healing, and self-empowering antidote to today's frenetic lifestyle and to reclaiming your humanness.
YET truly aligning with this ancient and sacred path means approaching it from the inside-out, which isn't how we're generally schooled in this healing art.
When we're not raised in a shamanic culture and schooled in shamanism from a young age, we often learn shamanism through practices without having fully developed the shamanic ways of being in and seeing the world.
Our practice can become technique-oriented, our sense of connectedness with the world around us, our spirit allies, and even with ourselves can waver and the groundedness we seek can feel unattainable.
Even if you're a seasoned shamanic practitioner, you may have missed some of the steps that can deepen your practice and expand your shamanic perception.
In this life-enriching hour with two world-renowned and deeply respected shamanism teachers, Sandra Ingerman and Evelyn Rysdyk, you'll discover how to start to reclaim "the shamanic life" — we are all innately designed to lead — and to open to rediscovering your full humanness with all its heart- and soul-filling qualities.
During this powerful 60-minute online event, you'll discover:
Miraculous stories of shamanic work to help you understand your place in the Web of Life and what you can experience when you establish a deep relationship with nature
Shamanic practices taught to young members of Indigenous communities that can help you uncover your innate gifts, strengths, and capabilities for healing
That to enter the Flow of Life, you must find your own voice and inner healer and be willing to face your old wounds, remove yourself from others' projections, and remove the projections you've placed on others
That a grounded and rich inner life is the key to effectively working with the power of light for healing and transformation
Steps for opening the veils between dimensions and seeing beyond suffering to perceive the magnificent beauty, joy, love, and light of life
One of the important keys to adopting a shamanic worldview — and rediscovering and grounding in your full humanness — is to discover how to establish and keep strong your relationships with the natural world, the cosmos, and those around you.
This includes adopting shamanic practices that maintain your awareness of the sacred relationship we have with ALL, including our spirit allies in other realms.
Join us for this powerful hour, which will be filled with story and potent insights that can help you start to restore your shamanic perception — the expanded view of life our ancestral shamans have preserved for us.
To view life through these sacred eyes can help you more fully open your heart, more deeply connect with all living things, and to live in ways that ground you in being more fully human...
Attending this complimentary online event can help you open the door to enjoying the sense of belonging, connectedness, love, and fulfilment you were meant to experience and share with others.
You'll also be among the first to hear about an all-new online shamanism training Sandra and Evelyn will be teaching together starting next month. This powerful 7-week program will go much deeper into how to fully enter the shamanic path, experience life in all your "humanness," and be of service to the planet in ways greatly needed at this time.
What People Are Saying About Sandra and Evelyn...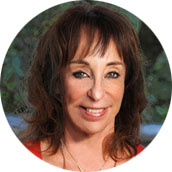 "She's a rare jewel of a being and teacher"
Sandra Ingerman is a profound and wise teacher. She's a rare jewel of a being and teacher. Don't wait a minute more. Learn from her!
— Judith Orloff, MD, Author of Second Sight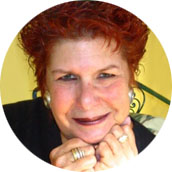 "Humility and great generosity of spirit"
Evelyn Rysdyk has written an invaluable shamanic resource that is at once expansive and concise. She shares her deep wisdom with humility and great generosity of spirit.
— Mama Donna Henes, urban shaman, author, and spirituality columnist for the Huffington Post, Beliefnet, and UPI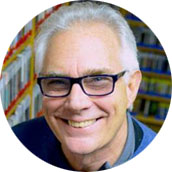 "Sandra is the most authentic, grounded, and ego-less teacher I've ever encountered"
Of all the shamanic teachers and practitioners I have worked with or had on my radio show, Sandra is the most authentic, grounded, and ego-less teacher I've ever encountered. Her ability to translate ancient Indigenous and shamanic wisdom into lay language makes it accessible to anyone who is looking for personal and spiritual growth.
— Michael Stone, Host of KVMR's Conversations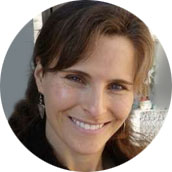 "Reminding us of our deepest sense of connection and purpose..."
Life is a sacred work... how easy it is to forget that in the rush of daily life! And how wonderful it is when a book like [Evelyn's Spirit Walking ] comes along, not only reminding us of our deepest sense of connection and purpose, but offering wise guidance to help us get back to it.
— Hillary S. Webb, Author of Traveling between the Worlds: Conversations with Contemporary Shaman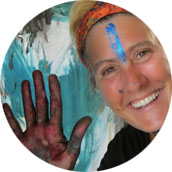 "Sandra Ingerman teaches from the heart"
A shaman sees with the heart. Sandra Ingerman teaches from the heart. Sandra is a devoted teacher; deeply committed to teaching shamanism as a way to positively impact our lives and the future of our planet. Connected to the Spirit that lives in all things, Sandra holds a deep belief that if we can change ourselves, we can dream forward a new vision of our world.
— Damini Celebre, Author of Painting the Landscape of Your Soul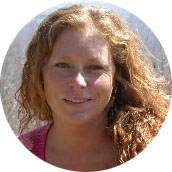 "It feels like she's teaching you directly..."
I loved that I could feel the profound wisdom of many years of experience flow through Evelyn's writing in such a personal way. It feels like she's teaching you directly, with all her deeply rooted energy and spirit-guided words... At a time when life can seem so crazy, we need to become Spirit Walkers now, more than ever!
— Colleen Deatsman, Author of The Hollow Bone: A Field Guide to Shamanism andSeeing in the Dark: Claim Your Own Shamanic Power Now and in the Coming Age
About Sandra Ingerman and Evelyn Rysdyk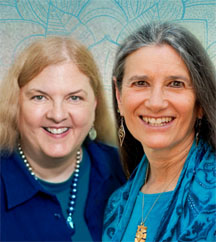 Sandra Ingerman, MA, is an award-winning author of 10 books, including Soul Retrieval: Mending the Fragmented Self, Medicine for the Earth: How to Heal Personal and Environmental Toxins, Walking in Light: The Everyday Empowerment of Shamanic Life and Speaking with Nature (co-authored with Llyn Roberts). She is the presenter of seven audio programs produced by Sounds True, and she is the creator of the Transmutation App. Sandra is a world renowned teacher of shamanism and has been teaching for more than 30 years. She has taught workshops internationally on shamanic journeying, healing and reversing environmental pollution using spiritual methods. Sandra is recognized for bridging ancient cross-cultural healing methods into our modern culture addressing the needs of our times.
Sandra is devoted to teaching people how we can work together as a global community to bring about positive change for the planet. She is passionate about helping people to reconnect with nature.
Sandra is a licensed marriage and family therapist and professional mental health counselor. She is also a board-certified expert on traumatic stress. She was awarded the 2007 Peace Award from the Global Foundation for Integrative Medicine. Sandra was chosen as one of the Top 10 Spiritual Leaders of 2013 by Spirituality & Health Magazine.
Evelyn C. Rysdyk is an internationally recognized shamanic practitioner and bestselling author whose titles include The Norse Shaman, Spirit Walking: A Course in Shamanic Power, A Spirit Walker's Guide to Shamanic Tools, and the soon-to-be-published collaborative work, The Nepalese Shamanic Path: Practices for Negotiating the Spirit World with Indigenous Nepali jhankri, Bhola N. Banstola. She also contributed to Spirited Medicine: Shamanism in Contemporary Healthcare, exploring the role shamanism in integrative care. Along with her writings, Evelyn is an impassioned teacher and a featured presenter for global, online programs.
For nearly 30 years, Evelyn has delighted in supporting people to remember their sacred place in All That Is. Whether through face-to-face contact with individual clients, workshop groups and online participants, or through the printed word — Evelyn uses her loving humor and passion to open people's hearts and inspire them to live more joyful, fulfilling, and purposeful lives. She acknowledges that as people awaken their full selves, they are much more likely and able to make their unique contributions toward transforming our world.
Still somewhat surprised that she was shape-shifted by the spirits from being a visual artist into a writer, she finds creative inspiration and renewal on the coast of Maine.