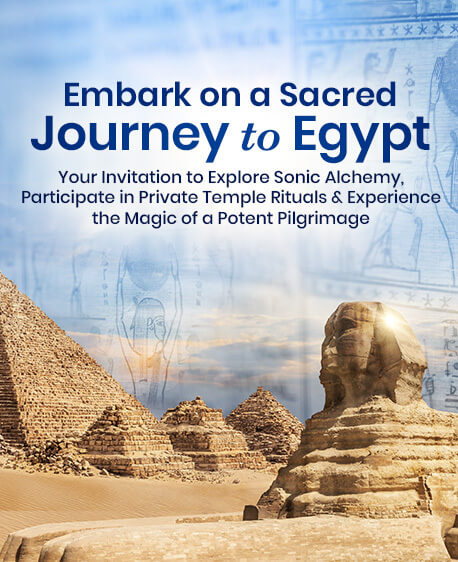 A Free Informational Event on the Trip of a Lifetime!
With the Founder of The Shift Network
Stephen Dinan
& Shift Faculty, Founder of Academy of Oracle Arts & Egypt Trip Producer
Isis Indriya
---
Explore an opportunity to fulfill your lifelong dream of visiting Egypt (known in ancient times as Khemet) with a group of advanced spiritual seekers, adepts, priestesses, scientists, and seers.
Unlock ancient secrets of sound healing, ritual magic, and initiatory power in the form of co-created ceremony, sacred tourism, and group activations.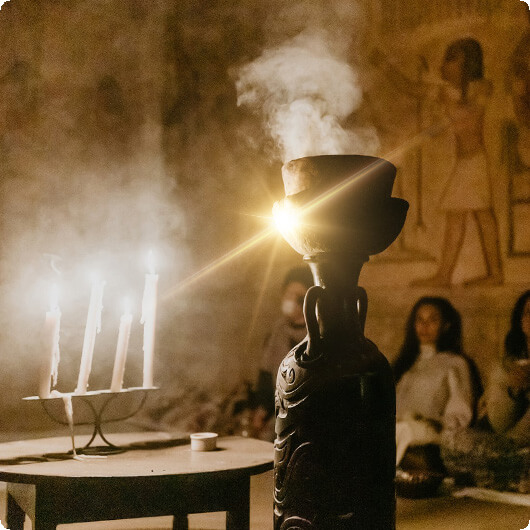 If you're like so many of us who are intrigued by the mysteries held within Egyptian history and its antiquities, you likely know that there are awakened practices and rituals that go deep into Egypt's ancient culture and its exalted pyramids and temples.
You intuitively sense that Egypt holds THE key to understanding our spiritual lineages in the West. It's woven into the stories of Jesus and Mary, and forms the root systems of the Abrahamic faiths.
It's the source culture from which Western civilization arose, featuring the Library of Alexandria which contained the greatest concentration of human knowledge in its day.
Then, of course, there's the unparalleled majesty of the pyramids themselves! To this day, it remains unfathomable how ancient Egyptians built the pyramids with such an extraordinary level of complexity and precision — and why.
The truth is that we've barely scraped the surface of the mysteries of Egypt.
Egyptian myths are multi-leveled stories that speak of the power of death, rebirth, and journeying through the afterlife to receive clear guidance.
Egyptian deities offer unique prisms on awakened consciousness. In almost-forgotten epochs, such as the time of Akhanaten, humanity attempted to make a revolutionary leap into a unitive faith based on the understanding of a single Creator God that transcends and includes all lesser Gods.
Books based on compelling past-life remembrances in Egypt describe a sophisticated, culture-based initiation into higher states of consciousness, as well as training in healing practices and a deep understanding of the transformative power of sound.
The examples of Egypt's illuminated spiritual landscape go on and on...
It's abundantly rich in archeology and history, which anyone can drink in by taking a standard tour. But what about its advanced culture, which was designed to propel humans into the heights of revelation and back?
If you're eager to explore the depths and power of Egyptian sacred culture and spirituality, we hope you'll join us on a trip of a lifetime — with many world-leading experts from different fields coming together for a 2-part journey to the heart of Egypt...
A 5-day Sonic Alchemy Conference in Cairo will be followed by a 14-day tour of major sites, combining a cruise on the Nile with excursions to temples.
This is not a trip for surface tourists. Rather, it's for deep spiritual seekers like you who want your experience in Egypt to elevate your consciousness and help you serve humanity more deeply.
Join Stephen Dinan, co-founder and CEO of The Shift Network, and Isis Indriya, Shift Network faculty, founder of the Academy of Oracle Arts, and this trip's producer, for a free online event to hear details about the extraordinary journey that awaits you.
During this hour-long event, you'll:
Receive an in-depth overview of the 2 phases of the trip and why different portions have been created — as well as the origin story behind this journey
Hear stories from Isis based on her 15+ trips to Egypt — and the ritual magic she's witnessed in the key temples
Gain a deeper understanding of the sacred myths of Egypt

Shift faculty members who are planning to be on the journey include Eileen McKusick, John Stuart Reid, the Brothers Koren, Elayne Kalila Doughty, Devaa Haley Mitchell, Fred Johnson, and Lindsey Wise. Plus we're finalizing other eminent teachers such as Queen Afua, William Henry, and Kumu Ramsay.
Local Egyptologists will include Mahmoud Khodier and Mohammed Aziz and chromatic healer Mohammed Essa. Special guests include Tanoura, a 16-piece local Sufi band.
The Sonic Alchemy Conference is open to 250 people and the Nile Temple Pilgrimage to only 45.
Admittance to the Nile Temple Pilgrimage will be determined by application.
We do anticipate that this conference and trip will sell out. By registering here, you'll be among the first to receive the link to enroll and apply.
Sign Up Now
Join this FREE online video event to learn about a powerful conference and guided journey to activate your spiritual connection to Egypt.

Free Video Event
Your information is safe with us! We'll never share or sell it, and will use it only to send you notifications about this program and other related information from The Shift Network. Each email we send contains an unsubscribe link for your convenience.
About Stephen Dinan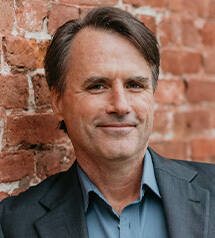 Stephen Dinan is the founder and CEO of The Shift Network and a member of the Transformational Leadership Council and Evolutionary Leaders. The Shift Network has served over 3 million people worldwide with customers in 170 countries. It delivers virtual summits, courses, and trainings featuring over 250 core faculty and 3,000 thought leaders in domains as diverse as spirituality, holistic health, psychology, shamanism, energy healing, sound healing, and Qigong. He is the author of Sacred America, Sacred World and Radical Spirit.
About Isis Indriya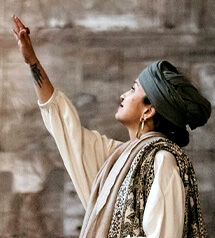 Dedicated to a life of prayer, culture, and community activism, Isis Indriya founded the Academy of Oracle Arts in 2020 where she leads a 9-month Apprenticeship in Oracular Arts, hosts annual pilgrimages to Egypt, and teaches many classes alongside other luminaries, specializing in ritual, divination, Egyptian cosmology, and Hermeticism.
Born in Mesa, Arizona, and raised on the island of Guam, her desire to commune with the unseen and the ancestors began after the loss of her mother at a young age, which led her to ritual as a way of life. At the age of 17, she moved to the U.S. and began her studies in mythology and breathwork, which led to her focus on Ancient Mystery studies, Sacred Sciences, and Earth Wisdom Traditions.
Over the past 20 years, she has dedicated herself to event production, ritual, and education as a way of creating culture and sharing her passions. As a community bridge-builder, Isis is also co-founder of Imaginal Community Platform and is on the board for Water Now, Church of the Essence, Living Village Culture, and the Oracle Clan, and is an advocate for The Fountain Earth, Bioneers, and Unify. She is also lead producer of The Compass at Lightning in a Bottle Festival in California, where she has hosted hundreds of thought leaders and entertainers from around the world. Her continued study and focus is in regenerative culture as an offering to this life and to future generations to come.