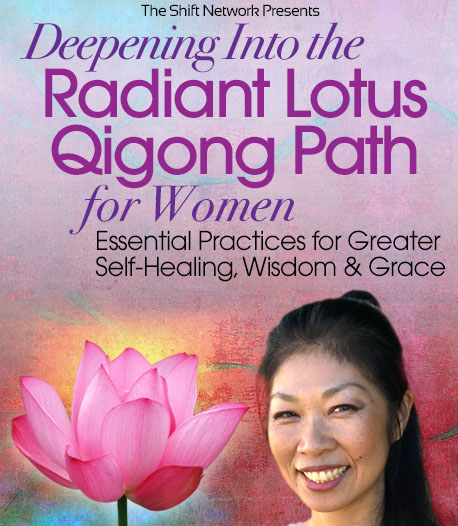 The Virtual Event is Now Complete
With Renowned Qigong Teacher & Author
Daisy Lee

Discover how to integrate practices into your daily life to dissolve stress, clear energy blocks & align with your own wisdom and grace.
Release stagnant 'Qi' and bring love and compassion back to yourself for greater self-healing.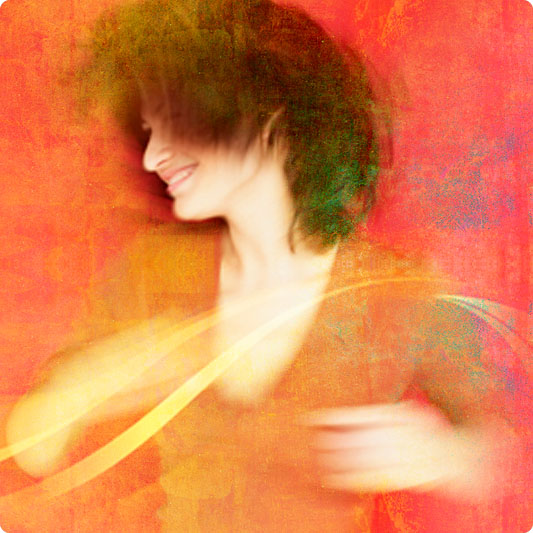 Your self-care is the cornerstone of all areas of your life... allowing you to align with your own energy, wisdom, and dreams.
Your capacity to truly care for yourself is rooted in your life-force energy — knowing how to move the Qi through your body, connect to your breath, and live in conscious awareness.
Practicing Qigong dissolves blockages in your Qi, enabling your full life-force energy to move smoothly and radiate out into all aspects of your life.
Your energy can flow exactly as nature and your body, in its optimum state, would intend… using essential practices that have helped thousands of women worldwide to rediscover their radiant health and wellbeing.
The Radiant Lotus Qigong Practice for Women, developed by renowned Qigong teacher Daisy Lee, offers dynamic (yet gentle) techniques to facilitate your healing and self-care...
Whether you're experiencing a health challenge and want to accelerate your healing — or longing to increase your energy, reduce stress, and improve your mental focus, you can find new levels of wellbeing and rediscover yourself in a whole new way.
Daily stresses and challenges can drain the life force from our bodies and emotions. The need to ground and connect to our inner wisdom has never been greater — especially in our 40s, 50s, 60s, and beyond.
The Radiant Lotus Qigong Practice for Women is especially designed to empower you to actively participate in your own self-care and renewal.
Whether due to excessive caregiving or being on an emotional merry-go-round, women can become drained of their vitality and end up running on empty. Only when we pause and prioritize our self-care can we return refreshed and energized to support others in their care.
— Daisy Lee
During this revelatory video event with Daisy Lee, you'll discover:
How to integrate a unique set of essential Qigong practices into your daily life — to take your self-care to the next level
How to deepen your connection to the Earth and the elements to "lighten your load," release old patterns of relating to others, and align with your wisdom and soul's desires
Lotus Rises Through The Water, a signature movement that helps you release past hurts, dissolve stress, and radiate your inner light and beauty
How Qigong can help you heal illness, prevent disease, and decompress built-up tensions in your body, mind, and spirit
Simple yet deep practices for standing in "neutral compassion" — even when you're immersed in chaos or feeling disempowered
Many practitioners of the Radiant Lotus Qigong Path for Women experience "coming home" to themselves and their innate wisdom.
What's more, the exquisite movements in this vitalizing Qigong practice address health concerns unique to women. According to Daisy, the techniques can even break up stagnations in the breasts and uterus, including benign tumors, cysts, and fibroids.
When combined with proper nutrition and the emotional-release techniques taught by Daisy, this easy-to-master practice has empowered countless women to reclaim their personal health and wellbeing.
This special event will inform and inspire you to embrace your "inner healer" — plus, you'll hear about a brand-new program on the Radiant Lotus Qigong Practice, led by Daisy Lee.
What People Are Saying About Daisy Lee...

"I trust Daisy implicitly..."
Daisy Lee creates climate of safety, trust, confidence, and commitment in the people she guides and nurtures. Her approach and manner are so gentle and compassionate that it is perhaps only afterward that people realize how powerful her effect on them has been. I trust Daisy implicitly when it comes to matters of wellness and balance.
— Maya Soetoro-Ng, Program developer, Obama Foundation, Asia Pacific Leadership
"A miraculous recovery... from the stroke"
I had a mini stroke while out running. Within 48 hours after the stroke, I got out of the hospital bed and started doing Qigong. My neurologist said it was a miraculous recovery. I have no side effects from the stroke. Thank you, Daisy, from the bottom of my heart.
— Beverly Byron
"Radiant Lotus Qigong... empowers me..."
There is sparkling joy in Daisy Lee, as well as deep peace and wisdom, maybe sourcing from her own roots and from her older Chinese and Tibetan teachers. I deeply respect Daisy and appreciate her work. The Radiant Lotus Qigong Practice gave me tools to take care of my physical health. It empowers me and helps me to find my own voice as a woman. I'm connecting to the universe now deeper than ever before, and everyday practice reminds me what is truly important in life.
— Satu Posti, Meditation teacher, Finland
"I am reminded of the joy of being..."
The sessions with Daisy have been extraordinary... her explanations about the movements, their functions, and the interplay of energy, mind, emotions, and body are many. Her voice has a full warm resonance that sounds like music and helps me feel the flow... I am reminded of the joy of being... the wonderful miracle of existence.
— Leinani Springer, Opera singer, Kauai, Hawaii
About Daisy Lee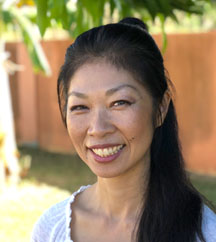 Daisy Lee is a respected leader in the Qigong world with more than 20 years of teaching experience. She is certified as a Level III Advanced Qigong Instructor and Clinical Practitioner by the National Qigong Association of America, as well as being a past board member of the International Qigong Science Association in Beijing. She lectures and conducts workshops and instructor trainings internationally, with a specialty in women's health. Her signature program, Radiant Lotus Qigong, is now taught in 13 countries. Her accompanying DVD series, Beginner Qigong for Women 1 & 2, and Qigong for Women became bestsellers within the first month of their release.
Daisy also teaches co-ed programs, including instructor certifications in Radiant Lotus Zang Fu Gong, an organ-energizing and balancing practice. She continues to train students in ancient systems such as Wuji Hundun Qigong and Five Animal Qigong. She is the 59th-generation lineage holder of Hua Tuo's original Five Animal Frolics from Bo Zhou, China, a classic among Qigong systems.
Johns Hopkins, Mount Sinai, and Women's College are a few of the hospitals that have invited Daisy to lead programs at their facilities, bringing Qigong to patients and medical staff alike. Her practices have been shared at women's health clinics, all-girls high schools, seniors homes, and assisted living centers. At the same time, her students include Olympic athletes, martial artists, and all those who desire practical, transformative self-care.
Daisy continues to teach worldwide, with teacher certifications and workshops throughout North America, Europe, Australia, China, Japan, and Central America. She is excited to announce the opening of the Radiant Lotus Retreat Center in Isabela, Puerto Rico, in 2019.