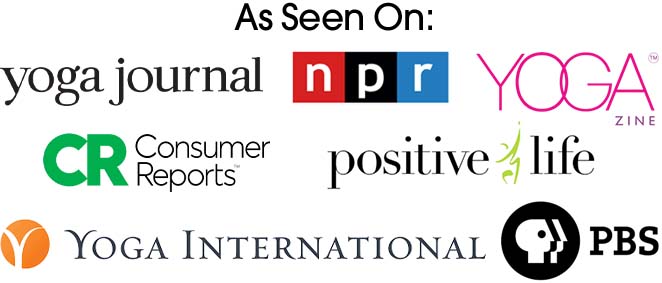 Explore a multidimensional approach combining Eastern wisdom, modern science, and mystical symbolism to understand yoga's original purpose.
Integrate ancient wisdom and spirituality for health — opening up to a life filled with contentment and gratitude for its gifts.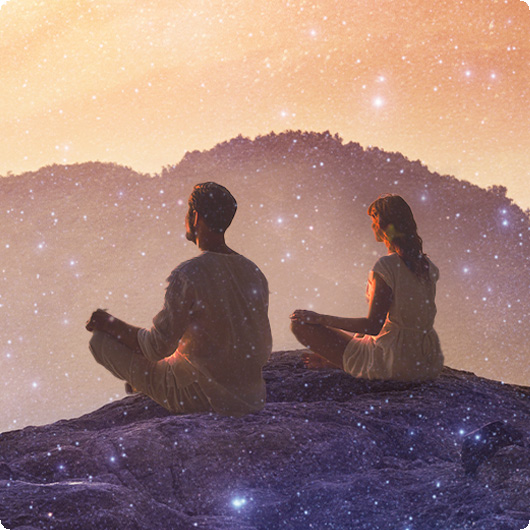 Have you ever been curious about the states of being as described by advanced yogis — and how they could apply to you?
Yoga is far more than stretching and holding poses. As a practice, it goes much deeper.
At its origins, yoga is a path to fulfillment and liberation — used by those who seek to eliminate suffering, promote healing, find purpose, and unlock feelings of joy and happiness.
The word yoga links our intelligence to our energy. With practice, it can influence every aspect of our lives and wellbeing.
The Ancients viewed human beings as complex and multidimensional — they used mystical symbols known as Cakra-s and Nāḍī-s to map the subtle dimensions within people and provide a path toward spiritual realization.
One important symbol they discovered was the Central Channel, Suṣumnā, also known as the Mokṣa Mārga — the path to liberation, a divine bliss.
During this compelling online event, you'll have a chance to explore these ancient yogic teachings with master yoga teacher and therapist Gary Kraftsow, the founder and director of the American Viniyoga Institute.
Gary will guide you in a practice to experience firsthand the journey to awaken your Suṣumnā, which leads to fulfillment.
As a pioneer of yoga therapy, Gary has been an innovator in the transmission of yoga for health, healing, and personal transformation for more than 40 years.
In this enlightening hour, Gary will share how the ancient and modern science of yoga can create an integrated path of awakening and healing...
... one that activates more energy to improve your health and unlock deeper layers of meaning, connection, and fulfillment.
You'll experience an integrated use of simple āsana, prāṇāyāma, visualization, and meditation to experience Suṣumnā. This practice can leave you grounded, centered, and open to the infinite space within you.
Gary will also share the framework the Ancients created for cultivating a conscious relationship with yourself at a multidimensional level.
Are you ready to free yourself from the entanglements that obstruct your path to liberation... and experience joyful living?
Whether you're new to yoga or a deep practitioner, you'll discover how to open pathways to expanded consciousness, better health, and deeper fulfillment.
Join Gary as he takes your yoga practice to new heights with yoga's ancient science and mystical symbolism.
In this informative online event, you'll:
Learn a multidimensional approach to yoga — merging ancient teachings with modern science and giving context to your vital systems so you can create more energy
Gain insights into managing and optimizing your wellbeing regardless of age or ability
Gather an appreciation of yoga's origins, why they were developed, and how to integrate them into your lifestyle
Experience a guided visualization, supported by the breath, to locate and consciously enter the Central Channel or Suṣumnā
Discover the true practical relevance of yoga and how to adapt and apply it to meet your specific health and wellness interests
In joining this FREE online event with master yoga teacher and therapist Gary Kraftsow, you'll also be among the first to learn about his new course on how to take your yoga practice to the next level with multidimensional yoga. This practice harnesses the true power of your entire being to elevate your health and actualize your highest potential.
Sign Up Now
Join this FREE video event with Gary Kraftsow to explore yoga as an ancient science of wholeness for upregulating your health and unlocking deeper fulfillment and happiness — and discover the mystical symbol that may be the key to helping you enter Suṣumnā, the sacred and centering space within your chakras.

Free Video Event
Your information is safe with us! We'll never share or sell it, and will use it only to send you notifications about this program and other related information from The Shift Network. Each email we send contains an unsubscribe link for your convenience.
What People Are Saying About Gary Kraftsow...
"Learning from [Gary] is truly an enlightening and educational experience."
Gary Kraftsow is a living yoga master. His depth and breadth of knowledge of yoga is vast, as is his experience as a practitioner and teacher of almost 40 years. Learning from him is truly an enlightening and educational experience. Every time I study with Gary, I feel elevated as a practitioner and empowered as a teacher. Studying with Gary Kraftsow is mandatory for students seeking authentic yoga.
— M.P., Viniyoga teacher
"[Gary's] meditations are spot on, and I am benefiting so much from attending them."
I wanted to let you know that I am profoundly grateful for your Zoom practices. As a daily technology user for my job, it can be challenging to get an intimate and empathetic feeling to come across consistently in a remote session. Your meditations are spot on, and I am benefiting so much from attending them.
— B.R., Viniyoga teacher
"I love the way [Gary] presents the teachings in such an understandable and eloquent way."
Thank you so much for the work you have done in inspiring people. I love the way you present the teachings in such an understandable and eloquent way. When you stated the reason we suffer "as the result of our entanglement with the world of name and form," I was just blown away. When you frame it that way, of all a sudden everything makes sense to me. I understood how the greatness of the whole has magnified my understanding.
— E.N., Viniyoga teacher-in-training
About Gary Kraftsow
Gary Kraftsow has been an innovator in the transmission of yoga for health, healing, and personal transformation for over 40 years. He began his study of yoga in India with T.K.V. Deśikāchar in 1974 and received a Viniyoga Special Diploma from Viniyoga International in Paris, France in 1988.
Gary received his masters degree in psychology and religion from the University of California at Santa Barbara in 1983 and opened the Maui School of Yoga Therapy around that time.
In 1999, he founded the American Viniyoga Institute, LLC. Since then, he has become a renowned speaker and teacher of the Viniyoga methodology at many conferences and schools nationally and internationally. Gary has successfully developed protocol for two National Institutes of Health studies, one on yoga for chronic low back pain and one on yoga for anxiety. He also helped develop a clinical trial on mind-body stress reduction in the workplace.
He is the director and senior teacher at the American Viniyoga Institute (AVI®), author of the books Yoga for Wellness and Yoga for Transformation, and the educational DVDs Viniyoga Therapy for Low Back, Sacrum and Hips... Viniyoga Therapy for Upper Back, Neck and Shoulders... Viniyoga Therapy for Depression... and Viniyoga Therapy for Anxiety.
He has also produced multiple online workshops and is in the process of creating the AVI Digital Library, which offers both live and on-demand classes.