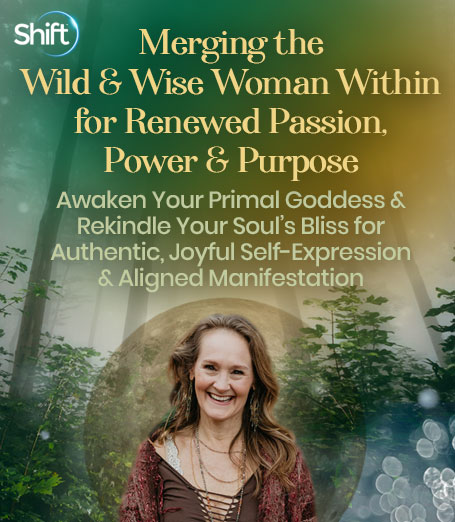 With Co-Founder of The Shift Network, Spiritual Mentor & Guide, Sound Healer & Musician
Devaa Haley Mitchell
---
Celebrate the full spectrum of who you are with a guided journey into the realms of your authentic self... rekindling and catalyzing the magic, intuition, courageousness, and raw authenticity of your Divine Feminine flame.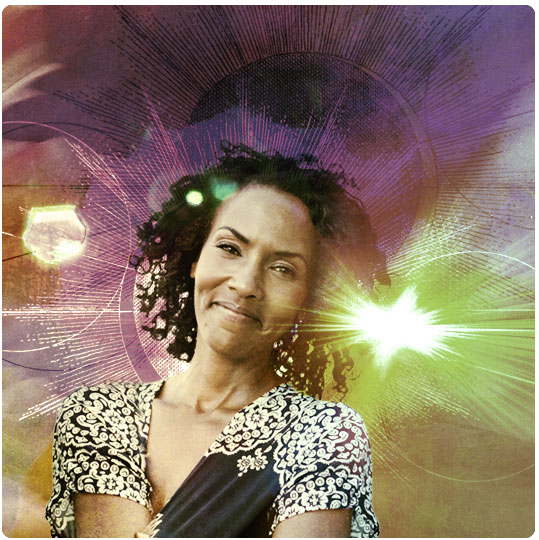 When was the last time you felt free to be yourself? Not just the part of you that you show to the world on a daily basis, but the parts that you hide away?
No matter our age, most of us long to feel vital, fully ALIVE, creatively expressed…
... and genuinely excited about who we are and what's happening in our lives.
We also long to walk fully in our power, steeped in divinity — to know (and experience) that we can have a big impact on the world around us when we choose to act...
… and that we can choose our destiny with wisdom, laughter, and boldness, while also honoring all the responsibilities and blessings of our lives.
If these words resonate with you... you're primed to be a WildWise woman.
WildWise is a state of being that comes from opening your mind, body, and soul to be perfumed with the nectar of the Goddess...
... to be inspired by your inner flame, blessed in your embodiment, and suffused with the kind of inner confidence that makes people take notice.
A WildWise presence lights up a room without effort, mobilizing people and resources behind new possibilities. She lives a passionate life from the inside out...
... transmuting outside expectations, hopes, and fears into inner nourishment, vitality, and manifestation of soul-aligned dreams.
In this free hour-long event, Shift Network co-founder Devaa Haley Mitchell will share how creating space for the WildWise woman within you emboldens a path toward heightened soul awareness, creative expression, and aligned manifestation.
During this illuminating workshop, Devaa will invite you to connect with this older, wiser, more evolved version of your inner Wise Woman. She'll take you on an embodied journey where you'll be invited to listen to the drum, sway your hips, and explore your own version of what it means to be WILD.
What does this part of you secretly desire? How has She been repressed? And how you might choose to live differently if you were inviting this energy more deeply into your life?
As the founder of Inspiring Women with Soul, Devaa has helped more than 130,000 women from 160 countries unlock a more full-spectrum version of themselves and align with the greater calling of their souls.
In joining Devaa on this soul-awakening journey into your unique WildWise nature, you'll be taking the first step of a revelatory experience on how to blend your inner Wild Woman with your Wise Woman...
... and allowing that creative, passionate sense of Self to reanimate your entire being.
In Devaa's empowering 60-minute online event, you'll also:
Connect with your WildWise woman within and discover her secret desires — and how to fulfill them
Reawaken your soul gifts and identify the social conditioning, judgments, and expectations that may be stifling their full expression
Align with the intuitive flow and divine intelligence of the goddesses within to catalyze greater self-worth, self-acceptance, and self-sovereignty
Harness the power of your inner passions for soul-aligned manifestation... so your dreams become reality as quickly as possible
Heed the call of your primal nature and her inherent wisdom, confidence, power, and ineffable presence
You'll also hear about an exciting opportunity to build on this rousing reintroduction to your Sacred Self with Devaa in her upcoming 7-week course on how to unleash and celebrate the radiance of the wild, wise woman within — and walk your path of freedom, truth, passion, and purpose.
This course is designed to give you a sacred space to explore what your mature wise woman really wants — how she can skilfully seek it, dissolve any shame or lack of self worth, and truly receive this primal nourishment in a way that's fulfilling to your body, mind, and soul.
You'll spend these seven weeks living from a place inside that's a bit more wild... and a lot more uninhibited and fully expressed. If you engage in this longer course, you can expect to feel more vital and fully alive... and that you've regained a bit of that "magic mojo" that might have been missing over the last year!
Sign Up Now
Join this FREE video event with Devaa Haley Mitchell for a soul-stirring quest that rekindles and catalyzes the magic, purity, and raw authenticity of your divine inner flame — celebrating the full spectrum of your Sacred Self through the merging of your unique blend of wild and wise femininity.

Free Video Event
Your information is safe with us! We'll never share or sell it, and will use it only to send you notifications about this program and other related information from The Shift Network. Each email we send contains an unsubscribe link for your convenience.
What People Are Saying About Devaa Haley Mitchell...
"She helped me in a million ways I cannot even describe."
Devaa helped me lead from my authenticity, connect with my depth, and open in ways that proved energizing and effective. Her support enabled me to go to a whole new level in my public presentation and bring new qualities to my leadership. She helped me in a million ways I cannot even describe.
— Marci Shimoff, bestselling author with over 14 million books sold
"I always want to hear more from Devaa."
I honor her for all that she does, and I always want to hear more from Devaa. She holds a very beautiful and powerful place. I look forward to all the gifts that she has forthcoming.
— Marianne Williamson, internationally acclaimed spiritual author and lecturer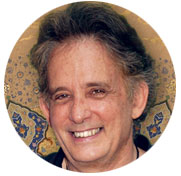 "I saw many people transformed by her generosity and lit up..."
Devaa is a wonderfully passionate and clear transmitter of the mysteries of the Divine Feminine. She's compassionate and wise and has a rich variety of skills she uses with great precision to inspire and encourage. I had the delight to teach a retreat with her and found her a truly loving and helpful collaborator. I saw many people transformed by her generosity and lit up by the joyful passion she communicated so tirelessly. I salute her pioneering work.
— Andrew Harvey, author, mystical teacher, and founder of the Institute of Sacred Activism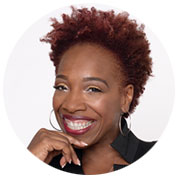 "I thank her for all she's doing on behalf of women."
I love being with Devaa, and each time I look forward to it. I've had the opportunity to co-create some of the magnificence that she's up to in the world in empowering women to find their voices, own their voices, and use their voices to elevate and celebrate themselves and one another — as well as our brethren on this planet as well. So I thank her for all she's doing on behalf of women.
— Lisa Nichols, motivational speaker, media personality, and corporate CEO whose global platform has served nearly 30 million people
"I was able to become the woman I always knew I was born to be."
Through working with Devaa, my life has taken a complete 180-degree turn for the better. And I know I could not have done it without Devaa's support. She is a truly amazing facilitator! I was able to become the woman I always knew I was born to be. The learning, growth, and development I've experienced are more than priceless. What I've seen happen with other women who've worked with Devaa is nothing short of a miracle. I absolutely recommend working with Devaa!
— Kim Carpenter, executive coach and marketing strategist
"We released and healed major patterns that were stuck for me."
The time (or should I say timelessness) that I spent with Devaa was profound. We released and healed major patterns that were stuck for me. After years of seeing all kinds of "experts," I can honestly say that the time I spent with Devaa broke something loose and now I feel burden-free, as well as much lighter and more joyful. I recommend her work to anyone who is ready to fly.
— Marcia Wieder, CEO and founder of Dream University®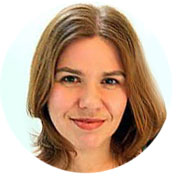 "... so far the most powerful experience of my life."
Devaa could be called a spiritual midwife, assisting people in the birthing of their inner selves. She empowers you, assists you, gently encourages you, and honors you for your efforts. With Devaa's impeccable assistance, I was able to go through what is so far the most powerful experience of my life. I am extremely grateful!
— Nathalie Daneau, intuitive coach and counselor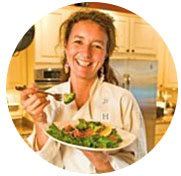 "I was able to open up to some profound healing of past wounds."
The healing and shifts that have happened for me through my work with Devaa have been life-transforming. She created a loving container where I allowed myself to be vulnerable, to be pushed out of my comfort zone, and to share things I normally wouldn't have. I felt so loved and held by Devaa that I was able to open up to some profound healing of past wounds. I became aware of things that had been buried deep, and I learned what it means to fully embrace myself as a divine feminine being.
— Charlie Wilson, founder of Date and Thyme Cafe and 21 Days to Help Yourself
About Devaa Haley Mitchell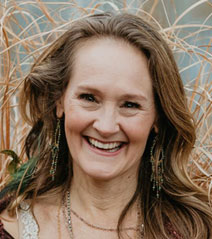 Rev. Dr. Devaa Haley Mitchell is a transformational leader who helps people reconnect with their spiritual depths, unleash their leadership gifts, and step into their full potential. Devaa is founder of the Inspiring Women with Soul series, which has served over 130,000 women from more than 160 countries. Her private practice, Radiant Essence Services, offers personal coaching and VIP retreats for clients from around the world.
Devaa is the co-founder and Chief Impact Officer of The Shift Network, where she guides and oversees Shift's social change initiatives as well its philanthropic activities, finding ways to leverage the educational and network assets for the greatest public benefit. Shift's impact work focuses on peacebuilding, women's empowerment, racial healing, and civic engagement. She's also a key player in leading and supporting the ongoing evolution of Shift's transformational culture, both inside the company and with customers around the world.
Devaa earned both her BA and MA from Stanford University. She received her doctorate in Ministry from Wisdom University (now known as Ubiquity University) and is also an ordained interfaith minister. She was awarded a Fulbright Scholarship for her ecological anthropology work with Indigenous groups in the Brazilian Amazon.
Earlier in her career, Devaa was a management consultant at the Boston Consulting Group where she consulted with Fortune 500 Companies. She later worked as the founding Executive Director of the Full Circle Fund, a thriving venture philanthropy group, followed by a senior director role at the Institute of Noetic Sciences. She is also a member of the prestigious Evolutionary Leaders group.
Her pro bono service projects include serving as Acting Director of the Madrone Grove forest school, which she founded along with her husband and a few colleagues who were dedicated to creating an "awakening" curriculum for kids. She also served as Music Director at the San Quentin Prison's Parallel Play Project, in collaboration with Marin Shakespeare. Her international service projects include training local staff to leverage arts-based techniques for transforming violence in Angola, facilitating a healing program for staff members at an HIV orphanage in Ethiopia, and distributing water filters in rural areas of India and other locations.
In her spare time, Devaa is a musician whose songs fuse East and West with danceable grooves. Her debut album, Sacred Alchemy, aimed to reawaken and liberate the many dimensions of the Sacred Feminine. Her most recent album, Rebirth, reached #1 on Amazon in the New Age Category.