[topbox2]
The Virtual Event is Now Complete
A Free Virtual Circle
With Universal Healer and Member of the
International Council of 13 Indigenous Grandmothers
Grandmother Flordemayo



Experience the wisdom of the Mayan calendar to guide and heal your life with a renowned Indigenous elder and wisdom keeper.
Discover the power of knowing each day's sacred meaning and aligning with the archetypal forces available to help you live in greater harmony, truth, and love.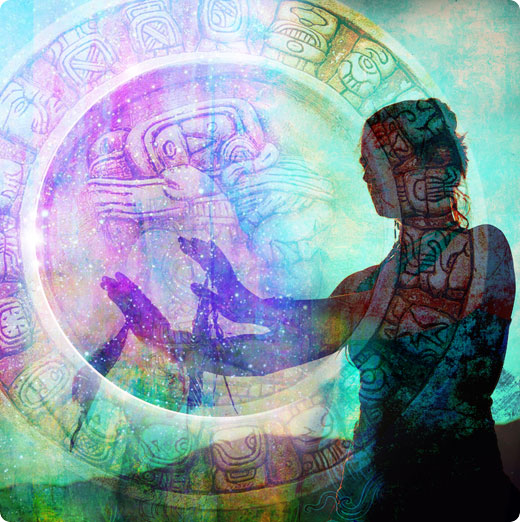 What if you had a means to better navigate your days? Something that could help you better understand life's ups and downs? Provide you with insights into how to live more harmoniously — within yourself, with others, and on the planet?
This is the wisdom the Mayan calendar holds...
It offers us a way to gain insights into how we're connected to, and can align with, the greater cosmic forces — the energies that mediate between the real and the unreal or the positive and negative.
The Mayan calendar serves as a bridge between worlds, reminding us that we're both terrestrial and celestial.
This way of seeing and approaching life — through our connection with the wisdom of the Earth and its galaxies — was developed by the Mayan people thousands of years ago.
The Mayan calendar is still used by Mayans to guide them in healing, ceremony, and living a spiritual life. And it's not just one calendar, but multiple calendars that chronicle — and can help us understand — different levels of time.
Reported to have been received as "star wisdom" from ancient ancestors, on any given day the Mayan calendar can guide you in how to orient to both celestial and terrestrial wisdom and to move in more harmonious ways with the natural energy currents around you.
When you know how to access its great wisdom, the Mayan calendar can guide you in living life with greater reverence and acceptance, and in love and harmony with all of creation.
Each day is "governed" by a daylord — a particular archetype whose energy shapes and influences whether it is an auspicious day for certain activities. For example, a particular day may be good to nourish yourself, another may be a good day to release what no longer serves you.
And, each of us has our own different signs or daylords that are influencing us, too.
You can look to the Mayan calendar to access when it's best to undertake particular creative projects, undergo surgery, or when to have a wedding or hold a celebration of life. Or, to understand why your life seems out of control on a particular day — and to choose a better day to complete your tasks with greater ease.
On a deeper level, the Mayan calendar offers us a philosophy of life, a way of understanding the universe, our experiences, and lives.
Looking to the Mayan calendar for guidance is like looking through the frame of an ancient window to see both your own unique patterning and the larger forces at play — at any given time.
In Discovering Universal Wisdom From the Mayan Calendar, you'll have the rare opportunity to receive teachings from the revered wisdom keeper, Grandmother Flordemayo.
She'll offer you a spiritual path guided by the energies of the universe and filled with profound insights into how you can shift to a more harmonious, healthy, and happy future for all of humanity.
In this 60-minute virtual circle with Grandmother Flordemayo, you'll:
Understand the importance of the Mayan "daily calendar," which has 20 days, each governed by a different daylord, an archetypal force perceived as a "shaft of light"
See why and how each daylord relates to the activities that are most auspicious to engage in on a specific day
Learn how to work with both celestial and terrestrial energies on a daily basis to bring more alignment into your life
Discover how to use Mayan calendar readings to live in balance with the 4 sacred elements, Earth, Fire, Water, and Air
Learn how to use the wisdom of the Mayan calendar to live a life of love and harmony with all of creation
Be guided to make the actual day of this online event (March 21, 2018) into a day of forgiveness, offering intentional prayers to the Earth for cleansing and healing
Grandmother Flordemayo was chosen to be one of the 13 Indigenous Grandmothers, a group predicted by prophecies and committed to bridging the ancient and modern worlds and weaving the human family together again.
Grandmother Flordemayo was born and raised within Mayan tradition in Nicaragua, later becoming a New Yorker and now a resident of New Mexico. She learned in this journey how to bridge many worlds and cultures. She offers a humble, earthy universal wisdom, lightened by laughter.
This virtual sacred circle will be fluid, as Grandmother Flordemayo does not teach in a linear fashion, but follows her inner guidance. She trusts Spirit to speak though her, sharing exactly what we need to receive at this time.
You'll also hear about a new 7-week virtual circle with Grandmother Flordemayo, in which she'll share the wisdom from the Mayan calendar revealed through the specific meeting days of the course — a fascinating way to discover insights for deepening your spiritual practice and your Indigenous wisdom.
Join us for a blessed hour!
What People Are Saying About Grandmother Flordemayo...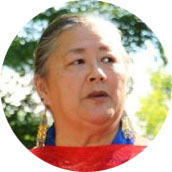 "Her beauty walk is the truth she walks and shares..."
When our prayers are heard by Creator, there is no accident, from the day we were to meet the joy, love, and remembrance we have for each other comes into our soul. When I close my eyes, the love and light shines around my Sister, Grandmother Flordemayo. Her beauty walk is the truth she walks and shares with all who choose to receive.
— Grandmother SaSa Swan of the North, Elder and Indigenous leader
"Flordemayo's heart is an open doorway to the Divine"
Time with Flordemayo is always experienced as a memorable and powerful healing. It has been a fortunate highlight of this life to witness over the last few years how her rare and unassuming presence has brought illumination and healing to me and to various close friends and family members. Flordemayo's heart is an open doorway to the Divine. Her spontaneous healing prayer emerges from deep humility, naturalness, simplicity, and eloquence of spirit. Flordemayo is a true living saint, an embodied master, a blessing on this earth.
— Walter Reifslager, Austin, Texas
"I'm inspired by being in her light of optimism and unconditional love"
Flordemayo is a gifted storyteller. I become a child again listening to wisdom teachings from her mother or stories of what it is like to "see beyond the veil." I'm inspired by being in her light of optimism and unconditional love. This expanded level of consciousness for me melts away all that is illusion to see the treasure of the moment. Once you have stepped into this new vibration, looking back is not an option and I am forever grateful to Flordemayo for spiritually nudging me to walk my truth.
— Mary Ann Sornito
"Truly one of Earth's greatest protectors of all the family of life..."
Grandmother Flordemayo, Universal Healer, curanderismo, the humblest of holy people, is truly one of Earth's greatest protectors of all the family of life, light, and nature. I am a vitally repaired healer who is so proud to stand in allegiance with deep gratitude for the great circle of women of wisdom, of faith, of love, sustainers of life, right beside sweet Grandmother Flordemayo.
— Suzanne Lewis, Healer, spiritual community leader, Her-storean, teacher, author, gourd starseed artist
About Grandmother Flordemayo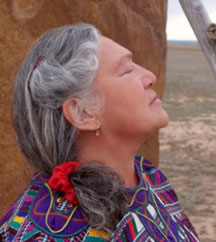 Flordemayo™ was born and grew up in the highlands of Central America in a family of Mayan healers and raised by her mother, a midwife. She travels the globe to share her healings and to foster a more spiritual understanding among humanity. She is a founding member of the Church of the Spiritual Path (1998, 2008-2014), the Confederation of Indigenous Elders of the America (1995-2000), Institute of Natural and Traditional Knowledge (2003-2007), and the International Council of Thirteen Indigenous Grandmothers (2004-2014). She also founded The Path, a 501(c)3 organization whose mission is to preserve and distribute seeds for future generations (2014-present).