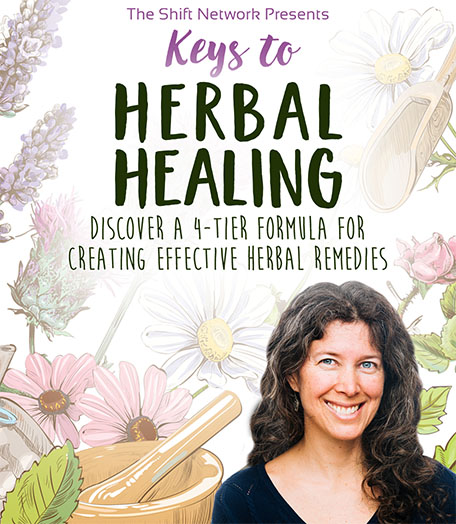 The Virtual Event is Now Complete
A Free Virtual Event
With Renowned Herbalist, Speaker & Author
Holly Bellebuono

Discover how to craft simple and effective herbal formulas for preventing illness and addressing a variety of symptoms.
Learn easy — yet unusual — ways to integrate medicinal herbs into your daily life for your nourishment, health, and healing.
Herbs offer us the most natural ingredients for remedies to improve our health — from helping increase stamina to supporting digestion to nourishing the mind and even easing the spirit.
And their natural healing properties are being used more and more for addressing chronic illnesses, such as Crohn's disease, irritable bowel syndrome, and autoimmune diseases.
Herbal remedies can also play an important role in helping to address heart disease, stroke, diabetes, and hypertension.
Cultures around the world have used these plant medicines for thousands of years, and we owe much of our understanding of herbal healing to the generations of Indigenous healers who have discerned the chemistry, actions, and effects of hundreds of plants.
If you've dabbled in herbal formulary, you know it's one of the most rewarding and effective ways to maintain your health, support your family's health, and bring healing to your clients and to your community.
Herbal medicine can be an important part of a healthy lifestyle that includes proper nutrition, exercise, psychological counseling, and spiritual practice.
Creating and using plant medicines provides a safe and proactive approach to maintaining your wellbeing and helping heal physical and emotional imbalances.
In the Keys to Herbal Healing, medical herbalist, herb school director, author, and speaker Holly Bellebuono will share simple approaches to creating herbal remedies using a few key concepts that can make working with plant remedies safe, stress-free, and effective.
Here's what you'll discover during this online mini-workshop (a valuable hour for both novices and the "sophisticated" beginner):
Simple, yet unusual, ways to include medicinal herbs in your daily life for your nourishment, health, and healing
Ways to grow your skills and deepen your confidence in using herbs to support your health and that of your family and/or clients
Herbal "actions" (or what a plant does) and how considering these actions can make creating herbal formulas easy
"Overlap" actions, and how 4 key plants can make countless remedies for any number of health issues
Holly's 4-tier Formula, a common-sense approach to pulling from hundreds of medicinal herbs to create a simple and effective formula for any illness or symptom
Three simple kitchen ingredients that can be crafted into surprising and effective natural medicines for you and your family
Holly will walk you through the effective use of herbs' "overlap" actions so you can create remedies that offer broad-spectrum results relevant for any number of health issues, symptoms, and diseases — along with how to use them in multiple ways so you don't need dozens of herbs to get the job done.
You'll also receive tips on how to add medicinal herbs to recipes as delicious ways of taking your daily "medicines."
Holly has spent 23 years teaching the art and science of herbal medicine. She's a gifted teacher who's renowned for taking complex theories and information and making them accessible and straightforward.
Holly has studied herbal medicine from many perspectives — through gardening, mothering, pharmacology, anatomy, and physiology. The daughter of a registered nurse and a pharmacist, she combines the spiritual and intuitive "heart" with science and chemistry to teach a wholistic form of herbal medicine.
During this potent hour with Holly, you'll receive a foundational overview of her herbal philosophy — a 4-tier Formula approach that simplifies crafting herbal remedies, while also helping you to add more and more herbs and herbal knowledge to your natural medicine cabinet.
And you'll be among the first to hear about an all new 7-week online program with Holly in which she'll provide a fun, easy, hands-on approach to crafting effective herbal remedies for the health and healing of your key body systems (including respiratory, digestive, neurological, and more) — for both adults and children, and for both common and chronic conditions.
What People Are Saying About Holly Bellebuono...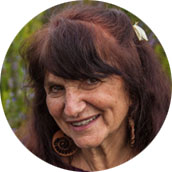 "A deep and personal connection to the plants"
Holly is an inspiring and knowledgeable speaker who weaves her first hand experience of herbs with historical facts and fascinating stories. She touches not only the hearts of her students, but inspires in those who study with her a deep and personal connection to the plants.
— Rosemary Gladstar, Herbalist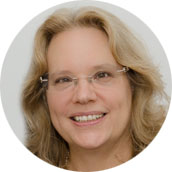 "Holly can be counted upon to give a well-researched presentation..."
Holly Bellebuono is a welcome annual speaker. Weaving together her expertise in several fields, Holly can be counted upon to give a well-researched presentation on any number of fascinating topics and consistently draws engaged audiences to her workshops.
— Carol Bedrosian, Natural Living Expo

"Entertaining and enthralling..."
Holly is a gifted storyteller. The way she weaves a story and presents information so gracefully is entertaining and enthralling.
— History teacher
"Information-packed gems..."
Holly's lectures and lively presentation are not-to-be-missed, information-packed gems that inspire groups to more deeply explore...
— Soul Center
"My life will never be the same"
I found my spirituality by attending this program with Holly. My life will never be the same.
— Anonymous
About Holly Bellebuono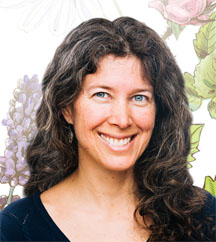 Holly Bellebuono, MPA, CH, CPC, is an American herbalist, speaker, author, and empowerment facilitator specializing in women's health and visionary thinking. She is CEO of Bellebuono Holistic International, the operating entity for The Bellebuono School of Herbal Medicine, Vineyard Herbs, Teas & Apothecary, and her renowned publishing and speaking activities.
As an herbalist of several decades, Holly has authored numerous award-winning books on herbal medicine and empowerment. She is a sought-after speaker and teacher at conferences and universities, and she welcomes you to study and work with her from your own home, at her on-site training program on Martha's Vineyard, and at her events across the U.S. and abroad.