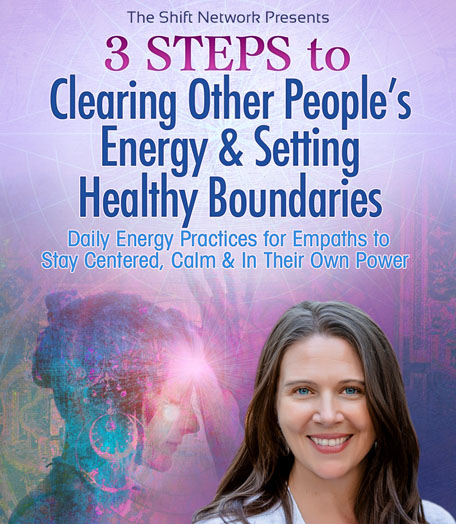 [topbox2]
The Virtual Event is Now Complete
A Free Video Event
With Author, Trainer & Intuitive Healer
Wendy De Rosa


Learn how to turn 'over-sensitivity' into an intuitive healing gift.
Discover how to ground into your own 'energy body,' stop taking on other people's energy, maintain your boundaries — and connect with your empathic power.
Are you a sponge for other people's energy?
Do you tend to disconnect from yourself when you're with certain people or in groups — especially when you're interacting with people who have "big energy" or who you perceive as emotionally "needy"?
Or maybe you feel other people's energy directly in your chakras?
It can be difficult to set and hold healthy boundaries — even though you've tried different methods — through energy medicine, therapy, workshops, or spiritual practices...
Absorbing other people's energy can be exhausting, throwing you off center and making you lose your connection with your own power, needs, and desires.
You may feel the pull of other people's energy even when you're not in their physical presence. You may also be hypervigilant or hyper-sensitive as the result of past trauma and stuck energy in your system — other people's energy which you unconsciously absorbed as a child or an adolescent.
If you resonate with any (or all!) of the above, you CAN easily learn to stop taking on other people's energy, set healthy boundaries and center yourself in your own energy.
And according to renowned intuitive healer and teacher, Wendy De Rosa, in doing so, you not only feel more at home and fully grounded in yourself, but you also liberate more of your intuition and true gifts...
Your tendency to pick up on the energies around you is a healing gift — although it doesn't feel like it until you know how to set healthy energetic boundaries and manage the intuitive information you're receiving.
The fact is, your empathy is your power.
And, you can learn how to use your empathic abilities for your own and others' healing and spiritual growth.
In this 60-minute free online event, you'll discover:
A simple grounding practice to help you stop taking on other people's energy — at work, in your friendships, and within your most intimate relationships
Why connecting with your lower body helps you stay grounded in your own power center
The reasons you're picking up on (and absorbing) the energy of others
The gift of empathy and being sensitive to other people's energy (it's where your true power is!)
How your chakras may be conditioned for oversensitivity — and how you can detox and restore your chakra to liberate their gifts
So why is it so challenging for you to not take on other people's energy?
When we're unfulfilled, tired and rundown, or we have experienced trauma or violations of our boundaries at a young age, the unmet needs inside of us essentially leave an "energy vacancy," says Wendy.
The key is learning how to "occupy your full energetic body." And when you do take on someone's energy in an unhealthy way, knowing how to clear it out, so you don't feel drained, scattered, and disconnected from your own power. Old energy patterns can be cleared too, effectively resetting your system to be aligned with your natural energies and gifts.
According to Wendy, sensitive or empathic people are also very susceptible to energies on the planet right now, as old systems break down and more and more people "wake up." If you're feeling overwhelmed, your own energy system may respond with symptoms of fatigue, digestive issues, panic attacks, isolation, overeating, sleeplessness or active dreams or "over-caring" for others.
This special hour with Wendy De Rosa will give you insights and tools to help you stop taking on these energies so you can stay calm, centered, in your power — and able to express the gifts of your empathic nature.
Plus, you'll learn about a brand-new live training with Wendy, which can take you much deeper into these powerful teachings and practices for empaths.
What People Are Saying About Wendy De Rosa...

"My life is completely changed"
OH MY, my life is completely changed. I have so much space, comfort, and direction. I am feeling hopeful and healed and so much less frenetic.
— Rachel, Connecticut
"I believe in myself because of Wendy"
Wendy has not only helped me release layer upon layer of constriction and unconsciousness, she has also taught me how to be a better healer. She teaches by example. The sensitive realms of her abilities have given me a safe space to become who I am meant to be. I believe in myself because of Wendy. I am able to serve in ways that I would not have been able to without her in my life.
— Anonymous
"In every college there should be a course about this work!"
I am so forever grateful for the opportunity to meet such a wonderful teacher such as you, Wendy! Applying the work you provided us took this course and our personal healings to a whole new level... In every college there should be a course about this work! Thank you so, so, so much, Wendy, for your beautiful soul and beauty, inside and out.
— L.B., Connecticut
"The tools... are helping heal me at deep levels"
The tools I'm learning within the program are helping heal me at such deep levels and are being woven throughout my therapeutic work with clients. Many more thank yous than this message can contain for YOU, your work, and your teachings of your work. I appreciate you!
— Meryl Fields, MFT, California
"Helped me become a better person"
Wendy taught me a whole new way of understanding myself and taking care of myself... Wendy has helped me process through personal issues that were deeply seated. My relationships have improved and overall are more healthy. She has a wealth of information and insight. Wendy's ability to see and deal with energies has helped me become a better person.
— L.K., San Francisco, California
About Wendy De Rosa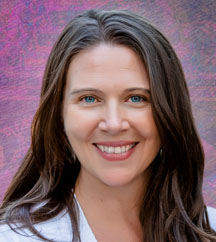 Wendy De Rosa is an internationally respected intuitive energy healer, speaker, teacher, and author. For the past two decades, she has offered private sessions, education, and training programs for spiritual and personal growth for those wanting to develop their intuition, clear their blocks, and experience personal transformation.
She is the founder of the School of Intuitive Studies and the Intuitive Healer Training Program. Wendy has filmed two programs for Mindvalley.com's spiritual growth channel, Soulvana. She is a Mindvalley.com author whose book, Energy Healing Through the Chakras: A Guide to Self-Healing, is an Amazon bestseller.
Wendy is also a contributing author to the bestselling book, Bouncing Back: Thriving in Changing Times, with Wayne Dyer, Brian Tracy, John Assaraf, and other leaders in personal growth. Her most recent book is Expanding Your Heart: Awakening Through Four Stages of a Spiritual Opening.