Step out of your busy mind, fear, doubt, and worry to feel inner peace, an open heart, and healing with the Native American-style flute.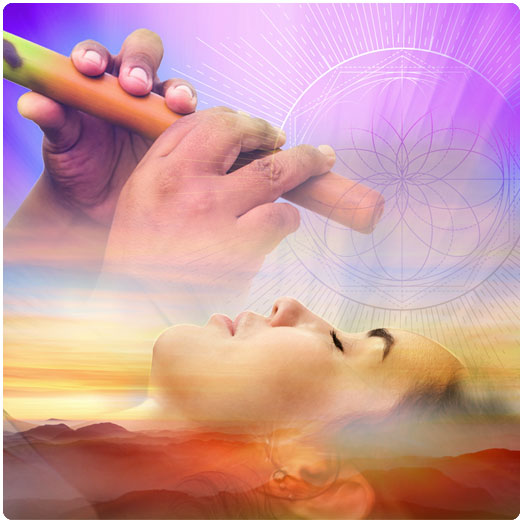 Music has been used throughout time for prayer and healing across Indigenous traditions. Shamans and mystics view music as integral to the health of the body, mind, and spirit.
Behavioral science today shows that music keeps us "in tune" by reversing the damage done to our cells due to stress.... and deactivates the brain waves related to self-monitoring and overthinking. It also helps with respiratory issues, stabilizes heart rhythms, and decreases blood pressure.
Because the world is facing really challenging times right now, music is also a wonderful salve for our souls. The Native American flute, in particular, has palliative powers; it soothes and gives us a sonic realignment, enveloping us in its healing sounds...
Its music will speak to your heart and open you up so you can hear the message of your spirit.
The flute is also one of the most accessible instruments to play. Just listening to its resonant sounds demonstrates its ability to release both physical and emotional tensions...
Music without words helps us depart from our busy mind and drop into our heart. And it's even a more powerful healing tool when you can actually play the flute yourself.
Let the flute be the precious tool that nourishes and uplifts you, while expanding your awareness, opening your heart, and helping you find inner peace.
In this special one-hour event with author, speaker, flutist/drummer, and music therapist Christine Stevens, she'll envelop you in the flute's harmonic resonance, while transporting you to a calmer, more relaxed state.
The music will let your body be a vessel — riding the relaxing swells of each breath — until you're gently rocked from tension and distraction to a place of comfort and love.
You don't need to be musically inclined or even own a flute to be a part of this free event. Either way, you'll access new songlines of your soul by just listening or playing along.
If you do have a flute, you'll have the opportunity to jam at the end of this one-hour video call. This musical improvisation will be an act of putting forth all our collective hopes and desires into the universe, seeking a peaceful resolve to the world's uncertainties and unrest.
In this 60-minute free musical event, you'll also discover how to:
Absorb the music into your body as you experience Christine playing 3 different flutes that target their early sound to specific areas of your body for a sense of calm and healing
Treat your body as an instrument, a vessel, allowing your breath to transport you to a relaxed state
Use the flute as a holistic tool that will help with self-expression and personal transformation
Tap into changes in your neurological network and open yourself to enlightenment
Stop overthinking and instead hold onto the freeing resonance of harmony and love
Later in the session, you'll also learn about Christine's new 10-week online program where you can take your flute skills to the next level. You'll not only enrich your playing of the sacred flute with more music theory, you'll get into the nuts and bolts behind writing songs, while overall improving your technique.
Sign Up Now
Join this FREE video event with Christine Stevens and step out of your busy mind, fear, doubt, and worry to feel inner peace, an open heart, and healing with the Native American-style flute.

Free Video Event
Your information is safe with us! We'll never share or sell it, and will use it only to send you notifications about this program and other related information from The Shift Network. Each email we send contains an unsubscribe link for your convenience.
What People Are Saying About Christine Stevens...
"Christine guides groups to the secret world of the rhythmic arts."
— Mickey Hart, Grammy award-winning drummer for the Grateful Dead, and author of Drumming at the Edge of Magic
"The power of her work is reflected in the brightness of her spirit."
Christine Stevens' work is truly brilliant. I love how she teaches drumming rhythms. The power of her work is reflected in the brightness of her spirit.
— Sandra Ingerman, Author of 12 books, including The Book of Ceremony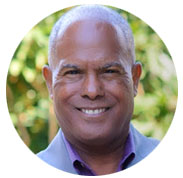 "She is an instrument of global peace on the planet."
Christine's work is anointed with the kiss of heaven's inspiration, celebration, and joy. She is an instrument of global peace on the planet.
— Michael Bernard Beckwith, Author of Spiritual Liberation and founder of Agape International Spiritual Center
"Christine Stevens is a magical sage of sound healing."
Christine Stevens is a magical sage of sound healing. She is a "bridger of worlds" with a deep sense of what matters most. She brings healing home for the Soul.
— Dr. Sue Morter, Founder of the Morter Institute for BioEnergetics and author of The Energy Codes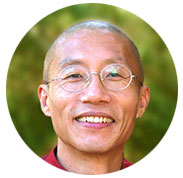 "With deep wisdom and connection, Christine Stevens is a master of the heart and healing rhythm."
— Master Mingtong Gu, Qigong master, speaker, healer, and founder of The Chi Center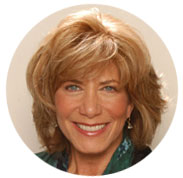 "Christine can show you how music and drumming can become part of your daily routine for spirituality and health."
— Joan Borysenko, PhD, Author of Minding the Body, Mending the Mind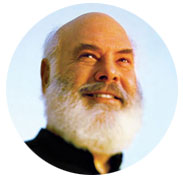 "Christine Stevens can introduce you to the magic, fun, and healing power of drumming. I recommend it."
— Dr. Andrew Weil, Author of Healthy Aging
About Christine Stevens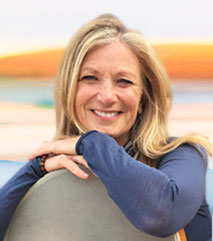 Christine Stevens is an internationally acclaimed speaker, author, drummer, and music therapist. Holding master's degrees in both social work and music therapy, Christine inspires people all over the world with her message that music promotes holistic health, spirituality, and wellness. Christine taught her Shift Network courses, Awaken Your Rhythm and Awaken Your Healing Rhythm, to over 1,000 students from 36 countries last year.
Christine is the author of Music Medicine, The Healing Drum Kit, and The Art and Heart of Drum Circles book and DVD. She's recorded three play-along albums: Reviving Rhythms, Drumming Up Spirit, and Drumming Up Diva. A leader in the music and wellness movement, Christine also serves on the editorial board of Explore: A Journal of Science and Healing.
Christine is the founder of UpBeat Drum Circles, offering training programs and online courses around the world. She's trained facilitators and led workshops in more than 20 countries, including Iraq, Hong Kong, Brazil, South Africa, Japan, and Western Europe. Through Remo, the world's largest drum company, Chrsitine co-created the HealthRHYTHMS evidence-based group drumming protocol, used in schools, medical centers, and veterans hospitals worldwide.
Christine's work in Iraq was featured in the book and DVD Discover the Gift. Televised media credits include PBS, NBC, KABC-Los Angeles, KTLA – Los Angeles, Tournament of Roses Parade, London Tonight, Living Better TV, Discovery Health, and Hong Kong News. As a contributing writer, Christine's work has been featured in Fitness magazine, Spirituality & Health, Body & Soul, Fast Company, First for Women magazine, The Oriental News, The Christian Science Monitor, US News & World Report, Yogi Times, and Natural Beauty and Health.