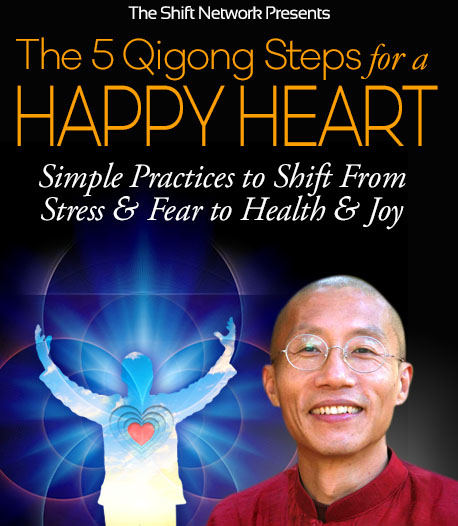 [topbox2]
The Virtual Event is Now Complete
A Free Virtual Event
With Qigong Master, Teacher & Healer
Mingtong Gu
Discover energy healing practices and insights to shift out of stress, increase happiness, and amplify your life force for greater physical, emotional, mental and spiritual health.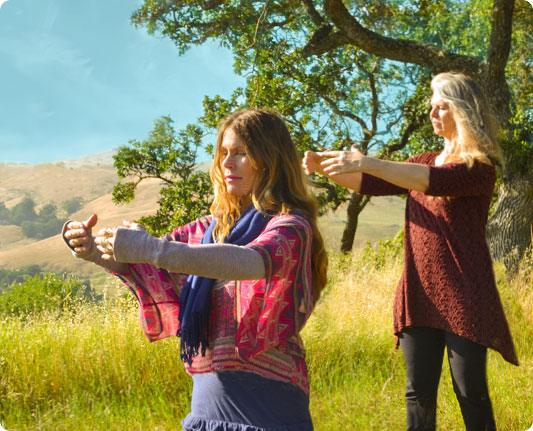 Have you felt yourself more emotionally reactive, fearful or stressed lately?
You're not alone. Our current political climate has escalated stress levels across every segment of society, leaving many people frazzled.
So how do you move beyond low-level anxiety into the joy that is your birthright?
How do you turn the stress that's undermining your equanimity into positive life force energy for improving your life and the lives of others?
Qigong, an ancient set of energy practices passed down by Chinese masters, holds important answers...
And they revolve around your heart.
When your heart is brimming with positive energy, joy and wellbeing, it positively affects every other system in your body. Life is brighter. You're excited by opportunities. You navigate challenging situations with ease.
You go from feeling overwhelmed to feeling calm, hopeful and relaxed.
During a short, daily Qigong practice session (or whenever you get triggered), you can do simple sound and movement-based practices that help you to amplify your heart energy, which opens the doorway to a truly happy life.
In The 5 Qigong Steps to a Happy Heart, you'll discover how to do this from a respected master of Qigong, all from the comfort of your own home.
The practice of Qigong is quickly gaining popularity in the West because of its profound positive impacts on both disease prevention and emotional wellbeing. It offers a holistic body-mind-spirit practice that links your energetic systems, the growth of your consciousness, and your felt sense of connection with all of life.
A remarkable number of energy medicine modalities are based on these ancient practices developed by Qigong masters in China. They were the original scientists of the subtle body, working with the circulation of Qi (life force energy) for not only health, longevity and fertility, but also to quiet the mind, release stuck emotions, and heighten spiritual awareness.
There is perhaps no better guide for this new paradigm of energetic healing than Chi Center founder Mingtong Gu, one of the preeminent teachers of Qigong in the West.
For more than 20 years, Mingtong has pioneered a path for harnessing the power of universal energy. He's trained thousands of students and teachers to work with Qi in ways that produce immediate and positive results.
During this fascinating program, Mingtong will share foundational insights and practices that will help you charge up your heart energy to make you happier, healthier and more resilient .
He'll illuminate both the philosophical and practical components of working with Qi — and give you simple practices and positions that allow you to connect with the energy that supports and nourishes your body. These principles of energetic healing help address and dissolve the underlying blocks that can result in disease, stress and disharmony.
During this hour-long special event, you'll receive fascinating insights and a 5-step approach to cultivating a happy heart, including:
A map that gives you five steps to reclaim joy as your emotional baseline
The Haola practice of acceptance that opens your heart
An understanding of how Qigong practices can help you become more aware of your physical body and heal your emotions
Insights into how you can connect with Spirit and create a union of heaven and earth within you
You'll also hear about a brand new program with Mingtong that will show you how to apply Qigong methods for creating a truly happy heart, with all the health and wellbeing benefits that go with it.
Join us for an illuminating hour with one of the world's premiere Qigong masters — and discover holistic practices you can use for a lifetime!
What People Are Saying About Mingtong Gu...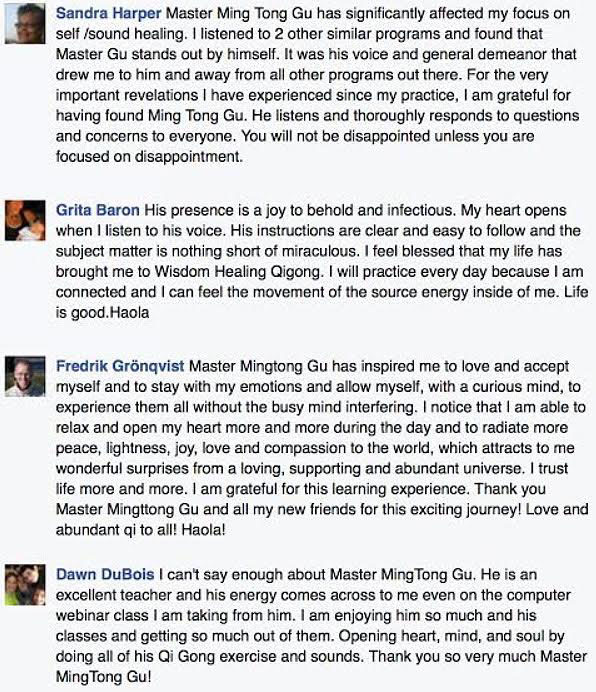 About Mingtong Gu
Master Mingtong Gu joyfully and skillfully translates the ancient teachings of Wisdom Healing Qigong for modern times. He founded The Chi Center to benefit others through the practice of self-care, self-healing and self-empowerment, and recently opened The Center for Wisdom Healing Qigong, a beautiful retreat center near Santa Fe, New Mexico.
Master Gu shares these powerful teachings through online courses, workshops and retreats for individuals, wellness professionals, and for students seeking Qigong teacher certification. He is the author of several publications, including Wisdom Healing Qigong, Sound Healing Technologies, and Awaken Vitality, and is a respected speaker on how to heal ourselves and our planet.
He received his Master training with Grandmaster Ming Pang, the founder of Wisdom Healing Qigong in China, and has also studied with a variety of Grandmasters. Master Gu was inspired to share these teachings after curing his own chronic health conditions through his dedicated Wisdom Healing Qigong practice, and witnessing thousands of "incurable" diseases being healed at the Zhineng Center, the largest Qigong medicine-less hospital in China.
Master Gu grew up in a rural community in China, becoming the first person in his village to attend college. He then studied in the United States, receiving his master's degrees in Math and in Fine Arts. Dedicated to teaching Wisdom Healing Qigong to international audiences, he received the Qigong Master of the Year Award at the 13th World Congress on Qigong and Traditional Chinese Medicine.