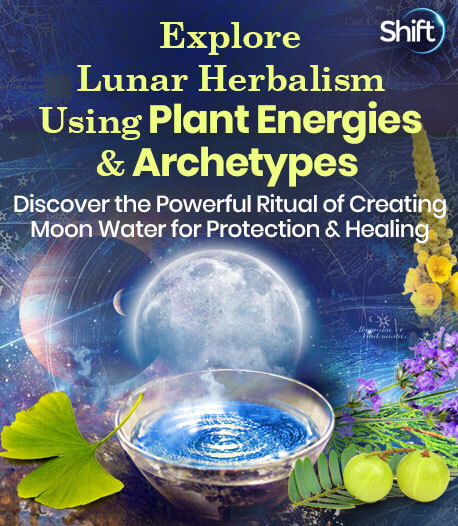 Explore the ancient wisdom of medical astrology — the correlation between the archetypal energies of herbs, their planetary influences, and how they correspond to the various systems of our body — and how that knowledge can help you heal health challenges by creating medicine from the plants in your own garden.
Are you intrigued by the mysterious powers of the moon? Do you notice how the energy of the moon sometimes shifts your state of being — in body, mind, or spirit?
According to the ancient wisdom of medical astrology, the moon, the sun, and all the planets in our solar system hold archetypal energies that correspond to different aspects of our bodies.
Did you know that plants also hold archetypal qualities that, when prepared and used correctly, positively affect how our physical, mental, and emotional systems function?
Beginning in ancient Egypt, correlations were made between plants and planets. In fact, Hippocrates, the father of modern medicine who lived 2,500 years ago, classified diseases based on astrological phenomena, using planetary archetypes in deciphering how to diagnose and heal various illnesses.
Renowned rainforest herbalist and medicine maker Adriana Ayales, an educator, writer, and founder of Anima Mundi Herbals, bridges the principles of these ancient remedies, along with the power of ritual...
... to connect ancestral ways of diagnostics and the spiritual aspects of the natural world with the preparation and usage of herbal medicine.
Deeply inspired by her grandmother as a child, Adriana began studying botanical medicine at a young age — tapping into her own Indigenous roots in Central America.
Adriana, who's known for her dynamic presence, is an expert in techniques for healing both acute and chronic issues with specific ancient plant medicine practices, recipes, rituals, and ceremonies — which she'll begin to share with you in this compelling hour.
During this workshop, Adriana will explore the history and relationship of herbs and their planetary correspondences — and how to use their base medicinal properties as tools for understanding the archetypal energies inherent in plants.
You'll discover how to work with plants as gateways to higher levels of consciousness — and how they can help ground you into your place in the cyclical power of nature and the divine matrix in which we all reside.
Adriana will also demonstrate how to make your own moon water — using lavender and mugwort — to enhance intuitive abilities and healing. She'll guide you through a simple protection ritual and explain exactly how to make this vibrational essence.
As she'll share, ritualizing your life with these ancient practices can move you into a greater state of health and wellbeing, so you can live a more energetically grounded life, with the power to heal yourself with your own home pharmacy.
During this event, Adriana will be joining us from her home in Costa Rica to:
Guide you through the ritual process of making moon water using common plants you can grow in your own garden — to draw on plant energy and vitality for emotional and spiritual healing
Explore the power of archetypes and ceremony in making powerful plant remedies for protection, intuition, overall wellbeing — and for accessing the intelligence of nature
Demonstrate how physical, energetic, spiritual, and emotional imbalances can be understood and healed based on their archetypal qualities inherent within plants and nature
Share a brief history of medical astrology and how herbs were used based on planetary correspondences to prevent and treat dis-ease

Adriana will reveal why herbs have complex personalities. They grow, develop, and thrive under certain cosmological influences, much as we do.
When you join us for this hour, you'll also hear about Adriana's 9-week course, in which you'll come to deeply understand herbs and their planetary associations. You'll learn how to plant, harvest, and work with herbs based on their astrological correspondences... formulating your own powerful medicinal preparations to heal the body, nourish emotions, and evolve the soul.
Sign Up Now
Join this FREE video event with herbalist Adriana Ayales and learn how to prepare the healing vibrational essence of moon water.

Free Video Event
Your information is safe with us! We'll never share or sell it, and will use it only to send you notifications about this program and other related information from The Shift Network. Each email we send contains an unsubscribe link for your convenience.
What People Are Saying About Adriana Ayales...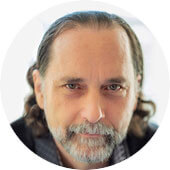 "Adriana Ayales... seamlessly integrates a lifetime of classical herbal training into modern Western culture."
Medical herbalist, curandera [healer], author, educator, businesswoman, and mother, Adriana Ayales is one of the rare teachers who seamlessly integrates a lifetime of classical herbal training into modern Western culture. A highly articulate teacher, she presents the ancient knowledge of plant medicine with a clarity that draws from scientific medicine, years of clinical practice, and the magical realms of the psyche.
— David Crow, author, herbalist, educator, and founder of Floracopeia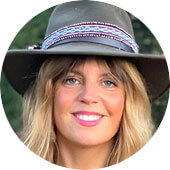 "Adriana is a true alchemist..."
Adriana is a true alchemist, weaving her deep roots and ancestral connection to plants with a masterful understanding of the medicine and gifts of the healing herbs. Her commitment as a healer is full of integrity and is visible in the way she honors the plants, the farms, and ecosystems where they grow, and the people she shares her knowledge and medicines with. I so appreciate the wisdom Adriana shares and her voice in the herbal community, and recommend her to anyone looking to learn about rainforest herbalism.
— Marysia Miernowska, herbalist, author, green witch, and director of the School of the Sacred Wild: Regenerative Healing for Earth & People
"What an incredible opportunity to join herbalist Adriana Ayales in this insightful and inspiring course."
What an incredible opportunity to join herbalist Adriana Ayales in this insightful and inspiring course. Designed to lead one on a journey deep into the heart of herbs and empower others on their green path, Indigenous Plant Medicine brings together a host of wisdom keepers, herbalists, and healers to share their knowledge and love of plants with others.
— Rosemary Gladstar, world-renowned herbalist and educator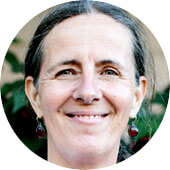 "Adriana opens a portal for healing for all people and the deep care of Gaia."
Adriana is an inspirational leader, blending her training of Western herbalism with South American ancestral plants. She is authentic, the speaker of ancient wisdom, and creator of beautiful medicine. As a mother she is grounded in future care of her children. Adriana opens a portal for healing for all people and the deep care of Gaia.
— Pam Fischer, executive director and founder at Berkeley Herbal Center
"... a vibrant and passionate speaker, teacher, and translator for the abundant plant kingdom."
[Adriana's] upcoming course on Indigenous herbal medicines will be a treasure to partake in. Adriana is a wellspring of knowledge of both the scientific and magical properties of plant medicine and herbal wellness, and her teaching will no doubt reach anyone who joins at any level in their studies. She's a vibrant and passionate speaker, teacher, and translator for the abundant plant kingdom.
— Leah Song, Rising Appalachia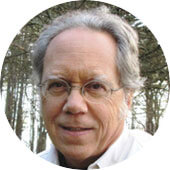 "... a good and refreshing understanding of herbs."
Adriana Ayales has a good and refreshing understanding of herbs and focuses on the botanical and healing properties of the herbs.
— Steven Maimes, author
About Adriana Ayales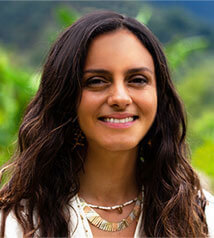 Adriana Ayales is an author, educator, and rainforest herbalist from Costa Rica. She has extensively studied several healing traditions alongside master herbalists and Indigenous medicine peoples for more than a dozen years. From a young age, she was immersed in the fields of healing and herbalism, and devoted herself to learning from different ancient herbal traditions.
Adriana founded Anima Mundi, a popular apothecary and herbal medicine facility in Brooklyn, New York, that crafts medicines sourced from organic and ethical farms, wildcrafters, and Indigenous peoples around the world. Adriana, who has written two books, Healing Tonics and Adaptogens: Herbs for Longevity and Everyday Wellness, resides in Costa Rica, where she was born and raised.