Learn about a life-transforming opportunity to experience a 20-hour online program with Indigenous elders, wisdom keepers, scientists, and Entheowheel, forward thinkers in the field of sacred plants and psychedelics, offering an exclusive learning journey filmed during a retreat at the Esalen Institute in Big Sur, California.
You'll explore how the healing power of psilocybin can be deepened and integrated with ritual, breathwork, yoga, and meditation — opening you to greater creative energy, profound connection to nature and community, and ultimately greater harmony and liberation.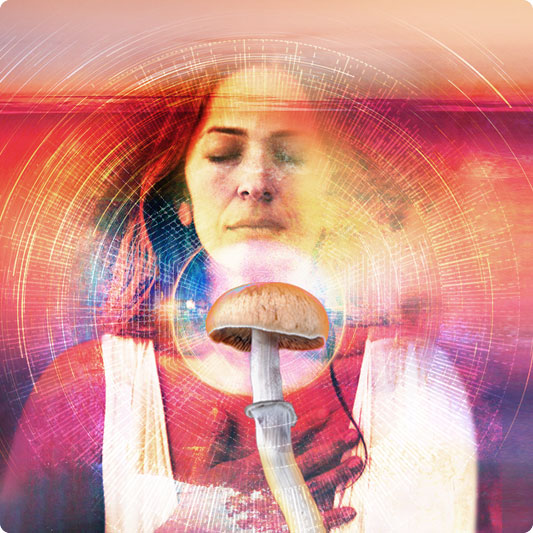 Are you curious about the benefits of working consciously with medicinal psilocybin mushrooms?
These allies of our wellbeing have been scientifically documented as safe, practical, and effective healing agents for our mental and physical health — addressing anxiety, depression, OCD, PTSD, eating disorders, end-of-life fears, addiction, and more. Also known as nootropics and neurotrophics, they can support neural plasticity and longevity.
Common effects of working with psychedelic mushrooms can include relief from anxiety and depression, creating euphoric feelings of wellbeing and fulfillment, an expanded perception of life, higher energy levels, and greater creativity — among many other benefits to your mental, emotional, and physical health.
Sacred plants and psychedelics are also known to open us to an expanded sense of self, typically accompanied by a spiritual sense of the oneness of everything we can conceive of — and beyond.
Working intentionally with mushrooms is about much more than its '60s era "countercultural" stigma as a vehicle for getting high. It's about deepening your journey toward emotional wellness, psychological freedom, and lightness of spirit — and remembering your wholeness — by understanding the history, research, and best practices for the wise use and holistic integration of psychedelic experiences with psilocybin mushrooms.
During this complimentary hour-long online event, you'll receive key insights and practices from The Ceremony & Science of Psilocybin — a 20-hour online program that explores the Indigenous traditions, modern scientific breakthroughs, and profound healing uses of psilocybin as a sacred plant medicine — to ground you in a safe path as you build a relationship with these powerful allies.
You'll meet Dream Mullick, a sacred plant and psychedelic advocate and the founder of Entheowheel, who gathered together a visionary team of leaders in the field of Indigenous wisdom and psychedelic healing, including Xochitl Ashe, Paul Stamets, Jyoti Ma, Charles Eisenstein, James Fadiman, Roseline Watts, East Forest, Erika Gagnon, and more.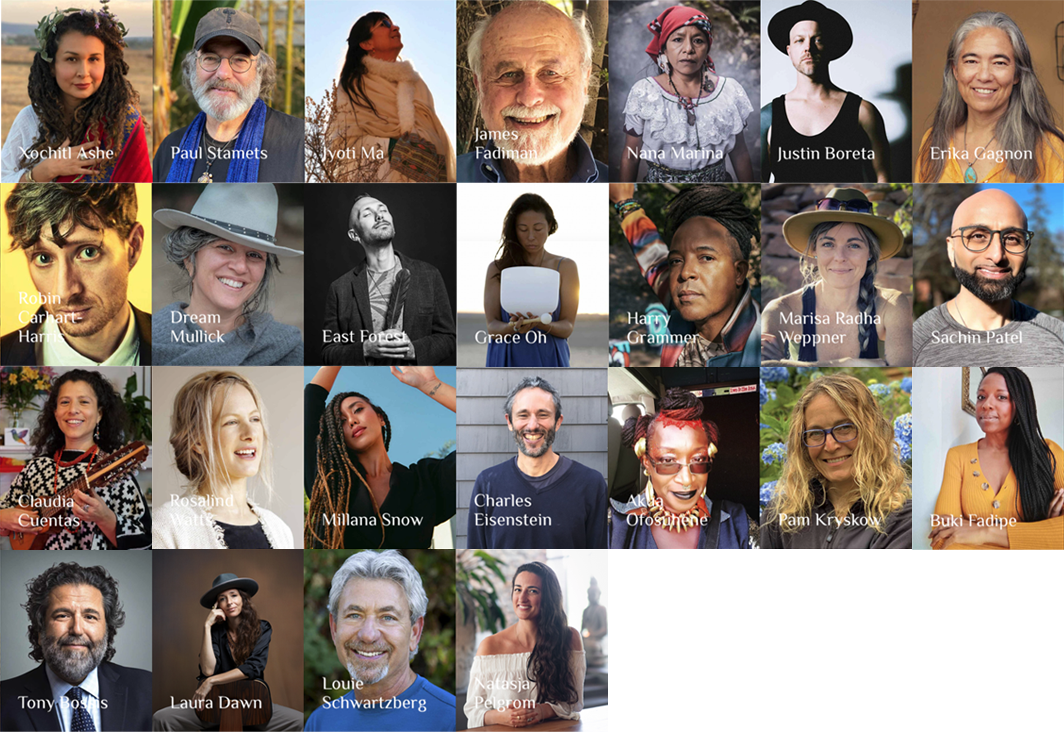 This offering has been designed specifically for those who are ready to explore this healing plant medicine to awaken their curiosity, reconnect with nature, and enhance their physical, spiritual, and emotional wellbeing.
The complete learning journey explores micro-dosing, sacred ceremonial practices and preparations, Indigenous origins, therapeutic applications, science and legislation, ritual and medicine for creativity, healing anxiety, traversing death and grief, trauma-informed somatic practices, altar building and land blessings, sustainability, integration practices, and play!
When you join us for this illuminating hour to learn more about this life-enhancing program, you'll:
Learn the many benefits of experiencing expanded states of consciousness through conscious use of psilocybin
Experience a guided meditation to connect energetically with the wisdom of our plant allies — to experience feelings of gratitude and better perceive the extraordinary in your daily life
Discover the value of cultivating right relationship with these sacred plants and medicines through micro-dosing, meditation, breathwork, and more
Learn why ritual is an important foundational element when exploring these healing plants
Find out why integration is so important as part of a holistic psychedelic experience
Learn about the vast wisdom that awaits you in the complete 20-hour Ceremony & Science of Psilocybin learning journey with Entheowheel
Join us to invite the intelligence of psilocybin mushrooms to support you in your daily life — and discover how this sacred medicine can help you cultivate profound inner wisdom and nourish your every cell.
The renewed wave of interest in the healing and transformational power of entheogenic (psychoactive) compounds is firmly grounded in solid scientific research, psychological methodology, and a commitment to safety and inclusion — so that these medicines can truly help better your life.
Sign Up Now
Join this FREE video event with Dream Mullick and learn about a life-transforming opportunity to experience a 20-hour online program with Indigenous elders, scientists, and some of the most forward-thinking people in the field of psychedelics.

Free Video Event
Your information is safe with us! We'll never share or sell it, and will use it only to send you notifications about this program and other related information from The Shift Network. Each email we send contains an unsubscribe link for your convenience.
Please note: The Shift Network does not advocate or support the breaking of any laws. We are aware that there are various levels of experimentation and legalization efforts underway, and our goal is to provide you with the best information to enable you to make your own decisions about when and how to engage with this new field of transformation. his event in no way promotes, condones, or facilitates illegal activity, and is strictly for educational purposes only.
Please be aware that psychedelic substances still remain illegal in many countries. By registering for this event you are agreeing that The Shift Network takes no responsibilities for your actions. Please also be aware that this event is not a substitute for traditional psychotherapy or medicine; instead it is designed to provide education from our personal and professional experiences. If you are experiencing significant issues, please seek medical attention. We look forward to having you join us!
What People Are Saying About the Course...
"I felt so enlivened by the whole experience, and I was able to reconnect to that joyous feeling again."
I felt so enlivened by the whole experience, and I was able to reconnect to that joyous feeling again. It exceeded all of my wildest expectations. I don't have enough words of gratitude.
— Bob J.
"It was so deep, so meaningful, with such a powerhouse lineup."
Entheowheel blew my mind. It was so deep, so meaningful, with such a powerhouse lineup. Tears were brought to my eyes multiple times. Every lesson was medicine.
— Elana H.
"Being in this community is super healing."
Being in this community is super healing. I learned a lot, not only about the medicine, but how to make it more a part of my life in a ceremonial way where I can really honor where the medicine comes from, the elders, the ancestors, and Mother Earth for what she provides.
— Julio R.
"I will forever be grateful for the sense of community I've experienced and the knowledge I've gained."
I will forever be grateful for the sense of community I've experienced and the knowledge I've gained. Thank you for the beautiful work that you are doing to preserve, cultivate, and share the knowledge with humanity.
— Max O.
"It was transformative."
It was transformative. I think this is an image of the future. It is really useful to communicate that for psychedelic therapy, the substance is not the all-important thing. The container, the ritual, the connection with other people, and the feeling of safety have much more of a profound effect.
— Reese J.
About Dream Mullick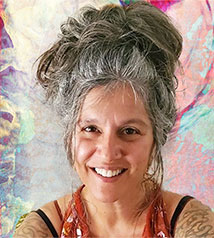 Dream Mullick is the creator and founder of Entheowheel and of The Ceremony of Living and Dying. As a sacred plant and psychedelic medicine advocate and mentor, death coach, and meditation guide, writer, producer, and dreamer, her body of work centers the evolution of consciousness and our collective return to love.
Dream curates in-person workshops and virtual learning journeys that combine the worldviews of ceremony and science with sacred plant medicines and psychedelics — including the exploration of death as a pathway to liberation. In her practices, she explores the profound transformative power of death, grief, joy, and love.
Her latest creation, Entheowheel, launched in collaboration with the Esalen Institute, focuses on the ceremony, science, and somatics of sacred plants and psychedelics.