A Free Online Event
With Respected Peruvian Shamanic Healer &
Transpersonal Psychologist
don Oscar Miro-Quesada

Discover practical insights from ancient shamanic pathways — as well as modern psychology — on how to cultivate powerful medicine for our world through sacred reciprocity, reverence, service, and communion.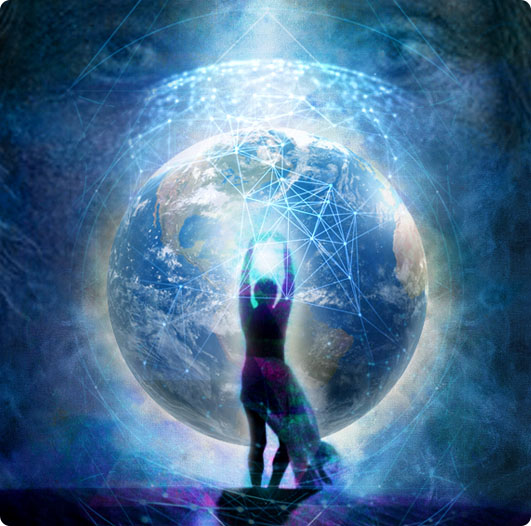 All around us is evidence that our relationships with each other and the Earth are in trouble...
From mass shootings, to deep social injustices, to climate change and the desecration of nature on so many levels, it's easy to see that there's a great imbalance in the order of all things. ..
So what is the medicine that can truly heal us and our precious planet?
Is it love? Forgiveness? Reverence for the Great Web of Life?
Yes, yes, and YES...
But how do we move from giving these qualities lip service to truly cultivating them and turning them into real, powerful, restorative healing medicine for our world?
A powerful sacred principle that's been passed down through shamanic lineages and Indigenous people of the Andes can be encapsulated in one word — Ayni. This simple Quechua principle guides us to re-establish a sacred ground of relationship in which we put love and reverence into practical action.
Ayni guides us to transform the tense polarization of self-interest into the joyful love of mutual exchange. It cleanses our motivations and purifies our heart, rendering us noble and beautiful.
This purification is at the core of what it will take to rebuild our world.
The ancestors teach us that Ayni is not just about human relationships, but about aligning our lives with Mother Earth through ceremonies and rituals with the seasons and times of the year.
Through Ayni, we can weave a fabric of trust, generosity, and community between all of Earth's denizens... including our four-legged and two-winged brethren.
In this special online event, join transpersonal psychologist and Peruvian shamanic teacher don Oscar Miro-Quesada to hear his practical insights from ancient shamanic pathways — as well as modern psychology — on how we can use the skill of Ayni to heal our world.
During this 60-minute event, you'll discover:
The meaning of Ayni, the ancient Andean principle of "sacred reciprocity," and its restorative power
How sacred reciprocity is a practical and essential path towards healing for all life on the planet
The 5 types of earth offerings, or despachos, that you can make for planetary healing and regeneration
Practical insights into the ways that you can align your shamanic ceremonial practices with the rhythms of the Earth and the seasons
Sign Up Now

to discover the powerful medicine of Ayni — practical skills of sacred reciprocity, reverence, service, and communion to heal our world.

The Medicine of Ayni is a free event now playing through The Shift Network. Choose your preferred date and time to access the training with Peruvian Shamanic Healer and Transpersonal Psychologist don Oscar Miro-Quesada.
Your information is safe with us! We'll never share or sell it, and will use it to send you notifications about this program and other related information from The Shift Network. Each email we send contains an unsubscribe link for your convenience.
Ayni is quickly moving into wider recognition — just as Eastern terms like yoga and dharma once did — because it conveys essential truths for healing and awakening humanity.
We're now being called to learn from ancient Indigenous lineages, which offer guidance and great wisdom about creating a life of reverence, humility, and service.
Through his teachings, shamanic rituals, and stories, don Oscar will support you in expanding your consciousness — allowing a heartfelt communion and loving exchange with all of life.
Please join us for this very special event with a truly beautiful medicine man.
What People Are Saying About don Oscar...

"... a true path of power, service, and attainment..."
don Oscar's authenticity, humanity, wisdom, and knowledge are rare, perhaps unparalleled. The utility of what he teaches, its practicality, scope, breadth, and depth extend to the essence of an individual, as well as to the reaches of ethereal realms. It's imminently practical for a world that needs love and evolving human consciousness. This is a true path of power, service, and attainment, individualized for each person who accepts the responsibility of becoming.
— Steve Guettermann, Bozeman, Montana
"I was humbled and I was lifted"
I have had four other shamanic teachers who were all gifted, brilliant, caring people. Yet, there is something that don Oscar creates that is an alchemical mix of wisdom teachings, a compassionate and open heart, a generous spirit, and childlike playful wonder that washed over me and swept me away to a dreamworld where I might re-member the truth of who I am, who we all are... I was humbled and I was lifted.
— Kathy Loh, Nevada City, California
"Truly living the path and the work at all levels of my being"
I have studied with many teachers over a lot of years, and learned important things from most of them. Some of those teachers have made significant changes in how I see and experience the world. But [learning from] don Oscar Miro-Quesada has been the deepest and most comprehensive teaching I have ever experienced; it has brought me from a somewhat detached, intellectual understanding to truly living the path and the work at all levels of my being.
— Judy Steele, Minnesota
About don Oscar Miro-Quesada Solevo
Oscar Miro-Quesada Solevo is a respected healer and altomisayoq adept (the highest level of Andean priest-mystic) from Peru, and founder of The Heart of the Healer, a shamanic portal into the universe of the Pachakuti Mesa Tradition, the path of cross-cultural shamanism which don Oscar originated.
An internationally acclaimed shamanic teacher and healer, and earth-honoring ceremonialist, and author of several books, don Oscar has been guiding ethno-spiritual pilgrimages to sacred sites of the world since 1986, with special emphasis on Peru and Bolivia.
He's a popular faculty member at The Shift Network and at educational centers in the U.S. and abroad, dedicating his life to the revitalization of aboriginal wisdom traditions as a means of restoring sacred trust between humankind and the natural world.
A seasoned navigator of non-ordinary states of consciousness, don Oscar is well prepared to help people from all walks of life access realms of Being through which multidimensional powers and forces are available for healing self, others, and our planetary ecosystem as a whole. His ceremonial work and shamanic apprenticeship programs have been featured on Sounds True, CNN, Univision, A&E, Discovery Channel, and the History Channel's Ancient Aliens.